Four Ways to wear it, and none of them are comfortable.
This is lovely, despite that it's uncomfortable and feels so awkward. The cups are just strange. They required a lot of tugging, adjusting and pulling until I took the underwire out and wore a strapless bra. The front is longer than the back, by far, so it causes the stomach area to bunch up and have a huge fold/crease. It's high maintenance and hard to even wear around. However, the ivory material feels wonderful.
Published:
Pros:
Pretty.
Decent fit.
Ivory material feels great.
Cons:
Totally awkward fit/feel.
Cups.
Fold in stomach area.
Rough lace.
By "four way" the manufacturer means that the straps can be done in four different ways, just like any strapless bra. Or if you happen to be able to sew 10 stitches and have 2 removeable bra straps lying around, you can do this on any top.
The set comes with a bustier, panties & hangar. The bustier consist of two colors and two different fabrics. The ivory and black look lovely on all skin tones, while the lacey and satin-y feeling material complement each other. Black ribbons lace up the back, but leave an open 4" at the bottom that's just lace, no tie up. Where this non-lace up panel is somewhat gathered, creating a ruffled appearance. I like that, but it doesn't show it gathering much in the product page, whereas on me, it does. The bottom of lace panel is 9" wide. Underwire included in photo below: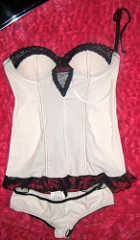 Unfortunately, the back is barely long enough on me. It will reveal the lower back on any taller than 5 2". In total, the back measures 10" long, but the sides dip down longer and are the ivory material. They measure 13" long, 15" long incluing lace trim on bottom.
MEASUREMENTS (size small):
*PANTY: 7" long from top to bottom of butt. Widest part of butt: 13" across. Waist: 12 1/2".
*BUSTIER: waist: 12". Upper back: 13".
The mid-section of bustier flares out, so below the upper back a couple inches, it measures: 12" and then below that, the lower waist measures: 13". And that flares out as well, bringing it to 14" wide and at the very bottom, where the lace trim is, measures: 16 1/2" wide.
Length from cup to hem: 19" in front.
*BUST: 12 1/2" across. Each cup: 5" wide.
*LACE TRIMS:
On the cups: 2" lined in lace trim.
Bottom of top, lace trim is 2" long.
Lace back panel is 4 1/2" wide.
*Any larger than a small will not fit this bustier or panty comfortably.*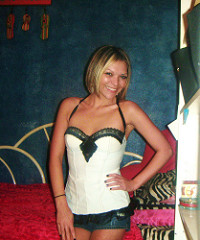 [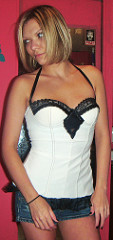 MY MEASUREMENTS:
Bust: Right: between a B and C cup. Left: 34B
Jean/shorts/size: Zero
Weight: 93lbs
Height: 5 2"
Waist: 26" Lower waist. Where I'm a bit wider, the love handle area: 29"
Despite the plain ivory color and lack of any design, these panties are awesome. They're true full-back panties that don't give me a wedgie, and are so comfortable they can be worn under clothing. This is coming from someone who almost always goes commando--I never like the feel of panties. I ended up wearing these all day today without a second thought.
These ivory panties are stretchy and the 91% Nylong & 9% Elastane material make them feel amazingly silky. These have thin black elastic trim around waist & a zig-zag stitch (black thread) around legs.
Not only are they comfortable, but most will be happy they have a sewn in cotton crotch liner. Crotch area is 1 1/2" wide. They also have a huge, papery tag sewed into the back. Tags never bother me, but this one had to go!
I noticed two long snags on the panties after taking them off today. This means the bustier will be easy to snag too, so be careful with hangnails and jewelry!
MATERIALS: 91% nylon 9% elastane
CARE: Hand wash cold, separately. Line dry. Don't wring or twist. Iron low temp if necessary. This isn't transparent, but the thin, silky like material can be seen through only slightly, when in direct light. I'm not able to see my nipples through it due to the foamy lining, and it's hard to see my actual skin, but my belly button ring can be glimpsed occasionally. This material is safe for public wear. Of course the back panel is transparent. of sheer, but mostly outdoor material.
[img|
The cups are soft with the thinnest foamy feel to them. I wouldn't call this padding, but it's similar to what unpadded lingerie has in the bust, just that thin foam-like lining. There are seams running through the cups, which give pointy boob syndrome. I have several tops and bustiers with this type of bust, one similar top is Coquette's pinstriped woven camisole. Those cups are perfect, but these aren't. The underwire casing is as soft as wool.
Experience
CONTINUED...
I had a problem with the cups and underwire. They aren't wide enough and the underwire was uncomfortable and wouldn't allow enough width for my right breast. I cut the underwire out. It didn't change the appearance, but gave me more room. However, there are seams up and that underwire casing, and if you look, the cups aren't exactly as far over near the arm pit as they need to be. It kind of puts my breasts too in the middle. It's just extremely awkward. This bustier is entirely awkward. That's the only word I've been able to come up with that describes this strange fit/feel of the bustier. It's also worth noting that there was a big loose thread on the cup lace as well as a huge dangly chunk of threads inside the bustier. The detail on the bustier is the perfect amount of ribbon and lace, giving it a touch of elegance look in the front and a hint of sexy in the back. There's a diamond-like shape of lace-looking material under the cups, it's see-through. It measures 2 1/2" at the widest part of it. It doesn't reveal the breasts, but only that small area of skin. My lovie really liked that.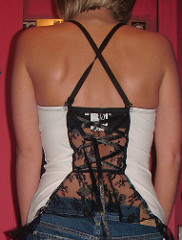 The lace panel while pretty, is rough against my skin, not soft/supple like Coquette's. Lace has a floral design and ties up. The laces do not add any extra adjustment, although you can tighten, loosen or lose them. It really doesn't adjust the bustier, only the lace panel. As obvious, this panel is transparent, and you can see the tag through it in my photos. I wear a black, strapless bra with this since the cups are so jacked up, and it doesn't throw the lacey back off.
With the two regular bra straps, this can be worn without the straps at all, with them criss-crossed in the back, as a halter, using just one strap and putting it behind the neck and clasping each hook in the front two loops sew onto the top. Or you can wear it regularly, with the two straps on each shoulder. This way didn't work for me because the bustiers loops are sewn right at my arm pit, causing the straps to go under my pit and dig in. Awful. I'm going to leave that part for my experience section.
There's one tiny black bow between the cups. The stitching is all black.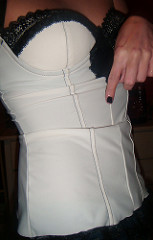 Stomach crease!
So criss-crossing the back was my best option, although this means one strap comes undone constantly! That is unless you twist the strap that wants to come off. This too is due to the bustier loops being sewn in the arm pit and not where they belong, which is closer to the front of your chest. Twisting the strap doesn't look nice, but it's the only way to hold it on. Criss crossing causes one strap to keep coming off no matter what. As I was leaving the house, simply walking out the door, the strap came off twice and then three more times, two of which I was simply in the car doing nothing and they just snapped off and one I was walking and it snapped off and hit me in the face!
Follow-up commentary
1 day after original review
There are seams up either side of the bustier & one thick, noticeable seam straight down the middle. One either side of this seam is stitching/faux boning. It was made to look like boning, but it doesn't have bones.
There's a crease/fold at the stomach due to the back being so much shorter than the front--see photos above.
This content is the opinion of the submitting contributor and is not endorsed by EdenFantasys.com

Thank you for viewing
Four way flutter set
– bustier review page!