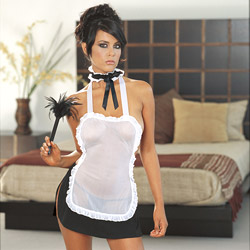 Ooh La La maid
Costume
by DreamGirl
French Maid, Ooh La La
This is a wonderful piece to add to your collection for those who enjoy roleplaying or just unique sexy lingerie. It is inexpensive, well made, and really sexy! It fits nicely for a one size fits most, and comes with a really cute collar.
Published:
Pros:
Sexy, well made, comes with a feather tickler
Cons:
Feathers come out easily, material not breathable
Ooh La La, What do we have here?
This is a four piece sexy maid outfit by DreamGirl. It comes with a collar, g-string, feather tickler, and an interesting apron. It only has one option for colors (black and white) and two sizes for options (one size fits most and plus size, more on that later). It arrived in an interesting package that featured a model on the front and back wearing the outfit and some information on it.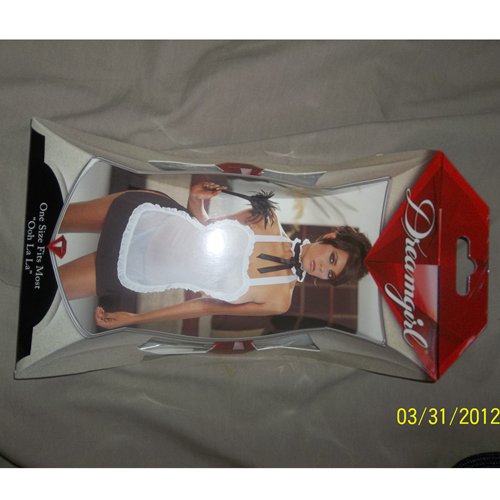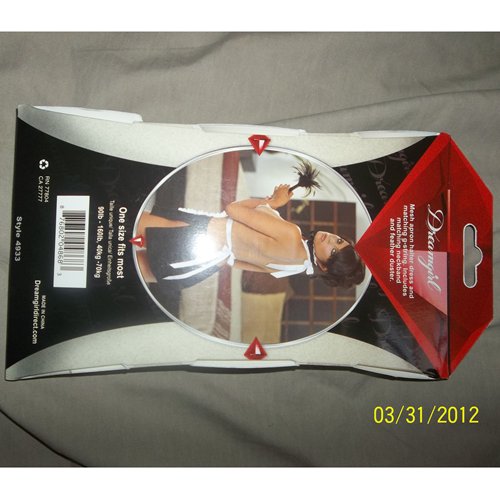 After taking it out of the box it is packaged in a plastic bag with the size on a sticker on front.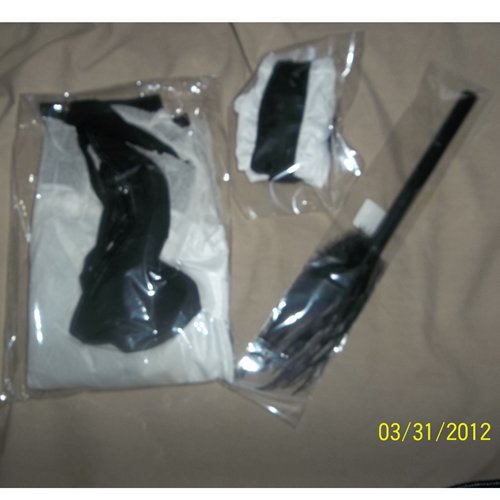 What do you mean "one size fits most" and "plus size"?
Well, mine came in one size fits most and I must fall into that "most" category because it fit me pretty good. The package for one size fits most says it is for women who are 90 lbs - 160 lbs. I fall into the middle of this at 120 lbs. The sites measurements says that the one size fits most should fit people who range from size 2 - 14 and have a bust between 32B - 38C and a waist between 32 - 38 inches. For the plus size (or as listed on the site "Queen One Size Fits Most) it is suggested that you are between a 40D - 54DD and have a waist of 36 - 44 inches. For more information on measurements you can see a chart
here
.
I think all types of bodies are gorgeous and this would look good on a confident person who knows they've got something to flaunt and someone to appreciate it, even if it's just a solo session and
you
are appreciating yourself. Since it is completely adjustable and stretchy I think it would look good on everyone from the skinny minnies to the curvacious divas. If you are on the upper end of the one size fits most chart you should still be fine with this size, but if you are in between the two chart listings I would recommend going on up.
Like I said the one size fits most fits me pretty well and I measure at 34B and a 28 inch waist. The g-string is really stretchy and fits wonderfully. You can see measurements of different parts on the g-string below. The triangle in the second picture is the cotton crotch area, personally it is important to me that underwear have this as I am allergic to nearly anything besides cotton.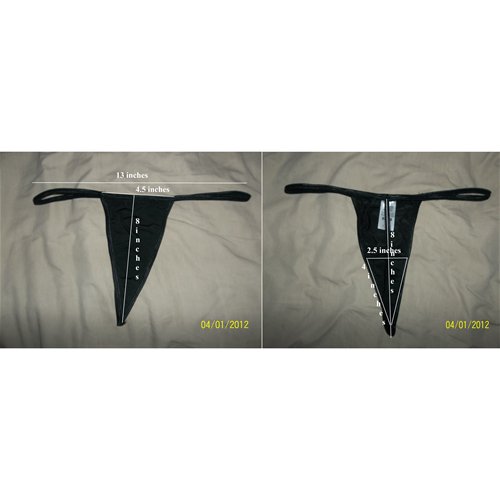 Here is a picture of the collar and the feather tickler with some measurements: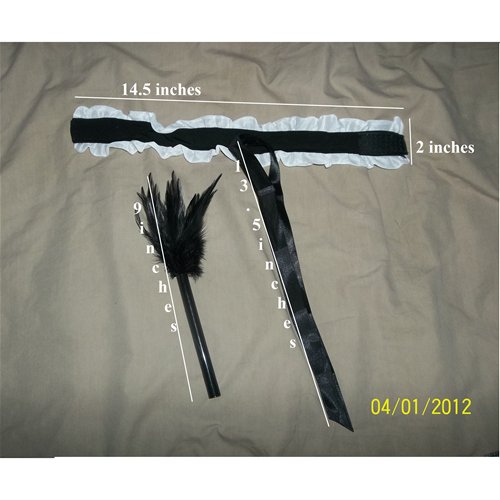 And finally, the main piece! The apron with measurements: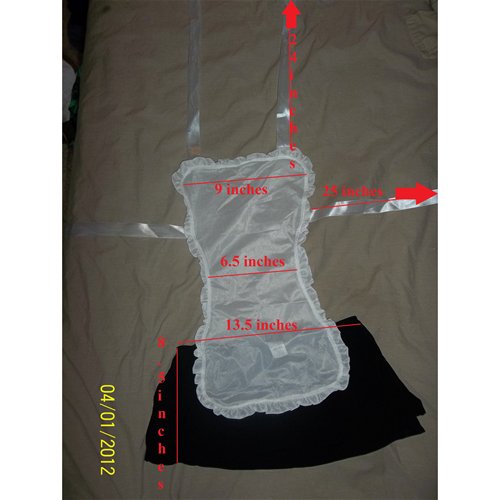 **Note: The ribbons that tie the apron together go off screen, so it does not show the full ribbon, but that is the full measurement.
So what is it made of? How do you care for it?
The Ooh La La maid outfit is made out of 90 % nylon and 10 % spandex, and all of it is very stretchy. The top part and ruffles on the collar are a sheer mesh like material, while the center piece on the collar and the skirt on the apron are black and not see through at all. As you can see from the pictures the apron ties on, but the collar is Velcro; like the apron, the collar is completely adjustable.
There is no under wire or support of any kind on the apron, and for me, it was kind of hard to adjust where my nipples weren't peaking out the sides. The material feels soft, but it may catch and run on callused hands. With care, I believe this piece is going to be with us for a long time.
It is suggested that you hand wash in cold water and hang dry. The stitching on the ribbons doesn't look too sturdy so I would stay away from machines with this one. Also, because it is nylon there is the chance that if you dry it in a dryer it will melt (this goes for all 3 wearable pieces).
The feather tickler is made out of fake feathers and plastic. The handle is hollow and did not come with cleaning instructions. The feathers are easy to pull out, so be careful with this piece.
Experience
Cont...
Where and why would I ever wear this piece?
This piece is meant for the bedroom, you could wear it under something in public, but if you go out in just this you're probably going to get locked up for indecent exposure, and not the good kind of locked up. And it's super easy to travel with! Just throw it in your suit case with the rest of your clothes. I got this piece because my man has a thing for french maids, and this is going to assist us in many fun roleplays. But you don't have to roleplay in this if you don't want to. You can just use it as another piece of unique sexy lingerie. What ever you plan to use it for though, make sure you get the right size and that your measurements match up to those mentioned above, and that you're up for the hand washing and line drying required in caring for this.
Experience
I found that this was a little hard to put on by myself, and even with help we had a hard time getting the bottom ribbons to line up right with my breasts. We left it on during play and found that the material is not breathable and that soon I was sweating underneath it. Other than this it held up nicely, even when my husband not so gently pulled it out of the way.
I felt really sexy in this, and the husband thought so, too. We kept it on during roleplay/foreplay and intercourse. When our bodies were pressed against each other is when I felt the heat coming on, and not the good kind. It got very hot and sweaty in this very quickly during active play.
Here's some pics of how it looks on a REAL, unphotoshopped person: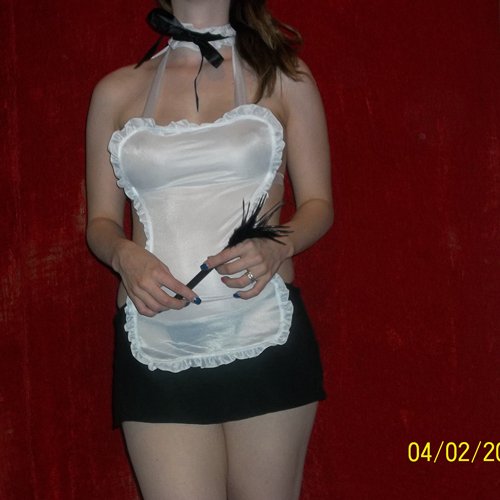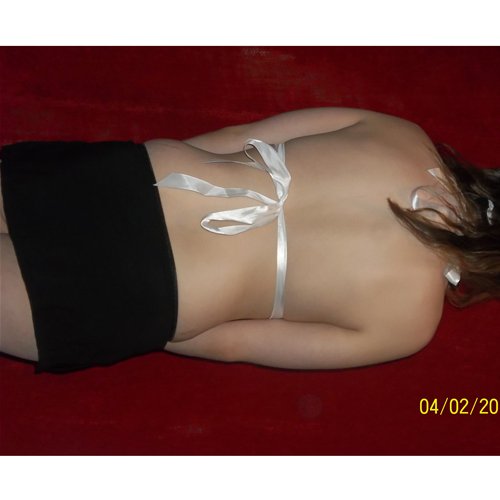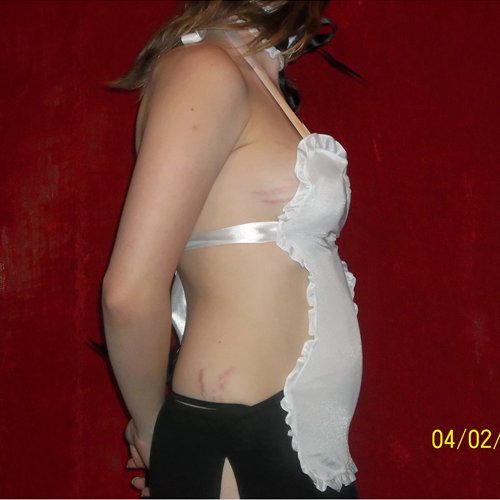 Follow-up commentary
3 months after original review
We've only used this lingerie set a few times after I wrote the review, but it cleans up nicely and easily, isn't showing any wear and tear, and is still a very good piece. The feather tickler, on the other hand, has fallen apart and is of no use. If you're getting this for the feather tickler look else were, otherwise you can find a duster anywhere (DG has them for $1!)
This product was provided free of charge to the reviewer. This review is in compliance with the FTC guidelines.
Thank you for viewing
Ooh La La maid
– costume review page!