Fuchsia excitement!
I had a few first impressions on the product that turned out to be false.

1. The cups almost looked like they had slight padding in them.

This was not the case, the cups are simply material, nothing else.

However after it all, I am actually happy that the cups aren't at all padded and that 95% of the material is sheer.

So my first impressions may not have turned out to be what I thought, but I am actually more pleased that I was wrong! Go figure!
Published:
Pros:
Adjustable straps.

Gorgeous color.

Great price.

Great style for smaller chested women.
Cons:
Pro: Easy to get on and off.

Pro: Soft material


Con: Cups run a little small.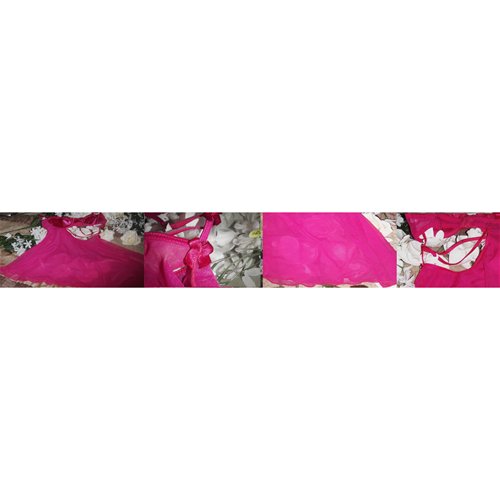 The cutout babydoll and G-string by Escante is a cute, comfortable babydoll that is great for anything from using it for foreplay to using it as pajama's to make yourself feel sexy!
I would definitely recommend this product.
Design / Craftsmanship / Material
Personally when I ordered this I thought that the "cut out design" showed on the product page was going to be the same all the way around the babydoll. But in-fact- its not, and there is only a cutout on the one half of the babydoll, which was a slight let down for me.
On the other hand this product is very well made, with not a single flaw in stitching to be seen and the feel of the fabric is very soft and silky, especially on the bust area. Which is always an added plus when it comes to lingerie. To top everything off, I would like to add that the fuchsia color is undoubtedly a very gorgeous color that is very feminine, so I thought it made a great addition to my growing Escante lingerie collection.
The body of this babydoll is made out of 91% Nylon and 9% Elastane
Insert and cups
90% Nylon and 10% Elastane
88% Nylon and 12% Elastane
Size / Fit
I ordered this in the size small .
My personal dimensions are
My weight
110
My cup size
B
My bust
34-36
My hips
34"
I would say that this babydoll fit me fairly well, and I like how I look in it. However my fiancé pointed something out to me last night when we where on Skype (my nipples show through the lace part of the cups) I don't know if this is something that was intended in the design, but I doubt that it was. Of course I am not personally sending it back for a larger size, since the fact that my nipples where visible seemed to entice my fiancé and he requested that I didn't do anything about the fit.
I would like to say though, if my bust was much larger I am not so sure that my breasts would fit completely inside the cups without having my nipples OUTSIDE of the cups, which would not be a good look. So I am slightly concerned since my bust is still growing. But hey, I am not to worried.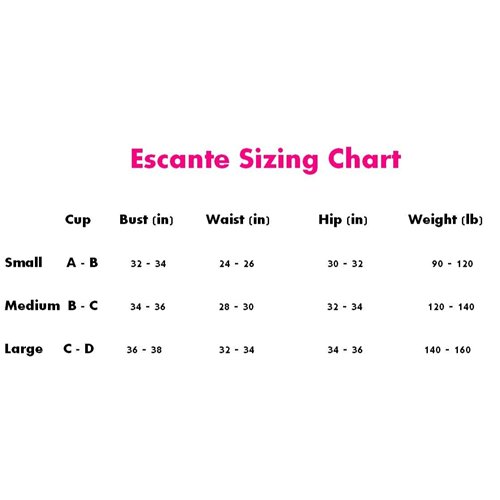 I would say that if you are not much larger then a 36 B the size small should work for you. Though personally I probably should have followed the sizing chart and ordered the size medium, since it seems to be very accurate… but I am so used to ordering the size small, that I have trouble thinking to look at the sizing chart before I order!
The thong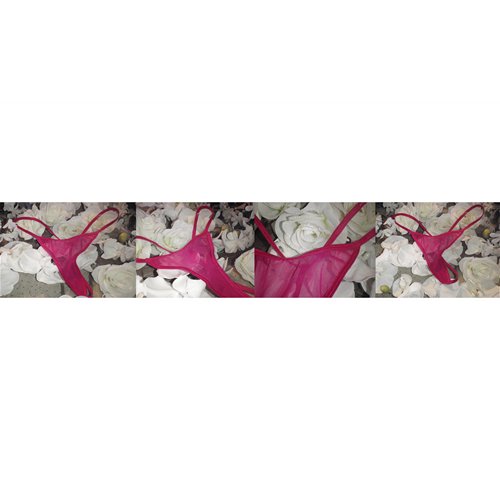 The thong fit me very well, and I actually thought it was pretty cute, and not cheaply made.
Laid flat the thong measures out at 12" inches, this means if your hips are much smaller then 24" inches, this thong will probably be loose on you.
Completely stretched out this thong can go to 19" inches this means your hips can be as large as 38" inches and you will still be able to wear this thong.
At the thickest point(this is at the top of the thong) the width of the thong measures out at 5 ½" inches.
This is about the usual width of a thong at the top. So if the thongs you get are about 5 ½" inches wide, this one should fit you well.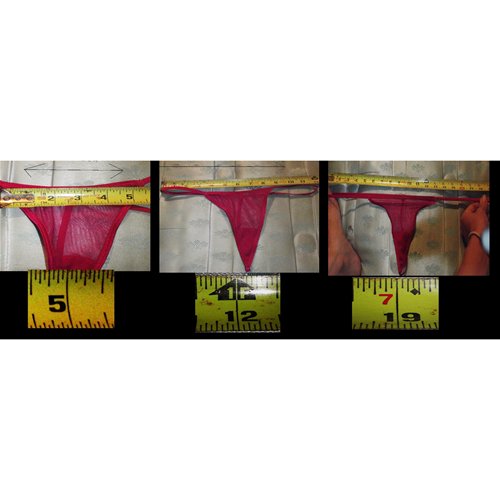 Care and Maintenance
Personally I suggest hand washing ALL lingerie and leaving it to air-dry. Especially with the more delicate lingerie such as babydolls. But you could probably throw this in the regular washer so long as you kept it in a lingerie bag.
However I DO NOT SUGGEST throwing this babydoll into the dryer do to the fact that I could see it shrinking with the material it is made out of. And that would be very sad =(
Packaging
This babydoll comes with a simple black hanger and a plastic bag-like wrap over it to keep it well protected during shipping.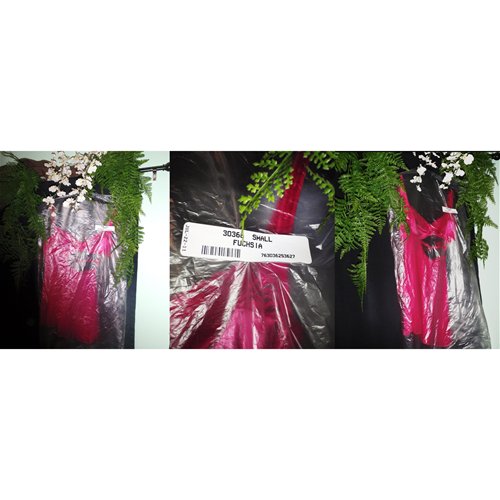 I personally kept its packaging since it seemed like a good way to keep any damage from happening to the lingerie while I kept it in my drawer. Though the hanger I don't intend to keep(I have to many already!)
Attached to the babydoll was a tag(like with all other Escante lingerie) that shows the babydoll on the model, as well as other pieces of lingerie that match it. Such as the "I love pink -bra and skirt set"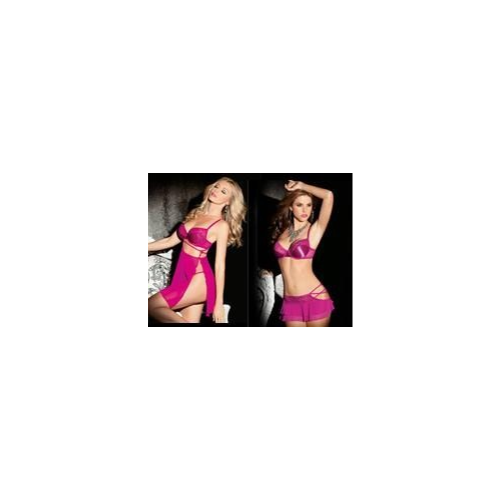 Experience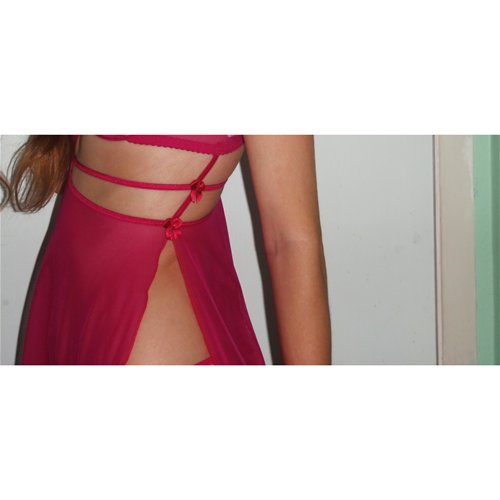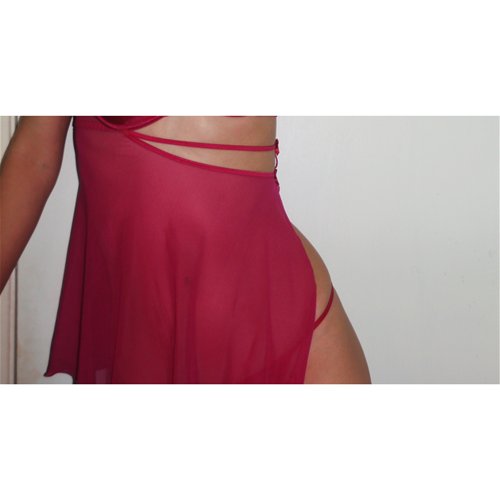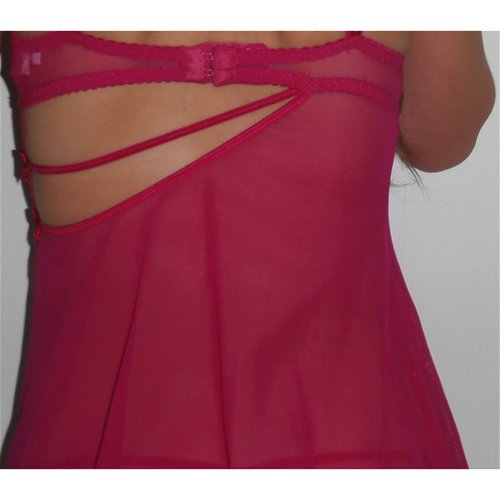 Over all I have been very satisfied with this babydoll, it is very comfy and I think the design is very cute. I actually ended up falling asleep in it last night... So that just goes to show you that some lingerie is actually comfortable =D
I love how easy this lingerie is to get on and off. At first I thought the cut-out design was going to make everything complicated, but it didn't. So that is great!
Another plus is that this lingerie has three different sets of hook and eye closures in the back, so you can adjust it to make it whatever is the most comfortable for you.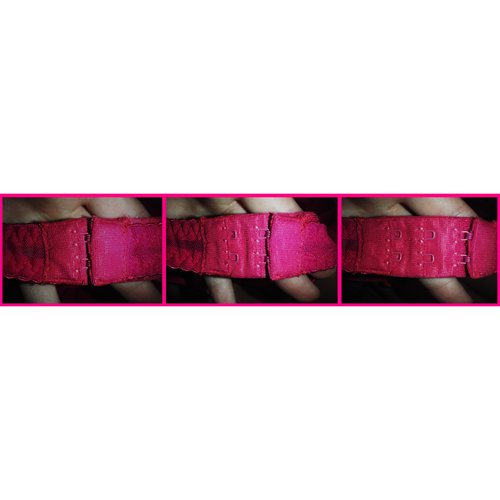 This babydoll really is great, and I think that the price is amazing for what it is. At first I was skeptical, but now I really like it and it has definitely grown on me. I Simply love the deep pink sheer fabric!
I would definitel recommend giving this a shot, I found that I thought it was worth it. And I'm sure you would enjoy it too!
If you guys have any questions feel free to ask in the comment section and I will respond ASAP. I wasn't allowed to write anymore do to the wording restrictions.
This product was provided at a discounted price in exchange for an unbiased review. This review is in compliance with the FTC guidelines.

Thank you for viewing
Cut out babydoll and G-string
– babydoll and panty set review page!