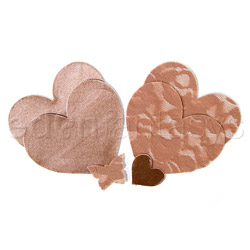 Caramel heart pasties
Pasties
by Bristols 6
Fuzzy Nipple Shields
I've been needing to get pasties for shirts and dresses that I can't wear a bra with and these are great because they stay through long nights and offer decent support. I do think that they are a bit pricey for only 2 sets but they are worth it.
Published:
Pros:
Comfortable, different patterns/colors available, big size
Cons:
Pricey for 2 pairs, Erect nipples can still be seen
I ordered this Caramel Heart Pasties set by Bristols 6 in the size BC. Usually, I wear a B cup, but I wanted to get something bigger to accommodate my wide areolae.

When you get this, you'll find it nicely packaged in a cardboard envelope that contains 2 pairs of the heart pasties (one lace pair and one satin pair), 2 mini heart-shaped test patches and 4 protective nipple covers. Instructions are also included. I opened the packaged and I didn't read the instructions at first, so I was a little confused on the mini hearts. Definitely read the instructions all the way through.

The mini heart-shaped patches are for testing to see if you're allergic to the adhesive. If you've used these pasties before, you probably could use these for something else. But if this is your first time, it is highly advised to conduct a patch test. Take one of the mini hearts and apply to your chest or hip/torso area and leave it for 6 hours. If there is any reaction, you should not use these pasties. If you have sensitive skin, sun burns, open wounds, skin disorders or skin depigmentation, you should not use these as well.

The pasties are made with lace and satin components. There isn't much information on the adhesive other than it is latex-free and hypoallergenic medical adhesive. The lace is soft and smooth; the satin is silky. Usually with these materials you have to avoid high heat but these are single use so you don't have to worry about washing temperature, etc. And in most situations, you probably won't be around high heat.

Applying these pasties is quite easy. First, you should clean your skin so that there aren't oils, etc. to deter the adhesive from sticking well. I use an alcohol wipe to clean the skin. Next, you place the nipple cover over your nipple. Then you peel the backing off the heart and apply it starting at the bottom. You want to be careful applying it because once it's on, it stays on pretty well. You really don't want to fiddle with it and re-stick it because it won't be as tacky.

Removing these is easy for me. You want to remove them just like you would remove a band-aid. Peel it slowly and it will come off.

Overall, I like these pasties. They are big enough that they can cover my huge areolae. The texture of the satin pasties is especially nice. I did notice that when it was cold outside, erect nipples were visible through my shirt, so that was a con. I do think they are a bit pricey for just 2 sets of pasties that are only used once. I would repurchase these for clothes that I'm wearing to special occasions.

I also have a problem with sagging boobs and often feel awkward when I have a beautiful backless dress/top and I can't wear a bra, so this is great because it actually lifts my boobs up a bit and they don't look so hopeless.
Follow-up commentary
2 months after original review
I will continue to buy these for my dresses and tops that require less visible coverage. I hope they come up with bigger packs or newer designs.
This product was provided at a discounted price in exchange for an unbiased review. This review is in compliance with the FTC guidelines.

Thank you for viewing
Caramel heart pasties
review page!