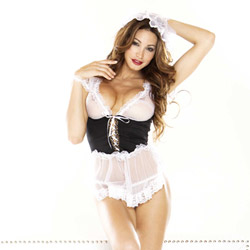 French maid set
Costume
by Fantasy Lingerie
Get dirty... with the cleaner!
This set really looks so pretty on. It is forgiving to slight figure flaws, like tummies and love handles. The sheer material is beautiful, but extremely fragile. I got two obvious pulls in the skirt within the first 5 minutes of wearing it. It's fairly comfortable, but I don't think it will stay in pristine condition for very long. There is an unfinished edge here or there, but overall it is sexy and cute.
Published:
Pros:
Pretty, Feminine, Elastic and front tie closure make it very adjustable, Sexy sheer material
Cons:
No support in the cups, Ribbon in front comes untied easily, Sheer material catches on EVERYTHING
*General Info:

This is a pretty, feminine set. It is also, however, a very delicate set. The sheer material snags insanely easily. I think this fact means it won't last really long, but it sure is sexy for now!

Included is the actual maid costume, a g-string, two wrist cuffs and a hat. All the pieces are made of 100% polyester in China. The instructions for washing are: "Machine wash – warm wash darks separately. Tumble dry low. Remove promptly do not twist or wring." I would recommend using a lingerie bag (or a pillowcase tied shut at the top). The entire set comes folded and wrapped in Eden's pretty hot pink tissue paper. I purchased the one-size-fits most size, so keep that in mind as you read the measurements. I usually wear a size 8 in most things, and my body type is fit but curvy at 5'6" and around 135 lbs.

*Wrist cuffs:

The wrist cuffs are rings of elastic with a lacy ribbon sewed on in a zigzag stitch. Unstretched, they are 2.5" in diameter, or 7.9" in circumference. My wrist measures 5.75" around, and they are a bit big. I tested them on my leg, and they will stretch up to 13.5" in circumference. (I tried wearing them as garters, but they didn't quite get high enough on my thigh. I also think they make really cute ponytail or pigtail holders, and would be a cute addition to the costume that way if you don't want to wear them on your wrists.)

*Hat:

This is the silliest part of the costume. In the product pictures it looks kind of sexy, but in reality it reminds me of the sleeping caps they wore on Little House on the Prairie. I wore it for about 5 seconds. It's made of the same sheer material that is on the actual maid costume itself, and the g-string and it pulls very, very easily.

The cap part of the hat measures 3" tall, and the ruffle that goes around it measures 2" long. The ruffle is very floppy. Unstretched, the elastic in the hat measures 6.5" in diameter, or 20.4" around. My head measures 23" around, and the hat fits just fine. It can stretch to 11" in diameter, or 34.6" in circumference.

*G-string:

The g-string is also made of the same sheer material that the hat and costume are made of. There is no cotton lining in the crotch. The tag is right in the front and is quite large. You can definitely see it quite well, so you will want to cut it off carefully. The waist band and g-string portion are made of elastic, with about a half inch piece of lace sewed to it.

In comparing this g-string to other panties I own, it seems to be about a size 7 or medium/large. Unstretched, the waist band measures 12" in diameter, or 37.7" around. It can stretch to 20" in diameter, or 62.9" around. This g-string sits right on my hips, and I measure 38.25" around. They fit fine, however the elastic itself measures just under 0.25" wide, so the more it is stretched the more it will cut into your skin. The elastic does not cut into my skin uncomfortably at my measurement.

The sheer material on the front measures 7.5" long, and it meets the elastic in the crotch area with a double stitched seam. The actual g-string part measures 6" long unstretched, and will stretch to 11.5" long.


*Costume:

*Top section:

The top section is made of very delicate sheer netting material. The neckline and armholes of the top are all made of elastic. The neckline measures 15" across, unstretched, from shoulder to shoulder. It can be stretched to 30" across. The front of the neckline comes down in a deep V, and measures 11" down from the shoulder, unstretched. It can stretch to 16.5" long. The armhole measures 4" in diameter unstretched, or 12.6" in circumference. It can stretch to 20" in circumference.

There is no support nor underwire in the cups. They are basically small triangles of the sheer material, and depending on your size, the deep V of the neckline may cut across the top of your breasts, or across the middle. The cups themselves are 4" tall and 5.75" wide. My bust measures 39", and it's quite comfortable for me. The cups are deep enough to hold my C cup breasts, but should be very versatile for different sizes. You can adjust the neckline so it rides up on your shoulders or off the shoulders a bit, and that will also adjust the cups and how the breasts fit inside them. I think that just about any breast size would work in these cups due to the adjustability.
Experience
*Top section continued:
In this picture in my Photobucket album
you can see what this costume might look like on a very small bust. I dressed a pillow in the costume, and the cups are not floppy or baggy, but there are a couple of small pleats in them.
*Middle section:
This section of the garment is black stretchy material, with a white ribbon lacing up the front. Unstretched, it measures 13" in diameter, or 40.8" in circumference. It stretches to 19" in diameter, or 59.7" in circumference. The lace up ribbon adds an additional amount of adjustability. You can add several more inches to the waist, or you can tighten it, if the garment is a little large on you. My waist measures about 30.5", and it fits very well. It is form fitting but not too tight. While the ribbon tie closure is a functional (and really cute) part of the garment, the ribbon is so satiny that it comes untied VERY easily. Tie it in a double bow to avoid that issue.
There's lace trim where the middle section and bottom section join. It hits right about my natural waist, and then the bottom section flairs out just a bit. I like that, as it can hide a little bit of tummy problems if you don't have a totally flat stomach. It's a very flattering cut.
*Bottom section:
The bottom section is 2 panels of sheer material (one in the front and one in the back) trimmed with lace at the bottom. At its longest point, in the middle, it measures 6" of sheer material, and 2" of lace, a total of 8" long. This length doesn't quite cover my butt, but pretty much covers my groin. Both panels are cut in a U shape, so they're very short on the sides and create a slit on both sides.
*Personal experience:
My man and I both really fell in love with this costume. It isn't exceedingly costumey, so I didn't feel silly wearing it at all. It could easily be a part of role-playing, but can be worn as sexy lingerie just as easily. The tie front can really help you personalize the fit, and it looks great. While the sheerness of the material is our favorite part, it is also the costume's downfall, because it is so fragile and delicate. I got 2 pulls in the skirt within 5 minutes of putting it on, just because I touched it with the corner of a Ziploc bag. I was able to tug on them just a bit so they aren't as noticeable, but I'm afraid this piece won't stay looking like new for very long. We are going to enjoy it while it lasts though, BIG TIME! It is a smoking hot costume. It can comfortably be worn during sex in any position, the skirt portion of the costume stays out of the way entirely and the top portion is easy to slide down and out of.
My man rates this costume 5 full stars with no hesitation and great enthusiasm (his words, not mine). I rate it 4 stars, just because it's so fragile. For looks, I give it 5 full stars too, but the fragile nature of the material takes 1 star off my rating.
This product was provided at a discounted price in exchange for an unbiased review. This review is in compliance with the FTC guidelines.

Thank you for viewing
French maid set
– costume review page!