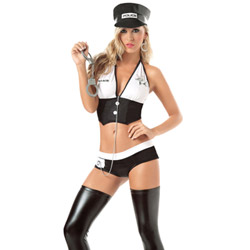 Beach police
Costume
by Espiral
Good Cop, Bad Cop
While this outfit can bring lots of fun to the bedroom, it also brings several crappy plastic accessories that will promptly be tossed in the trash. The lasting quality of the outfit is iffy, and the price isn't great. If you want it, get it for the sexy outfit alone and not the whole package. Several pieces like the handcuffs and badge will have to be replaced with nicer versions, but once it all comes together, it can be great.
Published:
Pros
- Comfortable
- Fits Well
- Fun
Cons
- Price
- Cheap Accessories
- Chain Came Off
- Small Hat
- Large Top
The Beach Police Costume by Espiral is decent quality and has a sexy design, but its overall value is cheapened by the accessories it comes with. Included in the set are a top, a bottom, a hat, a badge, and toy handcuffs. The design of the outfit itself is great. The top is a white "vest-inspired" halter top, with a black band that goes around the bust with two white buttons. On the left is a band that holds the badge in place, and on the right is a sewn-on patch that says "POLICE". In between is a ring for the end of the chain on the shorts to clip to. It ties around the neck. There are black shorts with a white band and white pocket. A silver chain and heart pendant attached to the pocket and it is loose on the other end. You clip the loose end to the ring. Then there is the black hat with the same patch that says "POLICE" across the top. Included as well is a badge, which is plastic spray-painted silver, I believe. Lastly, the "toy handcuffs", small and gray plastic. Not for actual use and not believable as a prop. More on this later.


I got mine sent to me in size XL, which is, according to the sizing chart, supposed to fit women of a 40 inch bust, 31 inch waist and 40 inch hip. I fall somewhere around a 38 inch bust, 38 inch waist, and 42 inch hip. Overall, much curvier than the suggested size. However, due to the forgiving nylon/spandex blend material, I had no issues with sizing. The top is a bit large for me and I'm a D cup, so unless you have a larger chest than I do, it may appear a little baggy. The "POLICE" patch crinkles up a bit and won't lay flat. The bottom fit well, and I would say it was somewhere between a L and an XL sized bottom, with a little room to stretch. If you can wear a L or XL in underwear, you will be fine. If not, it has a bit of room to stretch, but it may be too small for you. The suggested sizing for what is supposed to be an "XL" already runs small, so just be aware. I have found I am usually a L in lingerie and this is sized similarly to the other outfits I own. The hat is a little snug, but it stays on for a while if you pull it down all the way. And for a while, I mean during role-playing or strutting around. As soon as you start to kiss, the hat may begin to pop off. But if it doesn't, it will be one of the first pieces removed anyway, so no big deal.


I found all the pieces to be comfortable. I can wear them for extended periods of time as well as for short bursts. The outfit can be worn before sex and stripped off, or the crotch on the shorts can be moved to the side for easy access instead. Since it is similar in shape to a swimsuit and not too bulky, it can be worn underneath clothes for an element of surprise! I prefer to wear it in the bedroom only, however.


The material is 93% Polyester and 7% Spandex. Both materials are strong, but spandex has the added benefit of being stretchy! Spandex can not stand high temperatures, so wash in tepid water and allow drying in an airy place.


Now as far as the quality of the items, this seems to vary from piece to piece. The hat seems okay and the top and bottom seem like they will stand up to repeated use, for the most part. The chain that was attached to the bottom came off after the first use. I can easily reattach it, but I am beginning to wonder about the lasting quality of the outfit. The badge is pretty cheap, but it at least looks somewhat believable. It is shiny and metallic looking, though this is getting scraped off. Since it can be removed from the outfit, it can easily be replaced by any badge with a clip. Maybe invest in a nicer one. This one doesn't really stay on, and gets more in the way than anything else. The handcuffs are "merde", shit. Not only are they cheap plastic and not shiny, but they are incredibly small! I don't think even a child could use them comfortably. They don't even look believable as a prop, so I promptly threw them away. I would suggest getting a pair of simple metal cuffs, with or without fur. They are relatively cheap on Eden, and they really add to the fun!
Experience
Speaking of fun, that is one of the few things this outfit really brings to the table. There are many things you can do with this outfit. For example, you can frisk your partner and pat them down like you are searching for something. The daring could do a cavity search on their partner. You could arrest them and put them in handcuffs;then let them beg to get out, let them offer to please you sexually in exchange for release or just do whatever you want to them while they are handcuffed and be in total control! The tables could be turned and your partner could catch and handcuff you, the cop and then do any of the things I mentioned. You could always write your partner a ticket and ask them what they would do to get out of the ticket. That's fun too. Even if you aren't a serious role-player, there are giggles and pleasure to be had when this outfit goes on. You can be serious or you can be goofy, but either way it can be quite enjoyable.
Follow-up commentary
3 months after original review
This really isn't a great outfit. I haven't worn it since I reviewed it, and I plan to get rid of it. I don't think I will ever purchase anything from Espiral in the future.
This product was provided free of charge to the reviewer. This review is in compliance with the FTC guidelines.
Thank you for viewing
Beach police
– costume review page!