Goth vampire?..ughh..I guess so, or how about misfit vampire!(size LARGE)
I was excited to get this costume for Halloween..until I recieved it and put it on that is. Unfortunately there are just to many cons to it for me to be satisfied. As long as you don't mind altering something that costs you about forty bucks then grab a cape, petticoat and fangs and you'll be ready to suck some blood..or something else! Personally though the most I sucked up in this was my tears for looking silly!
Published:
Pros:
~opaque material
~public appropriate
~cute?
Cons:
~weird cups ~failed at craftmanship
~runs SMALL
~vampire collar doesn't stand up
I saw this costume right when it hit EF's website and fell in love. Waiting to be able to request this as my assignment I prayed that it would still be available for me to request, and sure enough it was! I can say that my anticipation for this package to arrive was alot greater than normal with me going on and tracking its every stop.
It arrived to me in a thick clear plastic bag with a handle and snap closure. The same as which you would see most costumes come in. This bag is great for storing your costume when not in use OR to store other items as it is durable and can with stand alot. Inside the bag there was a piece of thin cardboard donning the model that's on the product page. Also inside you will find three pieces ..the dress, and two arm pieces.
When taking this out of the bag I immediately was shocked and had mixed feelings on this. I have come to accept that with most pieces I get on here the material is thin and if your lucky opaque! This costume however is thick and reminds me a great deal of the table cloth on my kitchen table! Knowing when ordering that it is made of 98.5% cotton and 1.5% spandex I was expecting a totally different texture. I still am undecided if I like the material or not but atleast I should be thankful that it is thick instead of super thin and sheer like most items I recieve!
The red top on the dress has six small plastic boning pieces in it with velcro on each side that attaches on to the dress. The velcro gives you the option of removing it, but unfortunately each strap on the dress that attaches to it have the fuzzy sides so they won't hook together. The collar piece even though it is is well made is a complete flop...literally. Seven Til' Midnight didn't apparently put much thought into this because there is no way it can stand up on its own unless you plan on not moving around. The halter style dress has unadjustable black straps with five gromments going down each one of them. These straps attach to the red "cups", that are poorly done and wouldn't fit any cup above a size B or C. The way they are designed there is no support as there is no underwire and the cups aren't deep enough to hold a bigger breast. Above each cup you will find four more grommets running along the top. From the cups down the torso area is black in the back and front. Two red strips of material with five grommets on each run down from under the cups to the waist. From the waist down it flares out into a "A" line red skirt. A small black mesh ruffle wraps around the waist and a black square piece of fabric sits on the front of the red skirt. This flap kind of looks like a sewn on apron but without the strings that wrap around the waist. On this piece there are five grommts on each side and an off centered vinyl red bat. If this is something you don't like it could easily be taken off since it is only stitched in a few spots. Along the left side is a zipper that runs along the whole side besides for the last couple inches at the bottom. This zipper is a pain in the ass to zip from the waist up because it gets stuck often.
The two arm pieces are a black mesh and are snug on your upper arms and then flare out at the wrists. I actually like these and find that they are very soft and comfortable to wear but unfortunately when I recieved them there was already a small hole in one of them.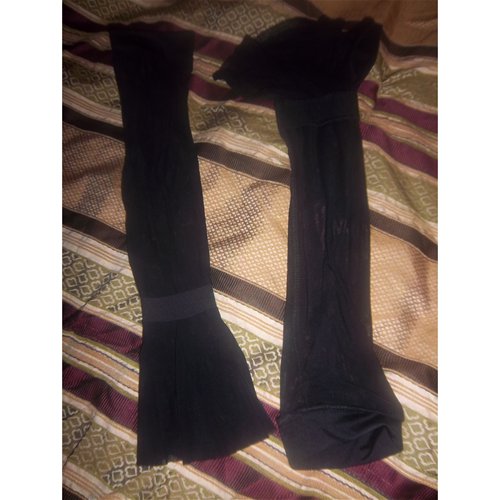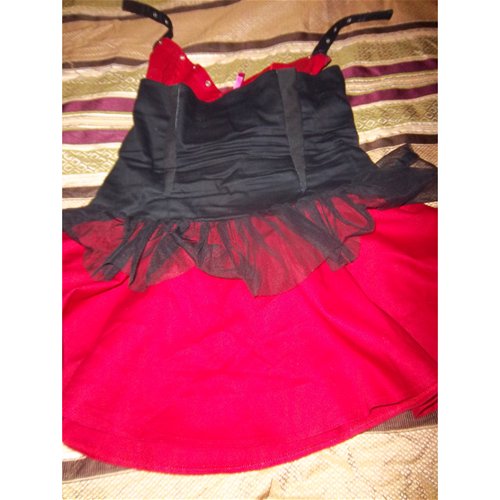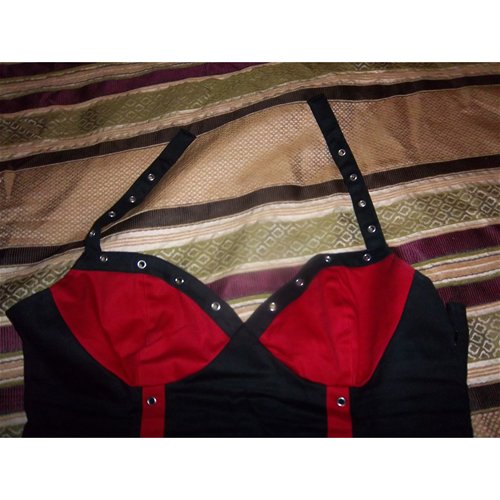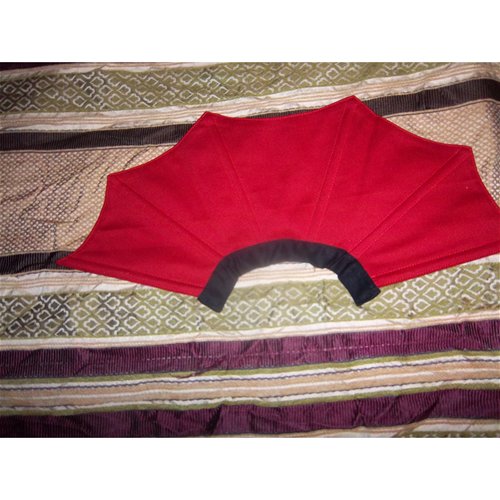 Experience
My experience with this costume wasn't that great and I'm finding it difficult to write about this piece. I had ordered the size large and according to Seven Til' Midnights size chart it should of fit me without issues (besides the cups). Unfortunately though once it got to the chest I wasn't able to zip it because of my big breasts I'm assuming. I had added a couple strips of fabric so I could wear it which shouldn't of been necessary. I wore the costume on Halloween with a black and red petticoat and a cape. The cape was needed to cover the ridiculous "vampire collar" that wouldn't stay up. Even though I recieved many compliments on it I still felt silly because of the flaws it had.
Seven 'til Midnight
Cup Bust Waist Hip
Small 2 - 6 A - B 32 - 34 24 - 26 34 - 36
Medium 6 - 10 B - C 34 - 36 26 - 28 36 - 38
Large 10 - 14 C - D 36 - 38 28 - 30 38 - 40
Arm pieces - 20 inches long
Collar of dress measured at boning - 7 inches long
Each cup is 7" wide by 4 3/4" long
Torso 13 3/4" wide ( deducting the two inches of fabric I added)
Dress from cup to end of dress is 25" long
My sizes:
10-12 clothes
38 D-DD (depending on brand)
5'5"
160ish(think I've gained a few pounds!)
This dress was to tight to zip and definitely not a C or D cup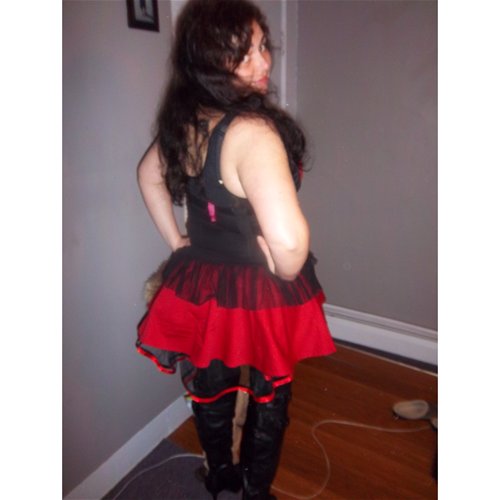 As you can see I had to wear a tank top underneath to not have my breasts completely exposed, but unfortunately it looked weird. I also safety pinned the halter straps to the tank top so I didn't have to wear the ridiculous collar the rest of the night. So between these issues and having to add two inches of fabric to the back just so I could zip it up left me really disappointed with Seven Til' Midnight and this costume!
Follow-up commentary
1 month after original review
I will never wear this costume again unfortunately due to all issues I had with it. I also found it not to be very flattering on my body shape either adding on a few extra pounds I don't need. I am trying to convince one of my friends to alter it into just the skirt for herself as I think it would look cute on her but she seems to have no interest in it as well.
This product was provided free of charge to the reviewer. This review is in compliance with the FTC guidelines.

Thank you for viewing
Goth vampire
– costume review page!