Pretty Fly For 10$
I have to say I am really starting to change my opinion about DreamGirl clothes. I don't know if they are making their clothes better, or if my weight loss is helping me fit into them better, but damn have I been one happy camper with their stuff lately! These panties are fantastic and they are currently my favorite piece. **NOTE** I have no idea why the first pic in this review is showing up so large. It is only 120x65 or something like that, but it's showing up huge...
Published:
Pros:
Great fit and design, comfortable, fantastic price.
Cons:
Still aren't made in bigger sizes, lace seems kind of weak.
The Spanish Fly Open Crotch short is yet another piece I have come to love by DreamGirl. These are boy-short style panties with an open back and, since they're crotchless, they provide easy entry for sex. Okay, so there is practically no panties at all. But that's besides the point! The style and design is fantastic, the fit and material is comfortable, and these are durable!
*Material/Design*
At first glance, you might think you have ordered something from Coquette because of the small bows on the front. Fret no more- these are simple, small bows that will not attack you!
Anyways, these are labeled as being made of 90%
Polyester
and 10%
Spandex
on the tag, but Eden has them listed as being made of
Chiffon
,
Satin
, and
Lace
.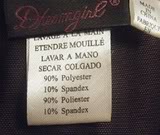 Now my theory for this is that the polyester and spandex are the main materials in the bands that allow such a comfortable stretch and fit. The chiffon makes up the two front panels, the satin is the bows, and the lace is around the bottom of the piece.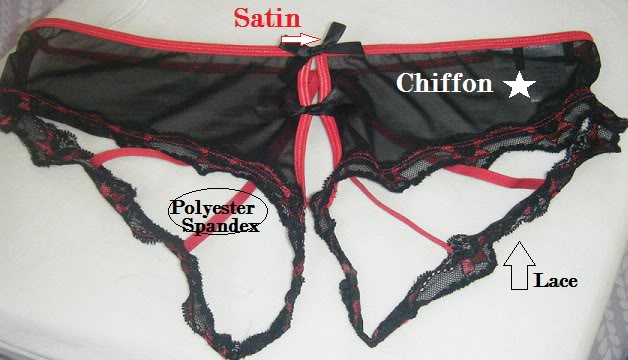 These have two front panels in that are tied together by two bows, leaving a loop in the front. Unlike the picture with the model you can actually see some skin in between the bows, and your genitals won't be covered like the model's are either.
*Care and Feeding*
Polyester, spandex and chiffon are all pretty stretchy and durable materials. The lace is a little more delicate, however. These can be washed normally but I strongly suggest using a pillowcase or lingerie bag so they don't get destroyed. The back is made of polyester/spandex type strings and could get caught on something else in the wash. You can hand wash these if you'd like, and leave them to air dry.
These can be stored in a drawer or on a hanger with the rest of your lingerie. I tend to keep them with other pieces that I wear them with.
The only problem I have with them is that the lace (being very delicate) is prone to getting weak and destroyed easily. Take a lot of care when using these and try not to put them through anything too rough. Luckily they are only 9.99, so a replacement pair won't be that hard to get if you do end up destroying them.
*Measurement/Fit*
I ordered my pair in a size L which, according to
DreamGirl's size chart
, runs:
a size
10 - 14
;
waist size
28"- 32"
hip size
38"- 40"
and weight
140- 150lbs
.
<----To figure out if these will fit you double the measurements I give you below except the last one about the lace straps.---->
These panties measure in at
16" long, and they stretch to 21" maximum.
The front panels measure in about
5 1/2" long from top to bottom
.
The back is made of polyester/spandex strings that measure about
7" long each
.
The lace straps at the bottom measure about
22" around
and will fit a good sized leg.
I weigh 176 lbs, and I have a 42" waist and 44" hips. These fit me like a dream! They make my ass look awesome and they show the goods in the sexiest way ever. I paired these up with the
Romantic Lace Babydoll
I have (that review coming soon as well) and they made the perfect match!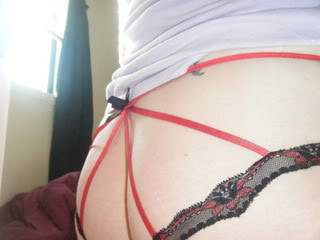 This content is the opinion of the submitting contributor and is not endorsed by EdenFantasys.com

Thank you for viewing
Spanish Fly open crotch short
– shorts review page!