Handing Out Peanuts and Ginger Ales This Halloween!
"Welcome Aboard" and fasten your seat belts, because this Sultry Stewardess outfit is going to rock your world. My husband is getting a mile-high surprise tonight in this fabulous dress. Honestly, I have no turbulence with this dress, just smooth flying. I love the style, cut, design, quality, accessories and more!
Published:
Pros:
Quality Product
Great Additional Accessories
Sexy, Sultry, Sassy
Cons:
Only Two Sizes: M,L
I found a Halloween costume on EdenFantasys! I thought for sure I would get stuck browsing the racks at the Goodwill last minute. Usually that is me days before Halloween, but not this year! I even have a couple weeks to spare, thanks to the fabulous Sultry Stewardess on EdenFantasys! What an awesome find! Now the only reason I need to go to the Goodwill is to find my husband a suit and tie that resembles a pilot. If I get lucky, maybe I will find some aviator glasses and a pilot hat too! (Maybe EdenFantasys will have men's pilot outfits someday too!)

Packaging: sturdy, descriptive and reusable
The Sultry Stewardess came in a typical Halloween costume package. It was just like what you would find at a Halloween store. It is a big, thick plastic, snap-button closure, hanging bag. There are a couple photos of a model wearing the costume. There is fabric info, washing instructions, size info and more on the outside insert of the package. Inside the bag was the costume nicely folded around a cardboard insert. The neck scarf and the hat were in a separate mini plastic bag. The costume came with 3 pieces total: dress, scarf and hat. (I know, I know, the boots are so cute... but they don't come with, sorry!)

The packaging is great for reuse. When Halloween is over, I am going to fold it all back and put it in this package for another time. I might bring it out later in the year for a bedroom surprise! It can be hung in the closet, thanks to the hanger, but I prefer to keep it with the rest of my costumes in the basement.

Made in Taiwan

Design/Shape: cute, practical... better than expected
This dress comes in one style/color option. It is black with golden trim. The dress has 3 golden buttons – one on the faux belt, and two on the faux pockets. The buttons are a nice touch, but they get cloudy after you touch them, they don't stay shiny. The golden trim is nicely done and flattering on this dress. The front of the dress is a wide open scoop neck and will show off cleavage. The back has a very long zipper, so it is easy to put on. You can step into it or slip it over your head. The dress is detailed with the buttons and the trim, and it looks very well done and visually appealing.

The hat is one of the better costume accessories I've seen. Typically they can be cheap and junky. There are two lines of golden trim on each side of the boat-style hat. They cross over in the front, for some dimension and style. The hat is well done and there is a clear front and back for how to put it on.

The neck scarf has slight ruching and is attached by a Velcro strip. It could be adjusted about 1 inch in size. There are two hanging pieces off the neck portion to give it the tied scarf look.

Sizing: runs small, better for large chested
It is available in M, L.
I ordered the size medium. I am 5'4", 128lbs, size 4-6 and a 34D bust. If you want my complete sizing information, just visit my profile page. The size medium is recommended for women size 8 – 11, cup B - C , bust 34 – 36, waist 25 – 27, waist 36 – 38.

The dress is about 33" long.
The sleeves are about 7" long.
The scoop neck is about 9" deep.
The zipper is about 22" long.
The belt waist is about 27".
The bottom hem is about 38".
Hat is about 20" around and 4 inches at deepest part.
Scarf is about 16" and 2 ½" height.

I ordered a medium, I am typically a small-medium, and the medium was the smallest size available. I am glad that I ordered up! It seems to fit perfectly! It is not to short, about mid-thigh. It has some wiggle room, but doesn't look baggy. The sleeves are form fitted, but not tight.

My recommendation is this Leg Avenue dress runs small! I think the medium is a good fit for size 4-8. I also will recommend this for medium to large chested. I know my pictures are pretty boob-a-licious, but the top has a lot of room to fill out. I do not recommend this for 36A or below, maybe even 34B and below. It might work if you order a smaller size. This is just my opinion.
Experience
Care/ Maintenance:
typical, expected care
The instructions for cleaning is to hand wash cold. Only non-chlorine bleach when needed. Drip dry and do not iron.
Material/Texture:
polyester, not stretchy
Material:
Material: 100% polyester
The outfit is very comfortable. The fabric is not soft yet not scratchy, that is polyester for you. I am not bothered by the fabric, but it might bother those with sensitive skin. There is little give to this dress, it is not stretchy. The gold trim is soft and smooth. The buttons are plastic. The material is not see-through or thin. It is an average thickness. This dress fabric will by no means keep you warm. The quality is superb. There are no loose strings or unfinished seams. The seams are strong and sturdy. The fabric feels long lasting. The craftsmanship is excellent.
Personal Experience :
SOOOO EXCITED ABOUT THIS
This dress is perfect for Halloween or bedroom role playing. It is well made and much higher quality than I was expecting for a Halloween costume. The accessories are a fun addition to the outfit, and really put the whole thing together. The hat actually stays on my head with just a few bobby pins! I can even wear it to the side like the model! Sure it would be nice if this outfit included the boots, but that is not that practical, since everyone has different shoe sizes (You can get them from Leg Avenue – they are the Uptown Shoe #5033. You can thank me later.)
I am sure this outfit is too sexy for some, for Halloween. Yes, this costume is a little risqué, but I don't have kids, so it is no big deal to wear it for Halloween. I can be naughty until I have to be a good example someday! I am so excited to be a stewardess for the night (are we allowed to call them that anymore?) ;) and find a matching pilot outfit for my husband. Maybe my dog can join in the theme too – he can be a jet plane, or a peanut, or a suitcase...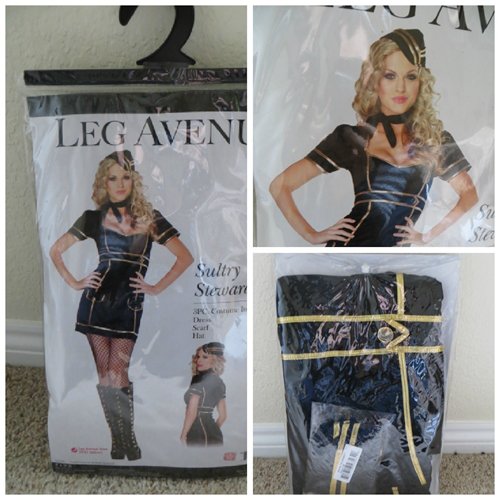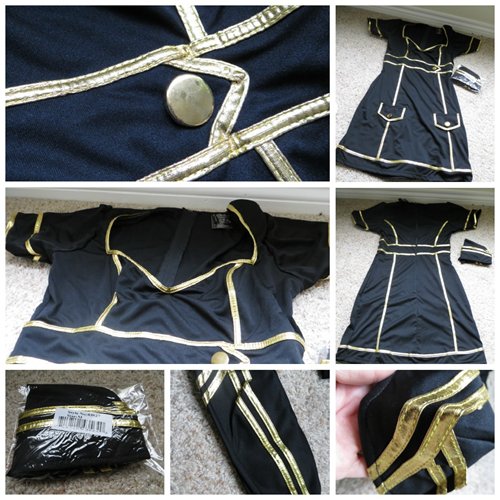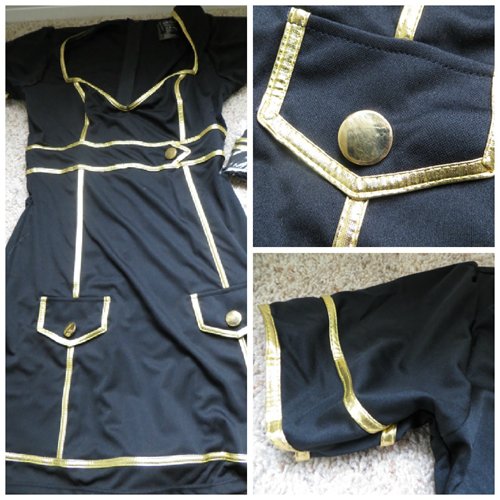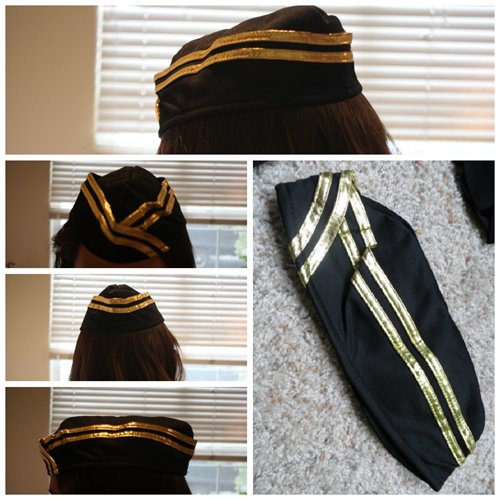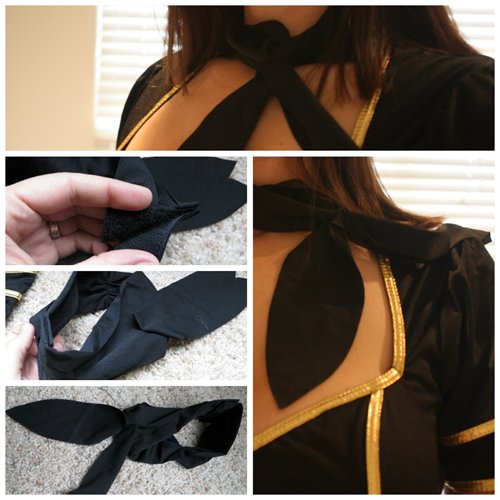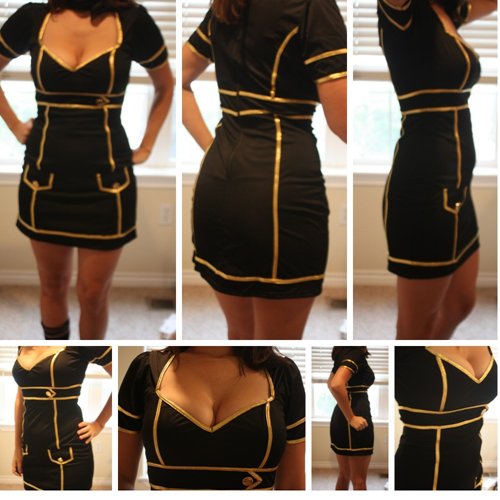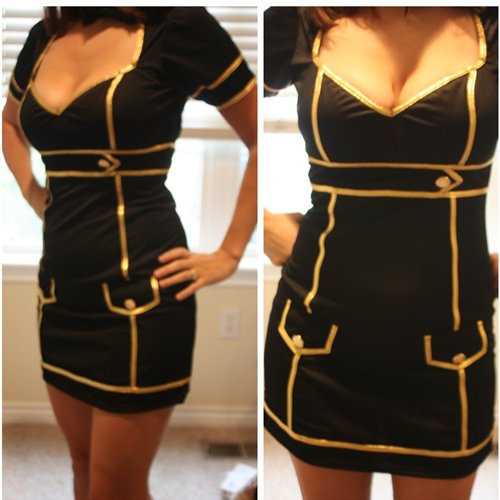 This product was provided free of charge to the reviewer. This review is in compliance with the FTC guidelines.

Thank you for viewing
Sultry stewardess
– costume review page!