Hardly luxurious
I don't think these are worth it. The fabric is allegedly 100% silk, but it doesn't seem to be very high quality at all.
Published:
Pros:
Comfortable enough, breathable, light fabric, decent fit, comes in red also
Cons:
Expensive, fabric feels thin, no pockets, silk = not for vegans, transparency
These pants come packaged in a little paperboard box, with sizing info included on the bottom of the package.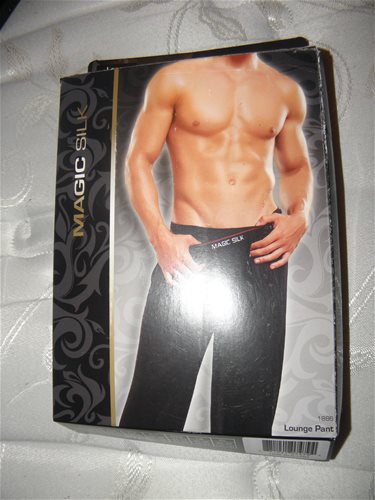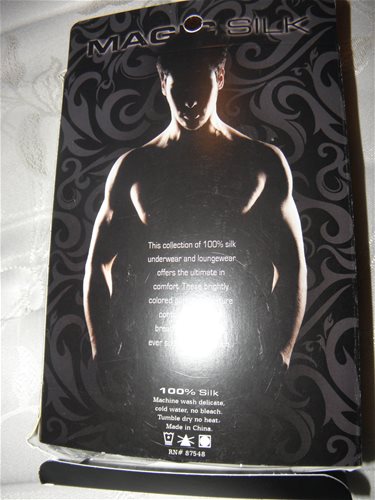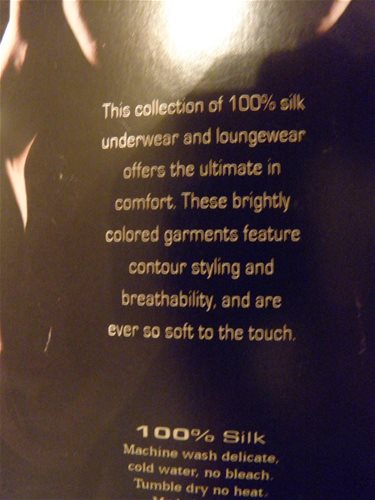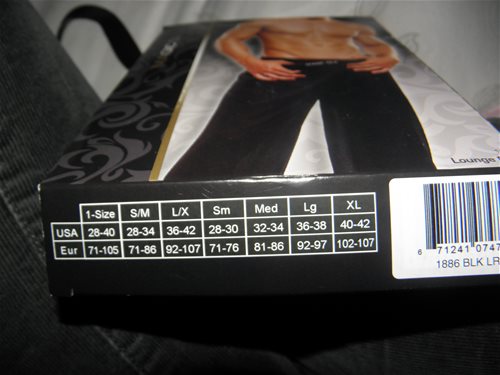 Inside of the box, the pants are folded up inside of a plastic sleeve. The packaging is pretty minimal, and the box could be recycled but I wouldn't see a need in keeping it for storage. The box actually seemed a bent up when I got it anyhow.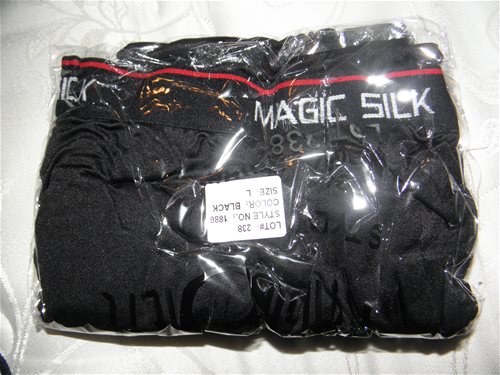 I find that the sizing of these pants is pretty accurate. I generally wear a large in anything, and I figured the large would best fit me in these as well. Sure enough, these pants fit comfortably, without making me feel like they are too tight or too big anywhere. Not to mention, the waistband and fabric of the pants itself is very stretchable, so even if you got a size down these would probably still fit alright, but they would cling a bit more than they already do. The waistband in the large size is not too tight or loose; it fits me very comfortably, and I have 38" hips. These don't give me a muffin top, which makes them feel less constricting than other pajama pants and bottoms. I was worried about them being a bit short when I first held them up to look at them, but the length fits me fairly well. I have long legs and sometimes have issues with pants reaching above my ankles. When I bend my legs, though, these rise up to about my knees, which isn't actually an issue with other pajama bottoms that I have. If you are shorter, you would have to pull these up higher or hem them to wear them comfortably.
The fabric is silk, so it is not for vegans since silk is an animal byproduct. It is smooth to the touch, but I would not think these were silk from just touching or looking at the fabric. I expect silk to be more..silky? I would assume from touch alone that these were some other sort of fabric blend. According to the tag though, these are 100% silk, though I question how true that is. The fabric, when you hold the pants out in front of you and look at them, is a bit transparent because it is so thin. I have very pale skin, so in certain lighting, particularly in even the slightest bit of natural light, my skin and the shape of my legs can easily be seen underneath the fabric. The pants are pretty see-through, which could pose a problem in certain situations. Also, when I pull the fabric away from my skin, I can see the shape and color of my leg underneath. One thing about the fabric that could be an issue is that, while it is very flowy, the fabric clings and shows off your body. If you wear underwear or anything underneath these, pantylines will show. It really clings to my bum, and it could highlight any areas that you may not be comfortable with, so that is good to be aware of before buying. These do feel pretty breathable and light, which I really like about them. If you don't want to wear heavy fabric, these are great. I am currently wearing these pants as I write this review, and it is over 70°F in this room, and I am not sweating or at all uncomfortable with this fabric. While I do enjoy this about these pants, I am curious as to how well these will hold up after washing, and the generally durability of the fabric. I feel like these could be prone to snags, though I only just got the pants so I don't have any snags to speak of just yet. I feel like if you have a pet with claws, you might want to watch out around them with these pants, and you might want to be careful with them in your lap. I am worried that fabric this thin could might not hold up well after washing a few times in a washing machine, and I wouldn't care to invest the time in handwashing these regularly. Although, according to the care tag, these are machine washable in cold water, and should be tumble dried on a low setting in the dryer. I'm hoping the fabric is durable and holds up without falling apart, especially given how expensive these were!
Experience
While I like these pants, I find it difficult to see them as worth the price. They are really expensive for a pair of pajama bottoms. I have the Male Power Bamboo Pants that are also sold on Eden, and I have to say that I find those more worthwhile all around. The bamboo fabric is preferable, and while I find those to be expensive as well at a price of about $40, they are about $20 cheaper than these silk pants. I would recommend the bamboo pants over these silk pants, I find that the bamboo fabric keeps me from getting too hot or cold, regardless of the temperature of the room I wear them in. These are light and comfortable for warm homes or warm weather, but I am sure I would freeze if I tried to wear these in the cold, they are so light and thin. These are nice enough pants, but I would expect these to cost about $20! I like the way they feel when I wear them, but I would not want to get these at full price! For about $60, I don't think they are worth that much. If you're torn between getting these or the bamboo pants - go with the bamboo. Also, the bamboo pants have pockets, whereas these silk pants do not. Unless you really, really need light thin fabric, and even then, I don't think these are worth such a high price. Mostly, I'm worried about how flimsy the fabric feels. I feel like if I put this in the washing machine a few times, it will just get torn.
This content is the opinion of the submitting contributor and is not endorsed by EdenFantasys.com

Thank you for viewing
Knit silk pants
– lounge pants review page!