Hello Boobs!
Tesa's Classic Corset in red is a stunning piece once you put it on, and the pro's outweigh the cons by a long shot. It feels like it's too good to be true, but only time will tell if it holds up.
Published:
Pros:
Great price, sturdy boning, lace-up back, super sexy, can be worn out of the bedroom.
Cons:
Material is a little cheap feeling.
You are going to have to bear with me here, as this is my first lingerie review AND there is no extended form to remind me what to write about. So, don't hesitate to ask questions in the comments, and I will answer them.
I was very anxious to order one of these corsets. With it being the holiday season, I decided to order red so that I could festively wear it out to holiday parties. In the picture, it looks like a little bit darker of a red. In real life, it is a very vibrant Christmas type red color. I wasn't disappointed with it though. I still liked it. The material is polyester. What it feels like is the very cheap satin knock-off material you can get at fabric stores. I almost worry that it could get snagged. The material is very thin, but it's not transparent at all. But it is thin enough to where, even with the laces tightened all the way up, you could see the balls from my bellybutton piercing through it. The material provides no support at all. I have been skeptical of ordering a corset with plastic boning, simply because I thought it would be very flimsy, but I was VERY surprised at how sturdy this is, and how well it pushed up my cleavage, sucked in my gut and waist, and still came out nicely at the hips.
The back does lace up, and it cinches your waist quite nicely. There is NOT a modesty panel though, but that doesn't bug me. There is also a zipper on the side. As far as cleavage goes, if you are looking for a look that resembles the cleavage that Anne Boleyn had in The Tudors, this is going to do it. (A note: in the pictures, it does appear to be a little crooked. This is of no fault of the garment itself, but the way I had laced it up. I didn't realize it until I was looking at the pictures later.)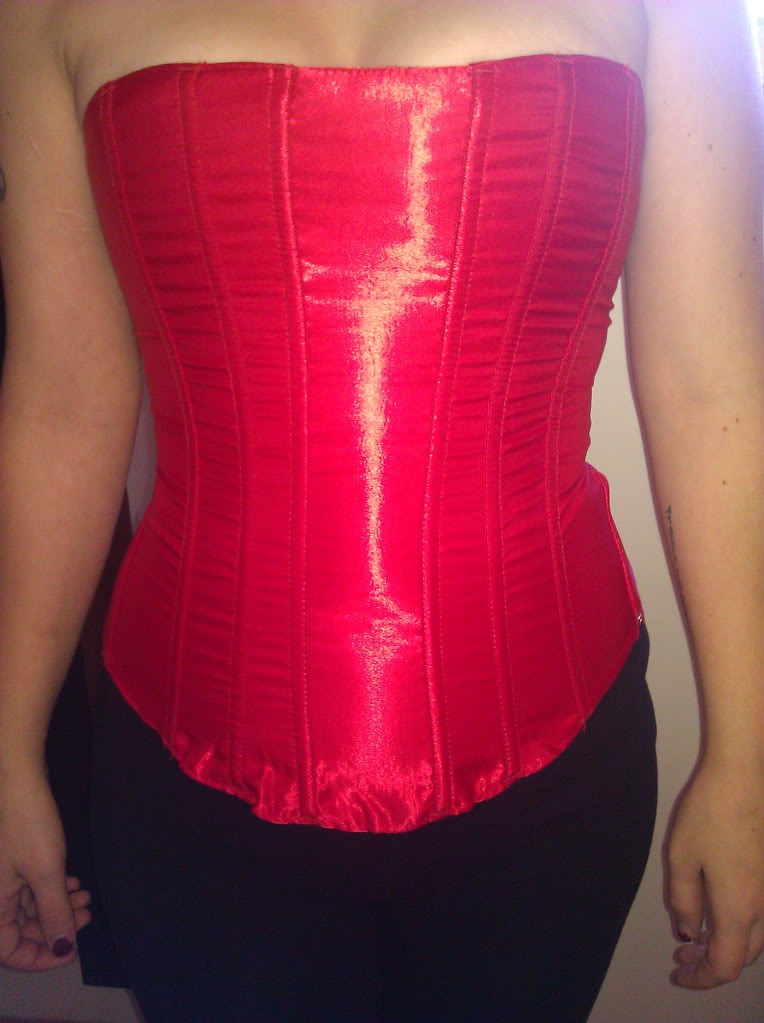 It came packaged in a simple plastic slip bag with some adhesive on one end to keep it from slipping out. The packaging is definitely reflective of the cheap price of this corset.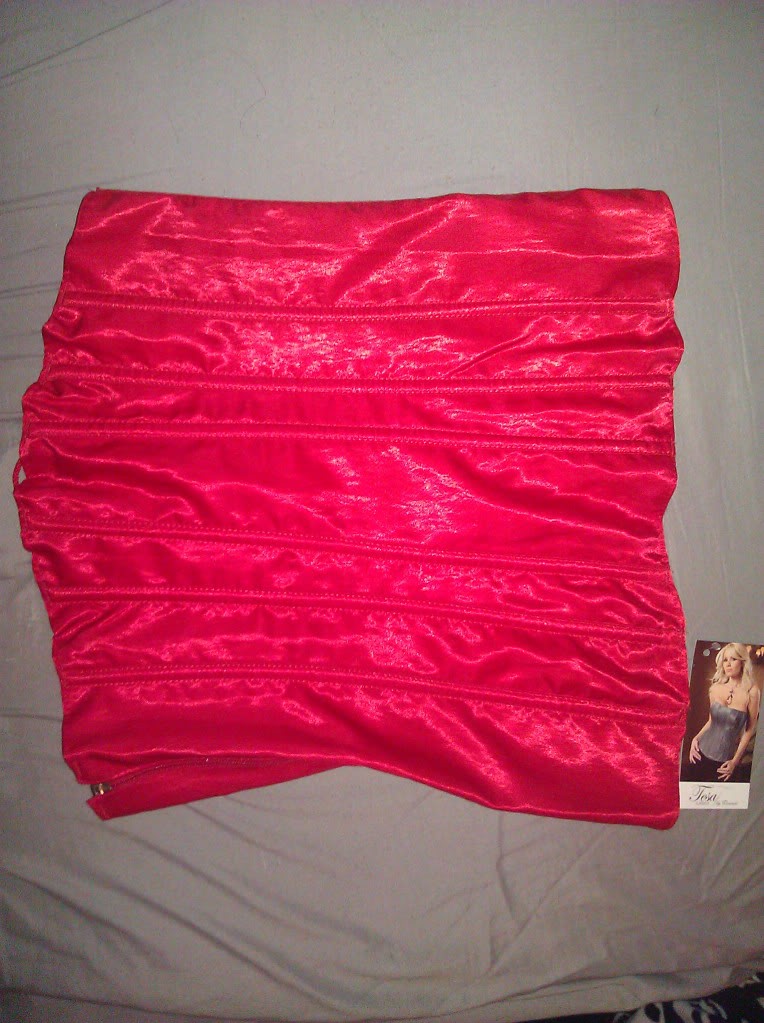 One odd thing I noticed, was that on the back of the paper tag that was attached to the corset, there was red discoloring, like the color had rubbed off or something.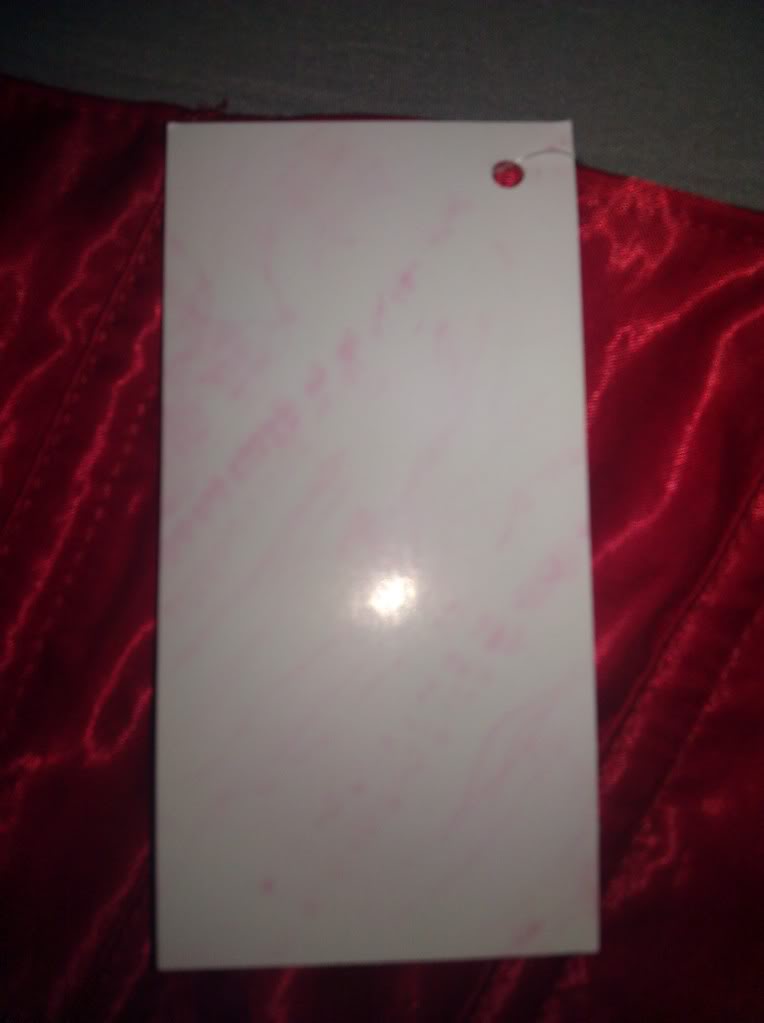 I ordered a size 34. The Escante size chart doesn't list a size 34, and honestly, I didn't even look at the size chart before I ordered. I just went by the size of the fullest part of my bust line. Just for reference though, here is the section of the Escante size chart that shows the measurements for a 34 inch bust:

My measurements are:
34 inches at the fullest part of my bust
31 inches underneath my bust
29 inches at my natural waist
37 inches at the fullest part of my hips
Some measurements I took of the corset are:
Zipper length/Length of side: 12.5 inches
Front, from top to bottom: 14.75 inches
Back, from top to bottom: 11.5 inches
Side to side, unzipped, with laces tightened completely: 26.5 inches.
Now, I'm 5 feet tall. As you can see in the next picture, the corset sits just above my nipples, and then sits right above my hips: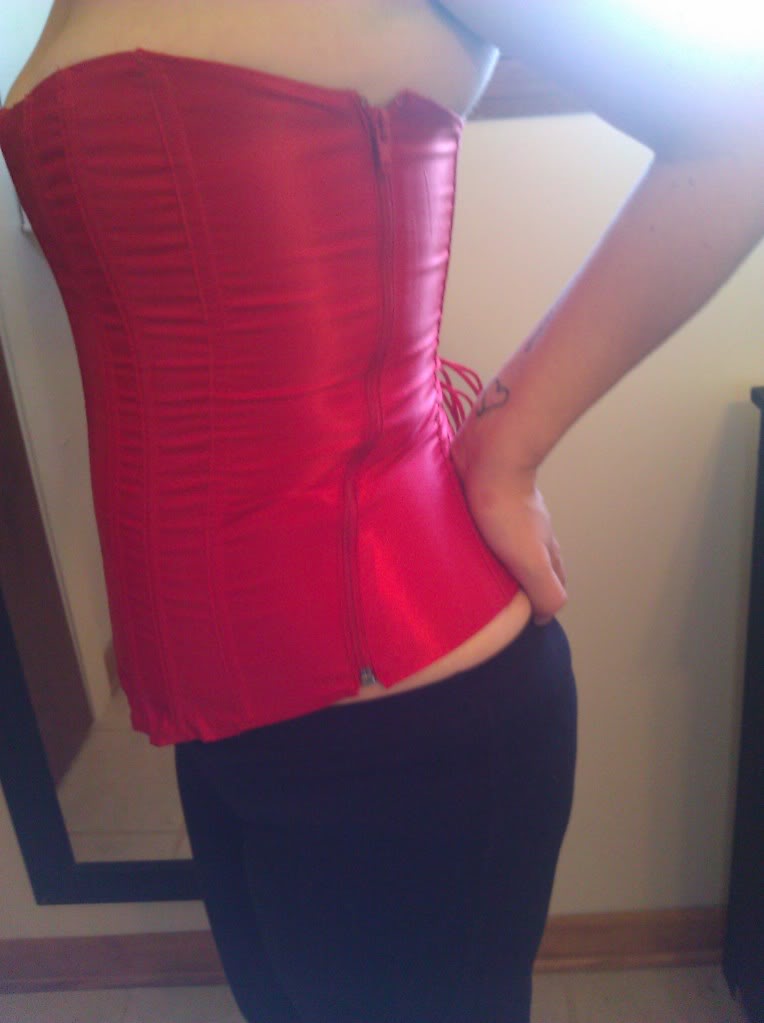 I'm not sure how well this would work for someone with a longer torso, especially if you planned on wearing it out of the bedroom. But I think it fits me quite nicely.
Here are a few more pics: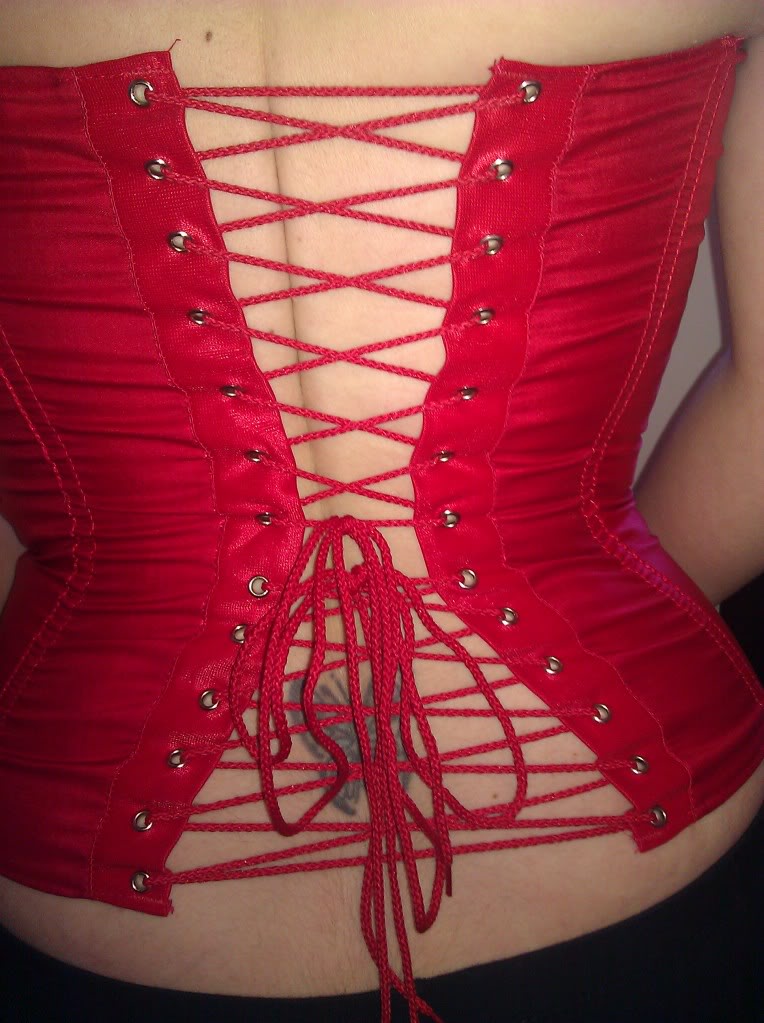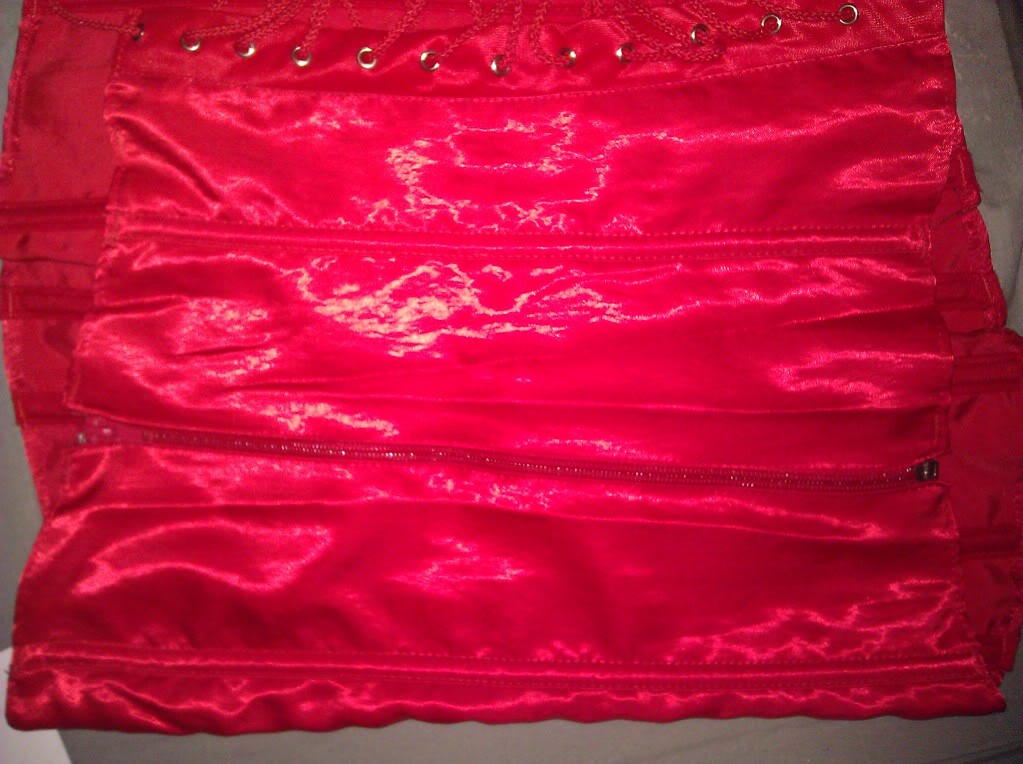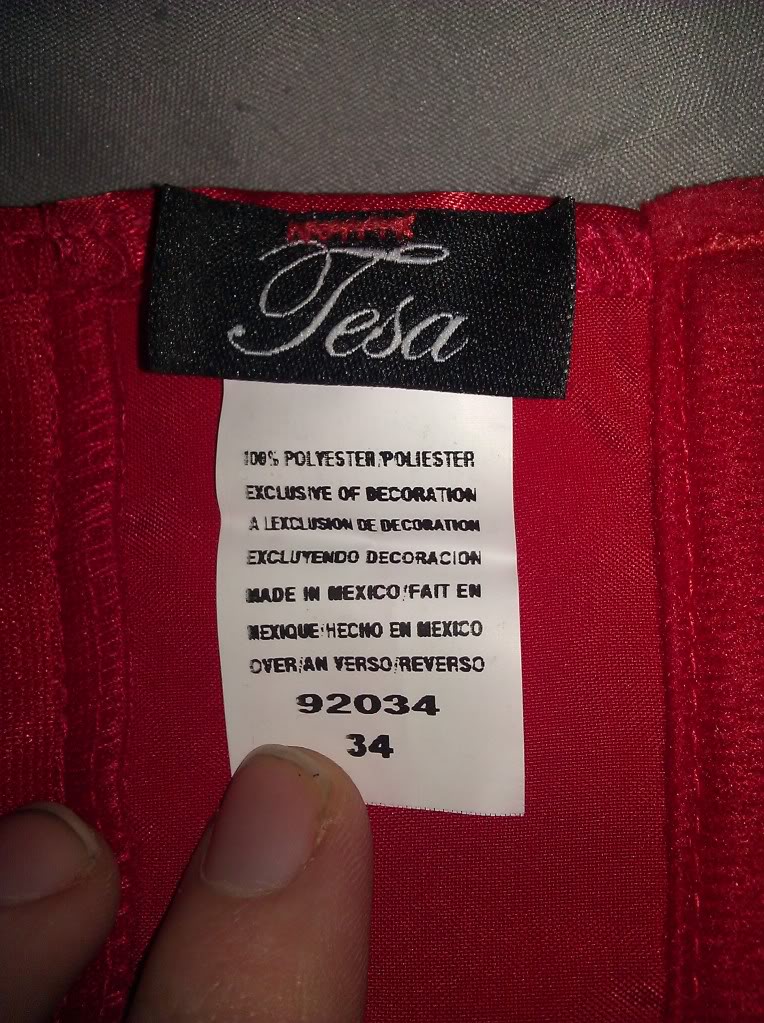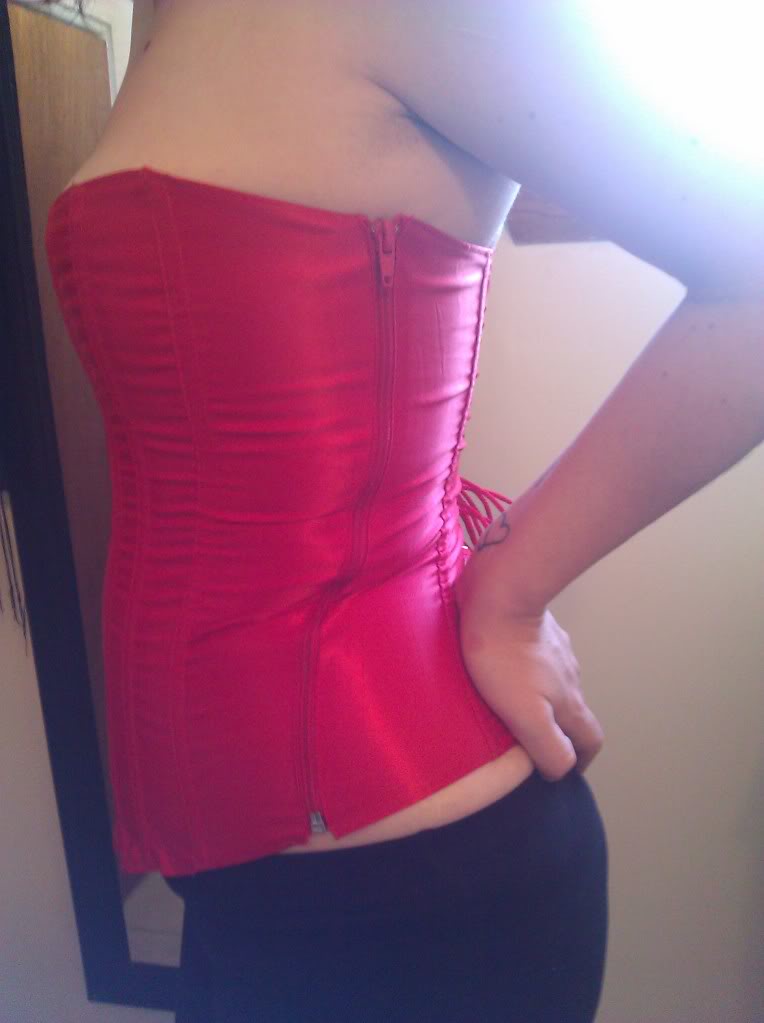 The cheap feeling of the material is a slight drawback, but when you have it on, you can't even tell. I'm not sure how long it will last, but I love it, and I plan on ordering it in gunmetal and maybe black as well.
As I said, I'm sure there are things I forgot to cover, being my first lingerie review, but pictures are worth much more than words, I think. If there is more that you want to know, don't hesitate to ask!
Follow-up commentary
6 months after original review
Although it's nothing fancy, it's still one of my favorites for when I want to look dressed up and sexy without overdoing it. It's held up pretty well through the times I've worn it, and I've gotten lots of compliments!
This product was provided at a discounted price in exchange for an unbiased review. This review is in compliance with the FTC guidelines.

Thank you for viewing
Red Tesa`s classic corset
review page!