Here Comes The Po-Po!
Put together, this naughty cop outfit looks great! By itself, the body suit looks a bit awkward, with the panty part puckering here and there. The skirt will cover that up in jiffy! It's perfect for costume parties or pehaps for a roleplay involving a dominant women; however, it takes several minutes to put it on and it's not just something you can quickly strip out of and toss on the floor.
Published:
Pros:
Sexy, versatile, not too revealing.
Cons:
Cheap materials, not easy on/easy off.
Visually, this is one of the cuter and more authentic-looking sexy cop outfits, with a traditional light blue top and black bottom. It includes 6 different pieces to complete the outfit: the main top, a skirt, a vinyl front waist cincher, hat, pin, and sequin necktie. All that's needed are some aviator glasses, stockings, and black shoes for the finishing touches. Even though it's a sexy number, it's not too revealing, so wearing it to a party and dancing the night away without having to worry about someone *illegally* stealing glances of Officer B Naughty's knickers (or lack thereof)won't be a problem. And if you do catch someone in the act, cuff 'em!
Dreamgirl is the manufacturer of this costume, which is made in China. It's intended for adult use only; however the packaging states "age grade 14+". I doubt most parents would want to put their teenager in this outfit, but considering some of the costumes I've seen at dance recitals, it's not much different.
The main piece is actually a bodysuit style, with a snap crotch. This style affords the wearer with a bit of "security", but also allows this to be worn with or without the additional skirt. The materials for the entire costume are polyester, spandex, and lightweight, thin vinyl (trim, cincher). The blue top feels like those inexpensive blend bedsheets and affords no stretch, whereas the black snap crotch-panty with sequin accents on the sides has spandex built in to it. The pull-on black skirt with side sequin accents simply has an elastic waist. When removing the costume from the bag for the first time, the sleeves are rolled down. Roll them up and fasten them with the vinyl tab (hidden from view when sleeves are down) before climbing in to the body suit and doing up the front buttons. The buttons are the traditional style, although I would have preferred snap-style so that I wouldn't have to worry about losing one should one come undone. As seen in the pictures below, I almost didn't fit Maybe it's not meant to be button up all the way? Next time I'll wear a sexy bra and just leave it unbuttoned more.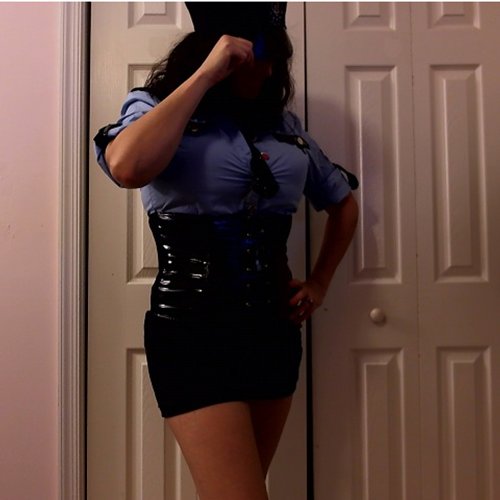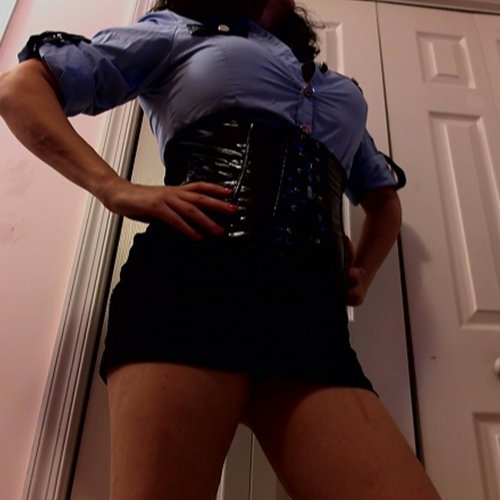 The sequin tie wraps around the neck and has a velcro closure; it's pretty loose fitting and I didn't feel that is was choking the life out of me. The hat is also adjustable, like a baseball cap would be. It's kind of stiff rather than floppy, so it will retain its shape.
SIZING
I order the LARGE, which is supposed to fit from the 140-160 lb range, myself being around 155. I tend to be a bit top heavy as one can see from the pics, with smaller hips and not much of a waist. Because of my broad back and large breasts, it was a bit of a challenge getting in to this costume, but the panty and the skirt fit fine, with plenty of extra room. I'm a 38D, which definitely falls within the size range, but as you can see from the pictures, I was about to pop a button! It was definitely taut on my chest and across the back. The cincher zips up in the back and stretches a little, but there isn't a lot of extra ribbon/string to make it looser, so it's not very forgiving in the tummy area.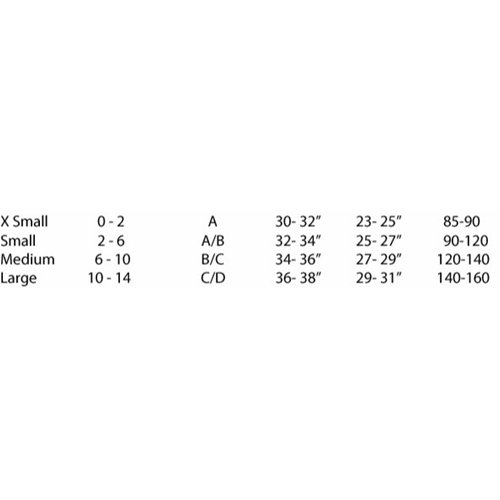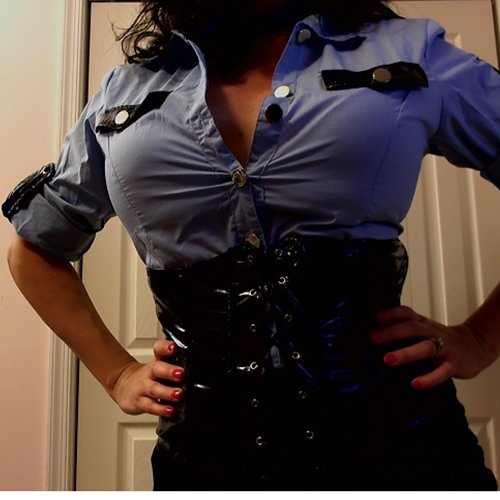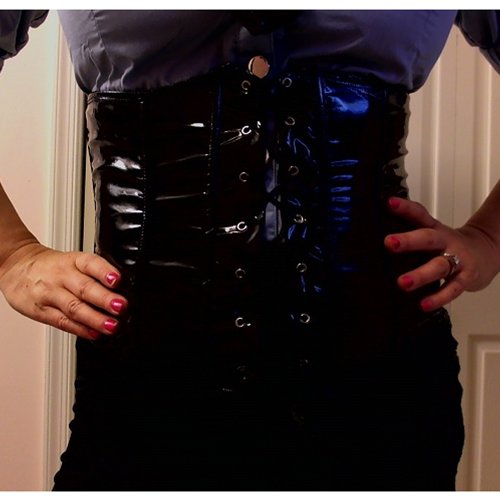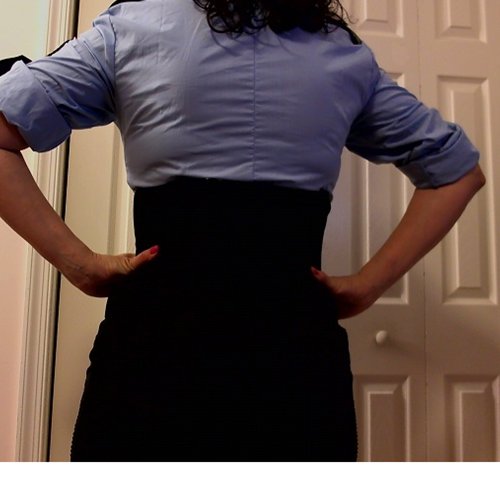 The body suit looks kind of silly on me by itself and was baggy in the butt.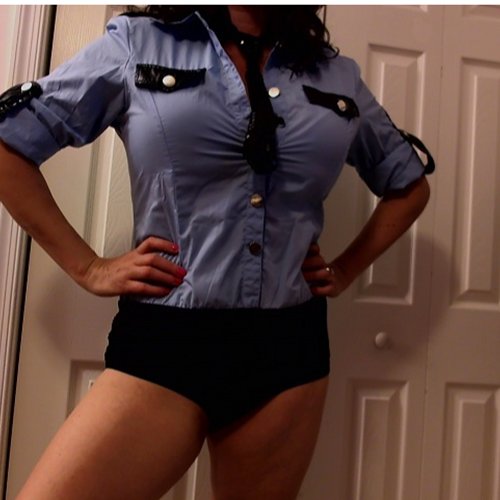 CARE
The main bodysuit and the skirt are dry clean only. With all the buttons and sequins, I'd be hesitant to wash it at home, but if I had to, I'd just use the gentle cycle of my front-loading machine then hang it to dry.
Experience
Even though this looked cute all put together, it was too much work for me. I loved the waist cincher and will use it with other ensembles, but the bodysuit thing is too much trouble for me to put on. I prefer costumes than just zip up.
This product was provided free of charge to the reviewer. This review is in compliance with the FTC guidelines.

Thank you for viewing
Officer B. Naughty
– costume review page!