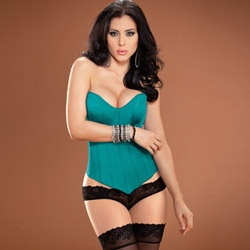 Electric capri Tesa`s sweetheart corset
Corset by Escante
Hey Sweetheart!
Overall, this is a fabulous piece for impressing. It's not great for long term wear, or for shaping, but is a flattering, gorgeous piece that's easy to wear. It's great for a night in or out and the bright turquoise (not green)color is attention catching and beautiful.
Published:
Pros:
Bright, gorgeous color
Convenient zipper
Hot!
Cons:
Ugly shoe string laces
No bust support
Design

The Electric capri Tesa`s sweetheart corset is a simply designed corset. Don't let the 'green' color designation on the website fool you, this baby is a bright turquoise! It's made of polyester that is shiny and silky. It has eleven plastic 'bones' and a lace up back. The laces are very long and look like shoe string laces. There is a privacy panel on the back so no skin will show there. There is also an easy on easy off zipper on the side. Aside from the boning, there is no design to speak of. There are no cups, underwire, or padding for the breasts, either. You either fill the area up or you don't.

Sizing

I ordered mine in a 38 because I wear a 38D/36DD. My measurements are 40-33-40. While ordering the larger band size wasn't exactly a mistake (I have a large waist and large ribcage), I would have done better with the 36. Go by the band size, but if you're in between, I'd say go with the smaller size. You can always loosen the laces, but you can only tighten it to a certain degree. Even at the tightest, my bust area is still a bit loose.

Fit and Experience

There is a lot of wiggle room (pun intended) in terms of sizing. The laces, while ugly, are very functional. You can tighten or loosen different parts of the corset (google corset lacing if you're confused). This was my first lace up corset, but I found it really easy to tie.

The breast area isn't really great. There are no cups to speak of. Even with my not so tiny breasts, I couldn't get any cleavage. It fit, but wasn't uber flattering. For those with smaller breasts and not so perky breasts or even those with wider set breasts, this won't be the best choice. It isn't exactly unflattering, but it doesn't highlight my breasts at all.

The material is stiff, which is good in a corset. It's not so stiff that the corset is uncomfortable, but it is stiff enough to give some shape. This is more of a fashion corset than an actual shaping corset, but it is very flattering. The material is thick enough so that the corset isn't too formfitting (like a spandex corset would be). It's a nice decorative corset that helps smooth unwanted bulges and give you a hourglass shape, but it's not a heavy duty training corset. It's perfect for the club or for the bedroom.

Quality

For the price, this is a good solid corset that's great to wear anywhere. It's well made, but not perfect. There are some seams that don't look perfectly sewed and some loose threads. The material itself is decent. It doesn't scream CHEAP. However, the laces are atrocious. They're worse than what you'd find on sneakers! The zipper is functional, but not very well made. If you're careful, it should last you a while, but it doesn't look that sturdy to me. However, overall, the corset is well made and a good, sturdy piece. It's good for mild shaping and for showing off curves, but don't expect miracles.
This product was provided at a discounted price in exchange for an unbiased review. This review is in compliance with the FTC guidelines.

Thank you for viewing
Electric capri Tesa`s sweetheart corset
review page!