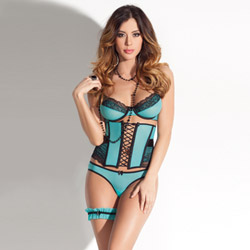 Bra waist cincher set
Bra and panty set
by Escante
High Price For Cheap Quality
This set is absolutely gorgeous in person, but unfortunately it just doesn't work like it's supposed to. The cincher doesn't cinch, the bra doesn't offer a lot of support, the garter is kind of pointless, the thong...well, actually, the thong is pretty good. Still, $42.99? I don't think this set is worth it.
Published:
Pros:
Pretty colors, Thong is comfortable and sexy
Cons:
No bust support, Cincher doesn't cinch, Garter won't fit larger thighs
When I saw this item, I felt like I had to have it. The color is beautiful, and on the model, everything looks great. I know, everything always looks great on the model. This set is beautiful in person, but it's just not worth the price.

The Basics:
This set is made by Escante. It includes four pieces: the bra, the thong, the alleged cincher, and a little garter.

All pieces of the set are a beautiful aqua color, with black contrasting details. The color is completely stunning. The pieces however... UGH!

Material and Care:
All items in this set are made out of 91% Nylon and 9% Elastic.

The material is basically a very fine mesh. It's extremely delicate due to how thin it is, and it will snag -- so be careful, especially when washing this.

You should also know that the material is completely sheer.

As for comfort -- the mesh is soft and stretchy, and it feels good against the skin. The black lace detailing is also quite soft. So, yes, if it fits you, and you can deal with the fact that this set doesn't do quite what you'd expect it to do, it's a comfortable set.

To wash this set, the tag recommends that you hand wash it in cold water, and then allow it to line dry. Remember, only use non-chlorine bleach when needed, and do not wring or twist the pieces. I'd recommend sticking to those instructions due to how delicate this set is.

Now... I'm going to do this review a little different than I usually do. I'm going to break this review down by going over each individual piece, as opposed to doing general categories.

The Bra:
The bra is stunning, being primarily aqua with black detailing. The black trim is found on the border of the bra, the straps, and of course the lace trim that goes over the top of the cups. There is also a little black bow in between the cups.

This bra does feature underwire, but it doesn't have any padding at all. The underwire in this bra might do some good for someone with smaller breasts than I have, but..for me? Useless! I found that all of the support that I get from this bra comes from the shoulder straps, which is disappointing as that can cause some discomfort over time.

The straps on the bra are not removable, but they are adjustable.

As for the fit? I typically wear a 34d bra, and I can fit into this bra okay. That being said, I do feel like this bra is best suited to a C cup. My biggest issue with this bra is that the band is just a little too loose on me.

I took the following measurement with the bra laying flat:
Band, unclasped: 30" (unstretched), 42" (stretched)

Truthfully, the bras okay, and I can stand wearing it for short periods of time. That said, for $42.99, I'm extremely disappointed.

The Thong:
I actually really the thong. It's comfortable, and I think it looks sexy. I don't like how my ass looks most of the time, but with this thong on? It looks amazing!

That said, the thong does cut into my hips a little. My hips, for reference, are 40". With a little adjusting, I'm able to get the thong to sit in a way that looks nice and feels comfortable, but I do wish it was just a tiny bit larger. To give you some idea of how the waistband will fit, I took measurements for you. The waistband measures 14" unstretched, and 21 stretched.

The thong offers a lot of coverage in the front, which is nice. I also enjoy the fact that the waistband is a bit wider than most included thongs.

Appearance wise, the thong is very simple. It's aqua, with a black border and a little black bow in the front center.

There is a small cotton pantyliner, as well.
Experience
The Cincher:
Let me begin this section by saying that I have never owned a cincher before this one. I really don't know how cinchers are supposed to fit, but I would assume that they're supposed to ...cinch. This one, however, does not cinch. In fact, this one made me feel fat and unattractive. In short, I really hate this cincher, which is a shame because it looked so pretty before I put it on.

Okay, so... appearance.. Beautiful. The black lacing on the side panels is gorgeous, and the little ruffle at the back is very playful and sweet looking. The ribbon that ties? Great, if you can get it to tie properly. The appearance is pretty much true to the picture, and it's fantastic.

The cincher is adjustable, due to the lacing in the front, which is nice. The issue that I have with this cincher comes from the boning in it. The boning is made out of extremely flexible pieces of plastic. The plastic boning doesn't cinch me at all -- in fact, it kind of goes outwards with my curves, which is just very unattractive, not to mention very uncomfortable.

I also feel that the large might've been a bit too large for me. Even with the ribbon laced as tight as I could get it to go, I still had some room. My waist measures 32".

The Garter:
The garter is cute and playful looking, but it's just not for me.

My thigh measures around 26" at the widest point, and this garter just gives me serious muffin top. If you have thin thighs, it might work for you, but for me... no thanks.

The garter is designed so that it has a sort of ruffled look to it. One thing to keep in mind is that the more you stretch the garter, the less ruffle you have. So, if you stretch this to the maximum...bye bye ruffle -- you'll just be left with a straight, blue band with a black seam going down the middle.

General Quality:
Aside from the lousy boning, the quality is actually pretty good. I just can't "get into" this set due to the poor fit, and the fact that it didn't work for me like it was supposed to. I also just don't feel like this set was worth the $42.99.
Follow-up commentary
11 days after original review
I really wish I liked this, considering the fact that it did cost quite a lot. Alas... time hasn't made the quality, or the fit, better.
This product was provided at a discounted price in exchange for an unbiased review. This review is in compliance with the FTC guidelines.

Thank you for viewing
Bra waist cincher set
– bra and panty set review page!