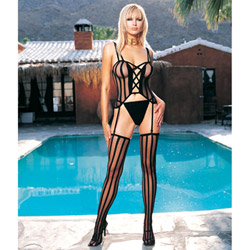 Criss cross camigarter set
Camigarter, panty and stockings set by Leg Avenue
Hit or Miss?
I can't stand this outfit. It looks cool at best, but I can't ever see me wearing it again. It's difficult to get into and the sizing is just really out there. I don't know how they came up with it, to be honest. I do hope they look into remaking the garment with a different size pattern.
Published:
Pros:
In My Opinion? Nothing
Cons:
Sizing is WAY OFF
Let's talk size, shall we? One-size fits all or one-size fits most garments are usually hit or miss for a wide variety of body types. Very rarely are they ever "just right" and usually fall into the too small or too large category. As amazing as it may seem, Leg Avenue managed to nail both the too large and the too small rings on this target and completely missed the bulls-eye.

There are three pieces to this set: a g-string panty, a cami garter top, and thigh-highs. It is made of nylon and elastic and has a fair amount of stretch to it. It should be hand-washed and line dried. The straps are not adjustable and neither are the garters.


Garment Measurements:

Panty: Top: 7"; Side 1: 8.5"; Side 2: 8.5"
Thigh Highs: Length: 28"; Toe Width: 4.5"
Non-adjustable Shoulder Straps: 17.5"
Garter: 7" long with 1.5" clips
Cami: 12" Front; 8" Back

My Measurements:

Bust: 34C
Natural Waist: 25"
Legs from hip to toe: 26"
Width of my foot: 3.25"

When I opened the package, everything looked just as it should. I ran it through a sink full of laundry detergent and popped it into the dryer to speed up the process. It was dry in about ten minutes. I struggled getting into the garment due to the elastic straps in the center on the front. I then put on the thigh-highs and was pleased at the way they felt on my skin. Almost velvet like. It took a moment to straighten up the lines and then I slipped on the panties. I was immediately dismayed by the size of them and felt like I was wearing a loin-cloth, definitely didn't feel like I was wearing a sexy g-string. (My husband literally laughed at them when first presented with the outfit as a whole.) I then went to snap the garter clips in place and was very annoyed to find they had been put on backwards. Thankfully, the clips are removable and it was an easy fix to turn them around. However, the thin piece of rubber/plastic that holds the button that slips into the garter clip to hold the thigh-highs in place is not actually sewn onto the garment. It is merely hooked into it and fell out within moments of first putting the outfit on. In addition to the overall cheap quality of the garment, the thigh-highs are absolutely huge. They are a full inch and a quarter wider than the widest part of my foot. I put them on my husband for kicks and grins only to learn there was just as much material gathered behind his knees as there was when I had them on. The elastic in the center is also fairly irritating if they aren't pulled taught by the body. They ride up as soon as I sit down and it just looks very trashy, in my opinion. A little trashy is good sometimes, when it's intentional. The only thing I felt was self-conscious. The cami also feels a little tight in certain areas of the bust but loose in others.

The kicker? Aside from there being too much material in the thigh-highs (they stretch), this outift looks heavenly when I'm standing up. Go figure! I'll never wear it again. And the only reason it hasn't met the trash can yet is because there is a part of me that thinks I can salvage it with a few quick stitches. We'll see if I ever get that far...
Follow-up commentary
3 months after original review
After losing all but one of the backs to the garter clips, I finally tossed this garment in the trash. It's just not worth all of the hassle of trying to keep up with the rubber bits that serve as the button for the garter. Such a disappoint too, as it really does look smashingly hot on the model.
This product was provided at a discounted price in exchange for an unbiased review. This review is in compliance with the FTC guidelines.

Thank you for viewing
Criss cross camigarter set
– camigarter, panty and stockings set review page!