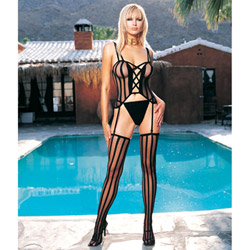 Criss cross camigarter set
Camigarter, panty and stockings set
by Leg Avenue
One size fits... someone else.
This outfit looks really hot on the model and mannequin, but as "one size fits most" lingerie goes, it's probably not going to fit you as well as you'd like unless you're built like the mannequin. If you don't mind doing a little sewing, you can adjust the straps to fit you perfectly in an hour or two. If you're OK with the fit, this might be the cheap, sexy thrill you're looking for, especially if you're hoping to have it ripped off your body and then tossed out. Not durable, but very sexy!
Published:
Pros:
Sexy material, sexy style, sexy idea!
Cons:
Straps not adjustable, may need some sewing for a perfect fit
I am normally quite skeptical of "one size fits most" lingerie, but I was eager to try new things so I thought I'd give this a shot. I mean, it looked really hot on the model and the mannequin, and it seemed like the sort of outfit that wouldn't need to be filled with giant breasts to look good. Unfortunately, real women are squishier than the hard plastic of the mannequin modeling it, and we come in a wide variety of sizes which cannot possibly be accommodated in a single-sized garment.

Packaging: like a new pair of pantyhose. Cardboard insert with plastic around it. The outfit is protected from snags during shipping, but it's not a terribly classy looking package. Do not give this package as a gift to your girlfriend. Take it out, wash it carefully, and hang it up so it looks pretty if you absolutely must give this outfit as a gift, but you'd better have a dozen red roses and a box of chocolates to go with it!

Material: I have pretty sensitive skin, and this feels pretty nice. The sheer part snags easily, but that's to be expected. The toes are reinforced. The black opaque and sheer vertical stripes are really hot. All of the straps give the garment a soft-core bondage sort of vibe that's pretty sexy, as is the image of nipples showing through the sheer material. The tag says it is made of 100% nylon and can be hand washed in warm water and hung up to dry. Oh, and it is great at attracting cat hair.

The camigarter itself: The shoulder straps are very baggy on me and need to be adjusted with needle and thread. Women with larger breasts might not have this problem. The strap at the "neckline" is really tight, even on me, digging into my breasts and pressing them south. Maybe this effect won't happen on women with larger breasts, or once the shoulder straps are adjusted properly. In any case, don't expect any sort of support for your breasts. I personally think my breasts would look better wrapped in plastic wrap, but perhaps you've got more to work with. The lower half of the garment needs to be anchored down by the garters, attached to thigh highs, or else the lower half rides up to my waist and looks silly. If only the garters were adjustable! The straps in the middle would have looked better if they were pulled tight, but, once again, I didn't have a lot of breast tissue to stuff in there. At first I thought the plastic bits that connect the garters to the thigh highs were on backwards, but it turns out that they can be removed and turned around, a nice idea as long as you don't mind them popping out of their places unexpectedly.

G-string: At first I thought it was more opaque than the rest of the outfit, but then I realized that it just appears to be more opaque because the material isn't as stretched out as it is on my thighs, back, and chest. I found the straps to be too short around the waist and too long in the middle, but another black G-string could easily be substituted if this one doesn't fit you right.

Thigh highs: The tops will be flattering on those with skinny thighs, or those who don't care if their thighs are squeezed a bit at the top. My thighs at their widest are 23 inches around, and the thigh highs look best on me when pulled all the way up to my butt, but the garters are too long without sewing. The thigh highs were more than long enough for my legs, but I'm on the petite side.

My biggest complaint about this outfit is that the straps were not adjustable. Even the cheapest bra I've ever encountered had adjustable bra straps. I don't think I've ever encountered garters that weren't adjustable, and on my budget, I'm a big fan of cheap lingerie. With a needle and thread, I could make this lingerie work for me, but I'm going to have to shorten 4 garters and two upper straps, never mind the G-string.

If you can overlook the fit, it's a really hot outfit. It's ranked in the top 10 for sexy camisoles as I write this, and who can argue with all the users who added it to their wishlists or commented on how hot it looks?
Experience
When dealing with "one size fits most" lingerie, it might be helpful to know the size of the reviewer, so I hope you won't judge me harshly for revealing my rough dimensions. My bra size is 34a, and I'm used to encountering lingerie that is waaay too big in the bust unless it is made for my cup size specifically. My hips are made for baby-making and might be slightly more jiggly than I'd like, but I wear a size 6 in pants and a medium in panties, so I don't really have any reason to complain about the body my parents handed down to me. I'm happy with how I look for the most part, and I LOVE to dress up in clothing (lingerie or otherwise) than makes me feel good about myself. This outfit, however, does not make me feel my best, and I fall right in the middle of the average "one size fits most" range of sizes (90-160 lbs, according to the package). I could spend a couple hours sewing the straps to fit me perfectly, or I could put it on a male friend and take him to the Rocky Horror Picture Show, which is far more exciting if you ask me. If my male guinea pig needs alterations to wear it, safety pins will do. For my follow-up review, I will let you know how it looks on a man (minus the g-string) and how it holds up after being worn for a few hours by a drunk guy and then washed. Stay tuned!
Follow-up commentary
17 months after original review
I haven't been able to talk a boy into wearing this to Rocky Horror yet, mainly because the men I know are a little too big for a garment that shrinks up so small after being washed. I have had a female friend wear it, and she wasn't a huge fan either. I'm sure it will look good on someone, but it wasn't me or any of my friends.
This product was provided free of charge to the reviewer. This review is in compliance with the FTC guidelines.

Thank you for viewing
Criss cross camigarter set
– sexy camisole review page!