Hole-ly Sexy Biarritz!!
The Biarritz is an inexpensive piece to add more variety to your lingerie drawer. It's super stretchy and could fit many sizes. It shows off quite a bit of skin, at the same time covering the "naughty" places too. It's well made and sturdy, and the thigh highs are sewn in well.
Published:
Pros:
Very stretchy! I'm sure could fit MANY sizes!
Cons:
Some might prefer it without the attached thigh highs. Some holes look as if they may rip easily.
The Biarritz by DreamGirl is listed as a "gown," but my thought of a gown is something long and sheer and shimmery and flowing. The Biarritz is none of these, but it's still pretty darn sexy! Of course, we all know that black is a slimming color, but the strappy dress doesn't hide much!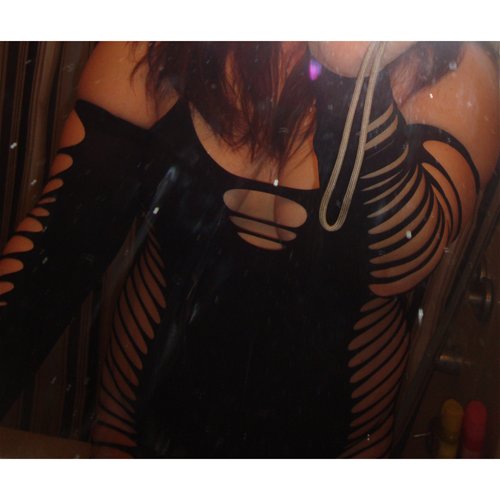 One of the great things about Biarritz is that it's SUPER stretchy. Items that are one size fits most are hard, because sometimes you just don't know how much give they have. I could see the Biarritz fitting someone at least a few sizes bigger than me. (For reference, I'm 5'2", 175 lb., 38C chest, size 14 jeans.) It also stretches back to a small size too, so even people much smaller should be able to wear this comfortably. Busts on the smaller side might have a slight problem, given the fullness this dress needs to stretch the "holes" between the breasts.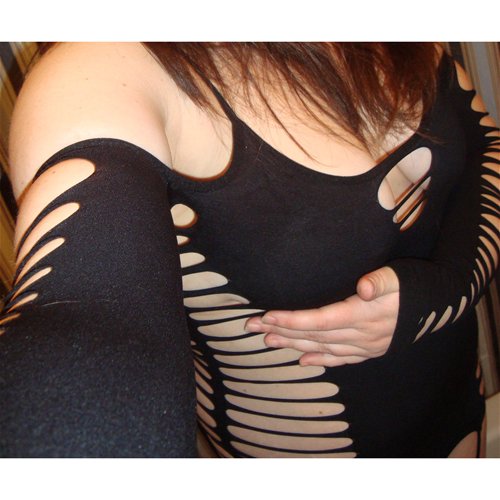 At first glance, this dress looks like it would be a complete pain to get into. I was apprehensive at even trying and I had to psych myself up to begin! What a waste of energy! It was actually pretty easy to get into! The neck opening is super wide, so I found the easiest way to put it on was to step into it and pull it up to the chest, then work my arms through, one sleeve at a time so I didn't get tangled. Then, I stretched the thigh highs down, then worked them on too. For someone with longer legs, that might not work, but with my short and stumpy legs, it was a fine method of getting this on.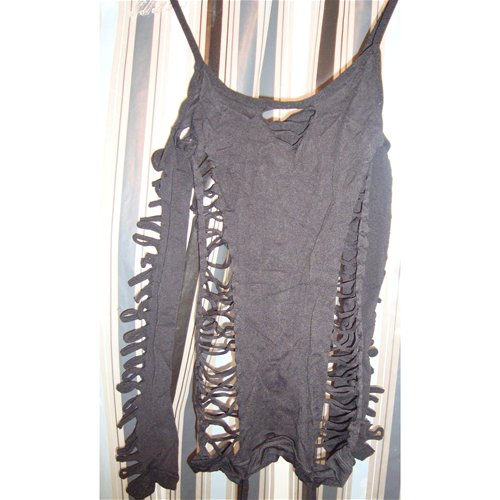 The thigh highs on this dress are sewn in with one strap on the front of each leg and one strap on the back of each leg. They're sewn in really well, which is nice, but when I wore this dress, I almost wished that they were removable. I think the dress would look great with them on or off.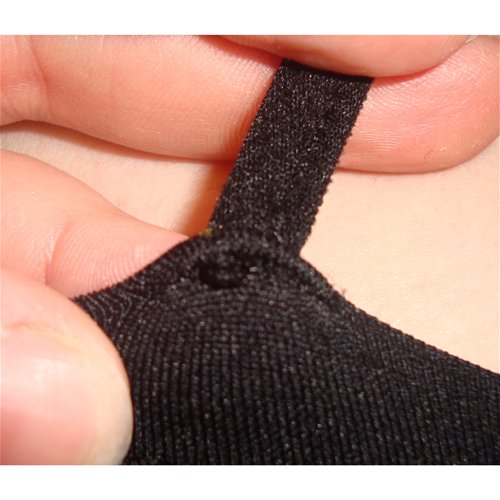 Most experiences that I have with items listed as "opaque" is that items end up as almost see-through and not actually opaque. The Biarritz is a solid black, but it is almost see through and not a solid black when stretched out all the way. If you don't have this stretched to the max, it should remain opaque.
Some of the holes on the Biarritz do look like they might rip a little easily, but most of them seem pretty sturdy! The material is 85% nylon, 15% spandex; it reminds me of a pair of thicker tights. I could see this dress as possibly getting a run it it as much hosiery would.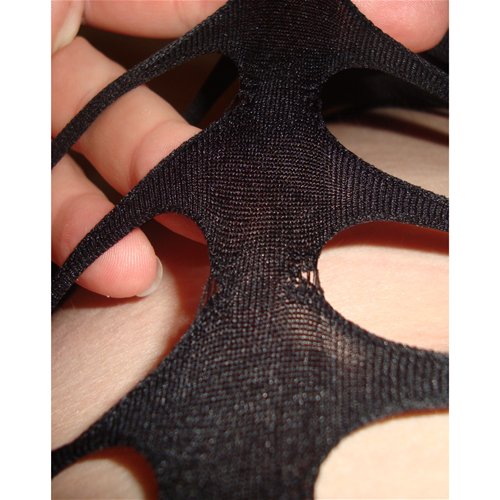 For an under $20 piece of lingerie, the Biarritz is fun! Not too much guilt at a $17.99 price point if it doesn't hold up too long, and even less guilt if you use a coupon code or get it on sale!
Experience
I'm not sure the Biarritz is something that EVERYONE is going to have the best experience with. For me, it's the belly pudge that it shows that bothers me the most. Even with the pudge, I'm still feeling pretty good in this piece! It's comfortable and sexy at the same time, and you can't beat that!!
This product was provided free of charge to the reviewer. This review is in compliance with the FTC guidelines.

Thank you for viewing
Biarritz
– gartered mini dress review page!