Hook, Line, and Cincher
The Wild Child Cincher is not the most high-end product, but it is certainly designed well, feels comfortable on the skin, and cinches to perfection. It can be worn under clothing or over thin clothing for a sexy, inviting look with the benefit of looking like inexpensive leather. You are sure to turn heads in the bedroom or at the club, however you choose to wear it, but there is much fun to be had for whomever is involved and you will feel sexy too!
Published:
Pros:
Hourglass figure
Can be worn over thin shirts or under things
Breathable design
Faux-leather
Cons:
Back lace not the most attractive
Could be too tight for long periods of time or heavy eating
Cincher: It's An Art
A cincher, or better referred to as a waist cincher, or Waspie, is a belt worn around the waist to make the wearer's waist physically smaller, or to create the illusion of being smaller. People often wear cinchers to try to create the illusion of an hourglass figure. Some people find it convenient to refer to it as a short corset, without the boob restriction. However you choose to refer to it, it is meant to keep things in the waistline pretty packed in.
THE PRODUCT:
Eden refers to this as a clincher. The set includes the clincher, a matching g-string panty, pasties, and the item description forgot to include that this came with garters! There are places on the clincher to attach the garters and because of this, you can switch them out with any garters that fit if you wanted to add some color.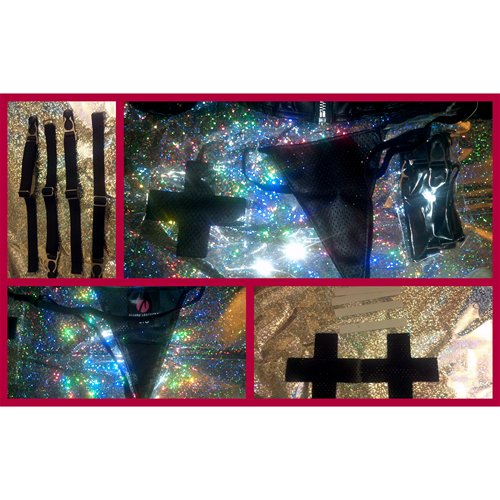 MATERIAL/TEXTURE
The Wild Child Cincher is made up of faux-leather which Eden describes as consisting of synthetic fibers from polyurethane group. Faux-Leather is a water resistant, durable material with a high tensile strength and high resistance to tear (tear resistance explained later).
THE BREAKDOWN:
Smell
: No smell to the faux-leather.
Taste
: N/A for me, perhaps for others. I did not taste.
Touch
: Smooth to the touch and on the skin.
DESIGN
The clincher is black and solid, however if you look close enough at some parts, the material is slightly meshed to afford some breathability and flexibility. It is strapless (some cinchers include straps). It zips in the front for easy access and laces in the back if you want to tighten or loosen it.
CRAFTSMANSHIP/MATERIAL
This is faux-leather and although some people would prefer real leather, it is very smartly designed and resistant to tear. It is phthalates free. I am not sure what material the lace up portion is made up of, but it resembles rope/shoelace braided material. It isn't the most attractive thing, but it can certainly be changed or used to ones devices in any kind of play activities.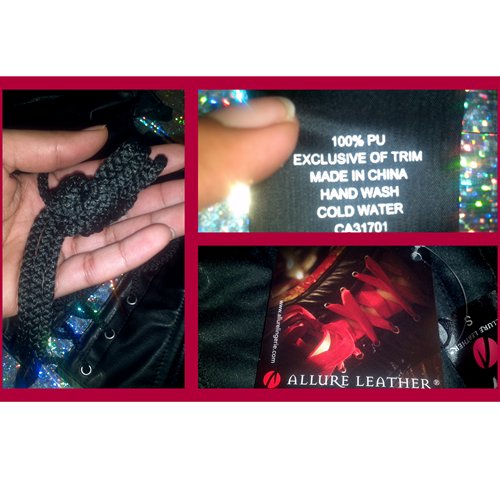 SIZE/FIT
The only size that was offered for this review was a S. It fit very well but I will caution that not everyone will feel that way. (I did not try the pasties for the night or the g-string, but will for my follow up). Please see the
Experience
section for more experiential details on fit.
MEASUREMENTS
Length: 9"
Size: S
Boning: Metal Boning
Weight: 3.5 oz
* If you are concerned about what size to get please consult the manufacturer website size chart:
Allure Leather Size Chart
. I think that it is nice that they specify sizes for men and women. For the size S on the chart, my waist is about 1" larger than what they specify, my low waist is 0.5" larger, and my hip is the same as the chart. So if you are concerned about size S there is a little bit of wiggle room. As I said, it fits very snug. *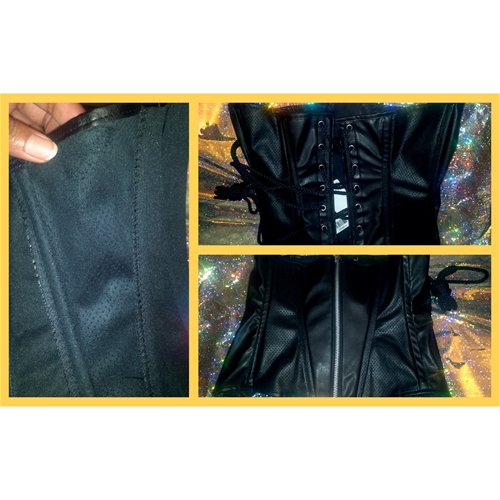 CARE AND MAINTENANCE
CARE
You can wash Faux-Leather with warm water using mild, detergent-free soap and a microfiber soft cloth or an ordinary long-handled, soft bristle brush.
STORAGE
It can be easily folded and fit in any drawer, storage trunk, and or rolled to fit in a pouch. It would not be a hassle to pack for some weekend fun!
PACKAGING
Eden Packaging
Eden packaging was discreet as usual.
Product Packaging
The packaging was extremely cheap and not well wrapped. Although I did not expect anything extravagant, it was messily wrapped and taped up in a crunchy kind of plastic. (See picture below). I was however pleased to find that the g-string was attached to the clincher along with a little baggy that had each pastie in it with 4 adhesive strips inside. The bag with the garters was also attached to the item. Both were plastic.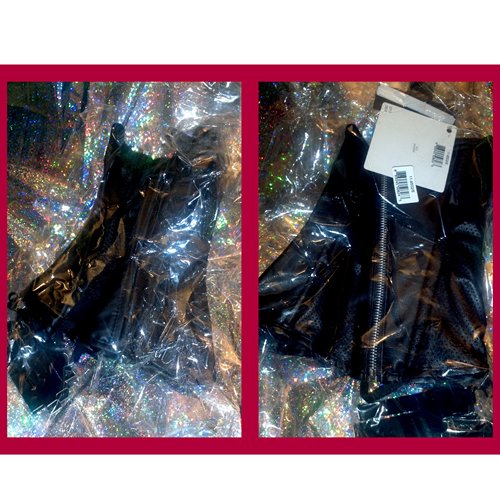 Experience
As mentioned I reviewed a size Small. If my boobs were included in this review, I would have needed a M. I originally tried the clincher on over something as I like to style corsets and cinchers over dress-shirts. The shirt I originally chose was a little too thick, so it would not zip. I was afraid it was going to tear, but it didn't, even with all my tugging. So I tried a thin summer dress shirt with ruffles at the neck, which worked as well as on my bare skin. It fit very snug, but I took it as a positive that it could still fit over a thin shirt. This offered me room to move and breath without feeling too terribly restricted, however I would not plan on eating a huge meal with this thing on. I wore it for about 7 hours for my friend's b-day party and with eating, drinking, singing, laughing and all the good stuff that goes along with a nice birthday, I was comfortable.

Per Eden Customer Request My Measurements
Bra Size: 36C
Bust: 35"
Waist: 27"
Low Waist: 29"
Hip: 36"
Follow-up commentary
3 months after original review
The Wild Child Cincher is still a highly rated product in my book. I actually like it a lot more than when I first got it which is mostly saying that I really love it. Since receiving it I have worn it a number of times in many different ways.

Although I still am not a fan of the rope-like ties in the back, it is easily adjusted so that the cincher isn't too tight. Especially if you want to wear it out to a romantic dinner and still be able to eat. As I mentioned in my initial review, this cincher is amazingly sturdy and my partner has tugged on it intentionally in the middle of some rough play and nothing has busted or ripped.

It has gotten a little dirty, but cleaning is still pretty simple as you can take a damp cloth to it and wipe it. Because the material is breathable and you can see that upon closer inspection, sweating isn't really a huge issue, and if you do it can be easily aired out.

Finally, the pasties stay on as long as you don't have any oil or lotion on your tatas, however they do not stand up to multiple uses. You would need to have new adhesives.
This product was provided free of charge to the reviewer. This review is in compliance with the FTC guidelines.

Thank you for viewing
Wild child cincher
review page!