Hot Pink and Sexy
Both my husband and I love this dress. It's comfortable enough to sleep in but still incredibly sexy. I love the different designs that are incorporated - netting, strings, and plain cut out. This has some stretch to it, but it does want to pull back in on itself and might not "fit all" as it says. The hot pink has a great pop to it and manages to bridge the gap between fun and sexy.
Published:
Pros:
Great color choices
Cut out design is sliming
Comfortable to wear
Cons:
Might not fit everyone
I'm such a sucker for hot pink and there's not a ton of things that come in it. When I saw this little number I just about died. Netting, strings, and hot pink?! I was in love.
This mini dress comes in some pretty cute packaging. It's the standard size but the pack is pink and white striped, a nice departure from the traditional black packaging. It has a picture of the piece on the front and back with care instructions. There's no tag to remind you of these, so you might want to keep the packaging if you're forgetful.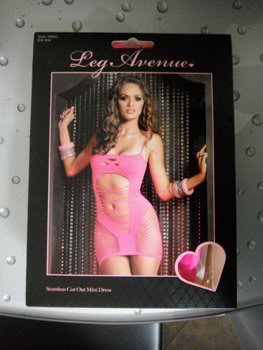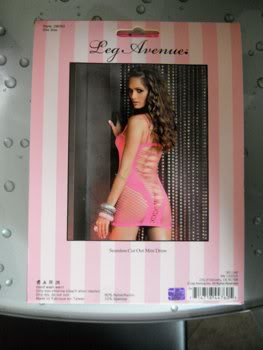 This sexy little dress sadly only comes in a one size fits most. It's 17 inches long and 11 inches wide un-stretched. I was able to stretch it out to about 21 inches wide but the fabric was really starting to pull at that point. I'm thinking this could maybe go up to a 1X in size but that it would be very tight. It was pulling a bit on me and I'm a size 4/6 (28 waist, 39 hip). The straps are 15 inches long total and are not adjustable. They did not cut into me at all and fit perfectly, but the inability to adjust may cause an issue for some. There is no bust support offered in this piece, a little sad for my 34DD/36D bust but not a deal breaker. I'm used to lingerie without support at this point so it's not a big deal. If you really need the support, just note that there isn't even a lining to this dress to help out.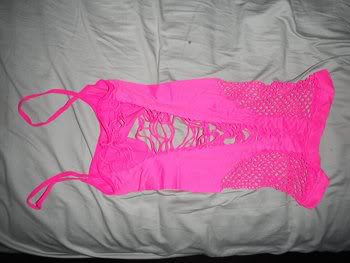 The dress is made of 90% nylon and 10% spandex. It feels like a bathing suit and a T-shirt had a baby. It has the comfort of a T-shirt but the to the touch feel of a bathing suit. It has stretch to it, but it's a stretch that really wants to pull back on you. This is one of the most comfortable pieces, if not the most comfortable piece, of lingerie I own. I actually accidentally fell asleep in it and didn't wake up multiple times at night itchy or needing to change my clothes. That's a first for me. To care for this dress, hand wash in warm water and drip dry. Do not iron.
It features a few different patterns - some netting, some solid areas, and some string areas. The netting is mid-level thickness. It's not thick and plushy but it's not thin like a stocking net would be. It's kind of like a thicker T-shirt in terms of weight and thickness. The strings are the same way. The seams are very high quality and I could not find a fray anywhere on the piece. The only thing I would note is that my belly ring (barbell, not dangle) did get stuck in the string along the belly area. I would assume a dangle would cause even more issues. Despite the confusing patterns all over the place, this was very easy to get on. Not once did I end up with the top on the bottom or the back on the front. It never took me more than a few seconds to get this on. Looking at it, I would never have guessed this. I'm really impressed! There are also some cut outs near the chest area which add a nice touch.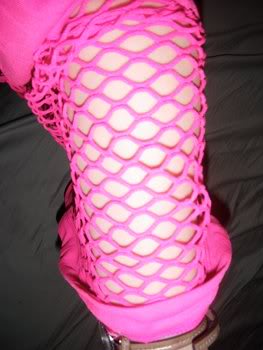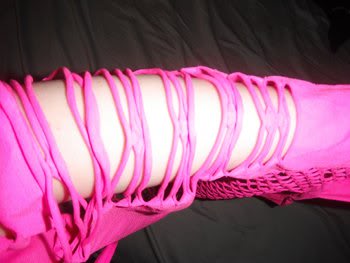 Experience
I love this dress! It's the best shade of hot pink, almost a UV pink. Normally netting by the hips is not the best for my figure as I carry weight in my hip area, but the "V" solid area the surrounds it seems to take the focus away from my hips and slim me out. The strings along the stomach and back also come in a downward "V" shape which should be flattering to most figures. I love all the cut out's going on here. Cut out netting, cut out stings, plain cut outs by the bust. Cut out everywhere! If this was just a tad less revealing it would make an awesome club dress, especially in this color. I just think this looks so hot on. I think it's very flattering, especially for something that's tight and has netting on it. Add in the comfort level and I'm sold.
Best of all? My husband really likes this dress as well! He's hard to please when it comes to color pieces, as he tends to prefer black with pops of color (if any), but he really liked this one. I think it had to do with all the cut out's.
All said and done, I think I have a new favorite piece of lingerie. I feel sexy and fun at the same time in this, like I could float between the club and the bedroom. I'm thinking I might pick this up in the green as well.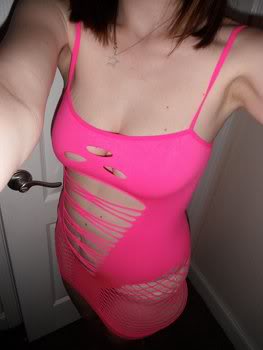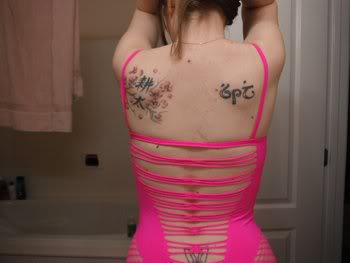 This content is the opinion of the submitting contributor and is not endorsed by EdenFantasys.com

Thank you for viewing
Seamless cut out mini dress
review page!