Hot pink diamond net pantyhose
These pantyhose are fun, playful and far from your basic, ordinary hose. Even though they take forever to put on and are lacking some very important pieces in hosiery it is also what makes them like no others. Being versitile they can be worn with an outfit or alone in the bedroom to help seduce your partner. I'm going to give Baci 4 stars for these...I thought about giving them 5 but after my little "mishap" I can't help but think on how if there was a pantyliner it wouldn't of happened!
Published:
Pros:
unique, soft, can be worn during sex
Cons:
no pantyliner, no toe reinforcements, time consuming
I now base on what I get from Eden by how many times I find myself going back and staring at an item, these pantyhose I have gone back to alot so I had to get them!
The large diamond net pantyhose are delivered in a box with the product page model on the cover. The cardboard that they are on is actually pretty and on the back it says in many langauges "Congratulations you have purchased a truly authentic Baci Lingerie product." On the back of the box in small writing it states to hand wash seperately in cold water and to line dry.
These are a one size fits most
Here is Baci's size chart:
OS
size 2-14
bust 32-38"
waist 24-32"
hip 34-40"
inseam 35"
rise 71/2- 8"
weight 90-160lbs.
I weigh 150lbs and there was plenty of stretch left to them both in width and in height. They are made from 95% nylon and 5% spandex and that is what gives these the elasticity to fit a wide range of sizes.
At the top of these pantyhose there is an elastic band that goes around your waist and it is also what the nylon netting is attached too. The design is large diamond shapes that cover the whole pantyhose from your waist all the way down to your toes! Depending on your weight and shape depends on how big the pattern is. Each nylon piece is thick and durable. Even though these hose look fragile from initial sight of them they can with stand alot and that is due to the thickness of the strands. The main negatives to these that most people will probably find is that there isn't any pantyliners OR toe enforcements in them. When I just stated that they are all net down to your toes I meant literally!
Being all net they are extremely time consuming to put on without putting a foot through the wrong section, I found that to be another negative to these. I will say though that there is not all negatives to these, there is positives as well. Like even though your feet are sticking through the bottom of them they are pretty comfortable! The material is super soft and light so it feels as though your not even wearing any! Also the large pattern, bright color options, and not having the proper enforsements makes them unique and unlike any others.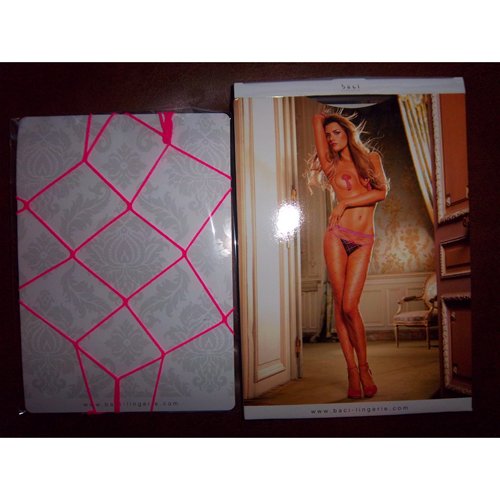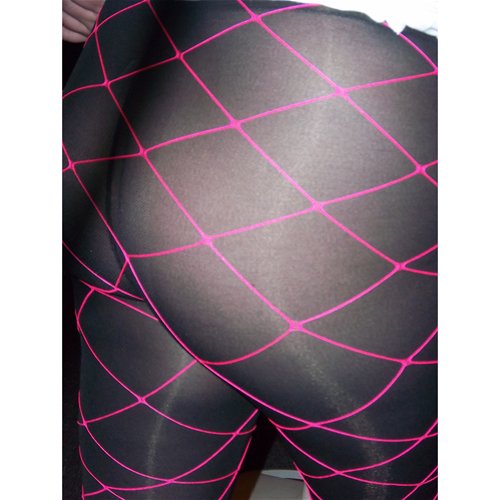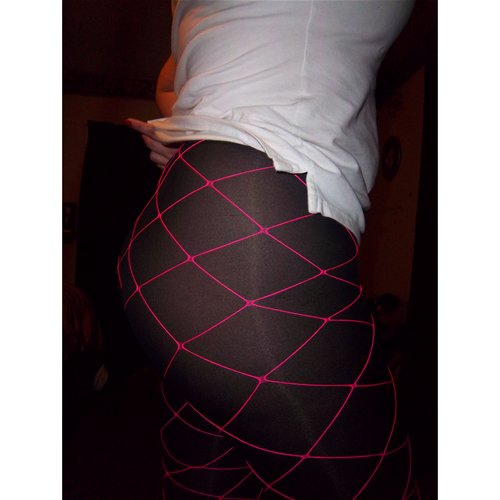 Experience
Being a person that sticks to stuff that will not make me stand out and usually in the same dark color pallete, I actually like these. Believe it or not I was drawn to the colorful, playful vibe they send off and thats what I need to rejuvenate my plain, basic attire. The first time my boyfriend saw them on me he said they were interesting and sexy as hell which makes me want to get all the colors now that I know he loves them!
My boyfriend and I had to try out what sex would be like with them on....(okay, okay, we actually just didn't want to wait to take them off) and we had no problem with penetration! Although, I did have a problem with the section at the crotch where the net meets together. The netting got caught on my clit hood ring and I didn't realize until I went to take them off and about ripped my ring out! That hurt like hell!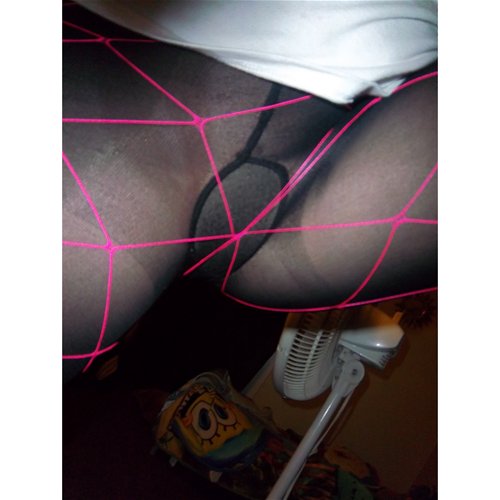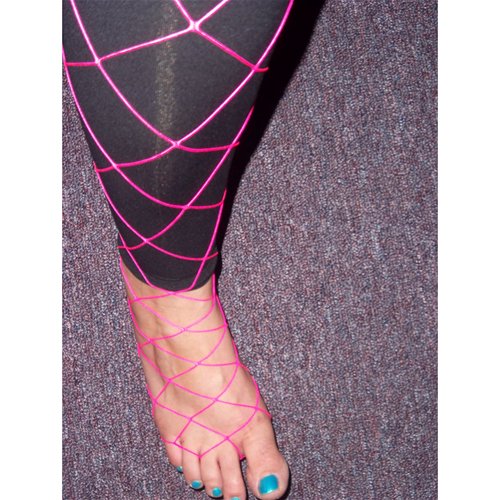 Follow-up commentary
20 days after original review
I don't really see myself wearing these again. Between the no toe enforcements and taking forever to put on it's just not worth it. I also think I'm alittle traumatized to wear them because the last time they caught on my clit ring and it hurt like hell! Don't get me wrong though, they are still a super cool looking and durable pantyhose I just don't have the patience for them.
This product was provided at a discounted price in exchange for an unbiased review. This review is in compliance with the FTC guidelines.

Thank you for viewing
Large diamond net pantyhose
review page!