How naughty were you in school? (size SM)
If you're looking for a school girl outfit to do a little role playing with your partner then this outfit could be for you. It is inexpensive, edgy, and should hold up well as long as you're not entirely too rough with it.
Published:
Pros:
Can fulfill school girl fantasy
Cons:
Garters broke
I bought this a long time ago before Eden started carrying it because my husband has a thing for school girl outfits. I don't know why he has a fascination with them, but anytime we talk about role playing he always suggests me being a school girl. With that being said, I have several school girl outfits for his enjoyment and this is one of them. I particularly picked this one out because it had the shiny wet look to it and my husband really likes the wet look even if it does clash in my opinion with the pink of the skirt and tie.
What it is:
The Deviant school girl outfit from Magic Silk includes a black "wetlook" halter vest, a pink and black skirt with attached garters, black g-string, and pink tie. This outfit can be used for role playing as a naughty school girl to fulfill all of your partners naughty thoughts about teacher and school girl relationships. The top does not have any bust support at all so if you require support, then this is not for you.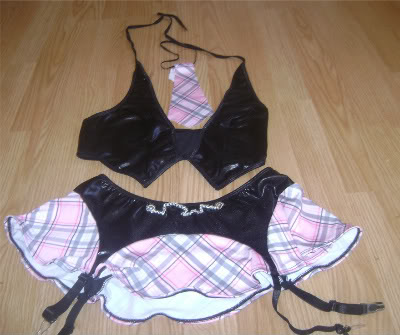 Sizes Eden Carries:
Eden currently carries the sizes SM and LXL. I have the SM and all information included in this review are based off of the measurements for the SM.
Magic Silk Sizes
I found measurements here [http://www.lingeriespecialists.com/size_charts.html], but it does not have any information for the size LXL. However, for the sizes SM these are the following measurements:
Size 2-8
Cup Size A-B
Bust Size 32"-34"
Waist Size 24"-26"
Hip Size 34"-36"
Weight 90-130 pounds
My current sizes
Size 6
Cup Size AA
Bust Size 32"
Wasit Size 27"
Hip Size 32"
Weight 121 pounds
According to their measurements and my measurements, the top and skirt should be too large and this was the case. The skirt is very stretchy due to its spandex material, but it is not too loose that it falls off my hips, but I have several inches of space in there. Since the top is halter style, it fits comfortably, but would look better on someone that had a bigger bust size than I do because I just can't fill it up properly.
Measurements taken of the pieces
The following measurements are going to be of the pieces laid flat, but if you need any more measurements let me know and I will get them for you.
The front of the top measures from top to bottom 15" and from side to side 15". It has a cutout space in the middle of the top that is held on by a 2" string at the top and 1" string at the bottom. The overall space of the cutout shows 3" of skin down. Each halter strap is 15" long to be tied around your neck. The front of the top comes to a point at the end like little triangles.
The back of the top is practically backless except for a 12 1/2" wide band that is 2 1/2" tall.
The skirt has a scalloped look to it and has attached garters that cannot be removed unless you cut them off. The garters at the shortest length measure 4" with a 1" silver snap with it and the longest length it could go to is 5 3/4" with the additional 1" silver snap as well. The skirt itself measures 15" across when measured from side to side and has a length of 7" The silver chain is located in the middle of the skirt, and measures 4" from each point that it attaches to. However, the overall length of the chain is 7" long, but it hangs down in a u pattern. There are 37 individual links that make up this chain and they attach to a larger link that's on the skirt.
The tie is attached with a small, stretchy black string that is 14" around that should go around most heads comfortably. It starts out being 1 1/2" wide and progressively gets larger to 3 1/2" wide at the largest point toward the bottom. The overall length of the tie is 8 3/4" long.
I do not wear thongs or g-strings and could not find these anywhere, but I know they were a black g-string.
Craftsmanship
Overall the quality of this product is good. I have a few issues with it which includes a few stray strings, two garter snaps broke off where you attach it to the silver snap, and the chain link will break if a decent amount of pressure is applied to it. The quality of the sewing is very nice. I have tugged on the material and none of it has ripped.
Experience
Continued....
Material and Care
According to the tag, the outfit is made out of 90% nylon and 10% spandex. The tag mentions to hand wash cold, line dry, and not bleach the outfit.
Here are pictures of me from the front, back, and a closeup of the top with lack of bust support.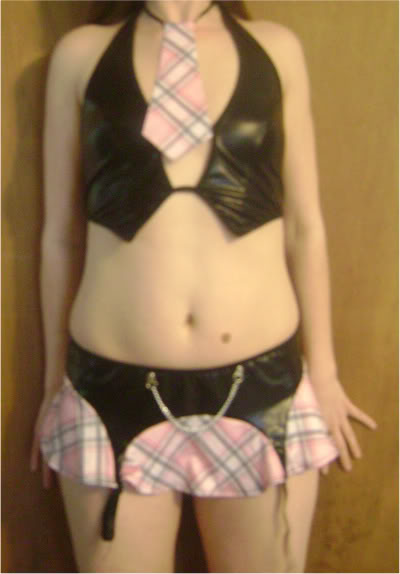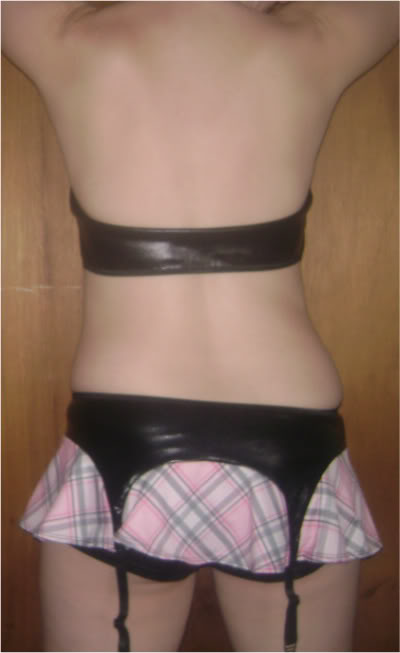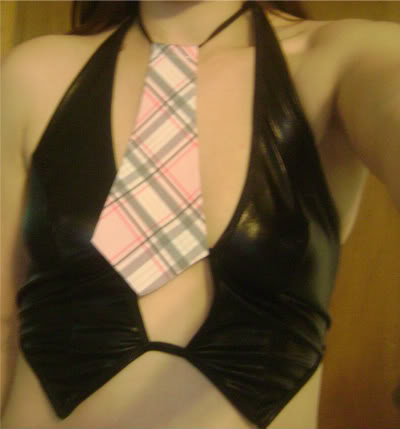 I think you can pair this with your favorite black stockings and heels or boots and have a pretty cute outfit. My husband has a thing for knee high boots that have heels on them so that's what I usally wear this outfit with. He seems to love it, so I'm giving this 4 stars. I'm deducting a star because the wet look with pink isn't a very good look in my opinion but he doesn't seem to care. I'm also deducting a star because the garter straps are not removeable unless you cut them off and I had already lost 2 of the black snaps that go in the silver enclosure. Overall, it's a relatively inexpensive outfit for role playing.
Follow-up commentary
4 months after original review
As I mentioned in my original review, I've had this piece for quite some time before it ever appeared on Eden. My husband is a huge fan of school girl outfits, and even though I have several outfits to choose from I believe this is his favorite of all.
This content is the opinion of the submitting contributor and is not endorsed by EdenFantasys.com

Thank you for viewing
Deviant school girl
– costume review page!