I'd Do Anything To Get An A+!(Plus Size)
Finally a school girl costume that isn't a one size fits most! Boasting high quality this traditional five piece costume set by Dreamgirl comes in two sizes and is sure to please. But make sure to check the size chart, the non-adjustable skirt doesn't have much wiggle room.
Published:
Pros:
~Adjustable Top
~Stretchy
~Well Made
~Comfortable
~Comes in Plus Size
Cons:
~Lack of Breast Support
~Skirt is Not Adjustable
~May Not Fit Largest Weight in Bracket
~
Material/Design/Craftsmanship
The Study Buddy set by Dreamgirl comes with five pieces, a top, skirt, panties and a set of ribbons. The three major pieces (minus the ribbons) are made of 100% polyester. The fabric is soft, breathable, stretchy, has no unpleasant odor and it's not itchy. This is a well made set, I couldn't find any sewing flaws such as loose threads anywhere. The fabric has held up well over time.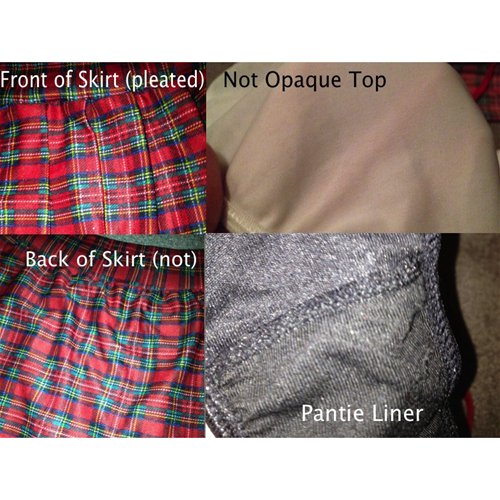 ~
Halter Top
The halter top is made out of a thin white polyester material. Although it looks like it's opaque it's not quite, a light nipple outline will most likely show through. The top wraps from around the back and ties in the front around the bust. There are also ties that go from the bust area to around the neck making it a halter top rather than just strapless.
This piece has no underwire and no breast support what so ever. It looks alright with a normal white or nude bra underneath but the cut of the top makes picking one that looks ok underneath a bit of a challenge. So if you're worried about support for your larger breasts, this piece might not be for you.
~
Skirt
The skirt has a red, green, yellow, white type plaid pattern. In the front there are fourteen two inch wide loose pleats. The pleating on this piece is done nicely, either laying flat or stretching out depending on the shape of the wearer.
My favorite feature about this skirt is the back. The rear doesn't feature the same pleating that you see in the front, which helps to not accentuate my already large rear. There's also about another two inches of fabric in the back for a bit more coverage which is nice. On me the skirt falls right at the bottom of my bum, so personally I wouldn't say it's long enough to wear in public. It's also considerably thinner than most things you would wear out due to the material, so I would advise against it.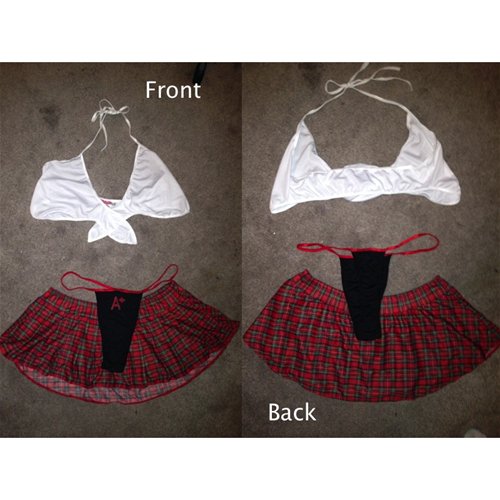 ~
Panties and Ribbons
The thong that come with set are very cute and work well with the school girl theme. They're black with red elastic and a big red "A+" on the front. It's not a g-string as the back is a bit thicker at about 2-3 inches wide. They do a have a little built in cotton panel.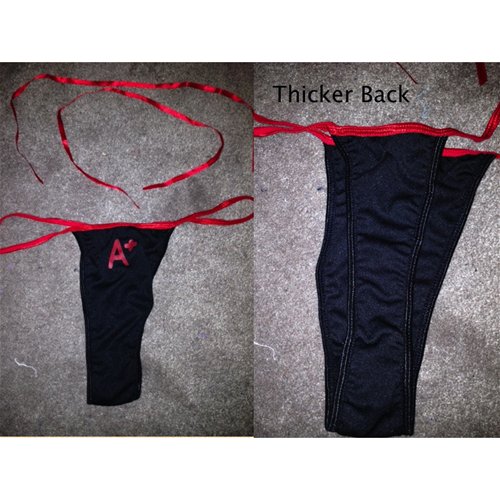 The ribbons are the same red color found everywhere else on the set. They're well made and haven't begun to fray yet despite multiple uses which is really nice. Each ribbon is about two feet long.
~
Packaging and Care
The set comes in Dreamgirl's standard 'Diamond collection' cardboard box. The front has the company name as well as the stock picture of the model in the outfit. The back of the box has a cute little description and lets you know what comes with the set. It also states the size, weight bracket and the company website.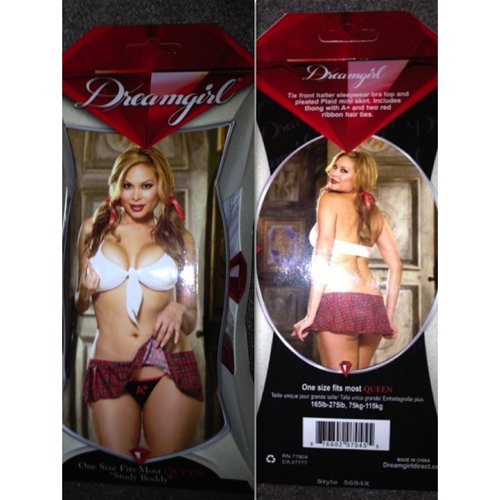 This set can be cleaned by hand washing separately in cold water while using no bleach and line drying. Some may find hand washing to be a pain however I'm not listing it as a con because I've come to expect this with lingerie.
Experience
~
Sizing
I agree with most of the measurements listed minus the weight bracket. The box say's that this set should fit up to 275 pounds which I just don't see happening. While the top is adjustable due to the ties, the skirt is not. So while the material is very stretchy and it
might
be able to fit a lager wearer, it will most likely create a 'muffin top' look. Sadly I'm going to say that unless you're a very apple shaped person or carry all of your bulk in your stomach, I do not believe that this would fit the highest weight and look good.
Dreamgirl's Queen One Size measurements are as follows in inches (mine in parentheses).
Clothing Size:16-20 (16-18)
Cup Size:D-DD (D)
Bust:40-54 (38)
Waist36-44 (34)
Hips:42 - 56 (44-46)
The set fits me very well and is very comfortable, I would have no problem wearing this during intercourse. It's certainly not one of those pieces you can only stand to wear for the first half of the night.
~
Overall
This set is a great example of what I've come to expect with Dreamgirl's boxed lingerie. The sizing doesn't differ from most of the other Queen OS sets that I've bought. So I can purchase them without having to worry how they will fit most of the time, which is a really big plus for me. The quality is nice and I feel like I've gotten what I've paid for. I really like that they've added the extra material to help cover my rear and the lack of pleating in the back. Overall I think the skirt is perfect for large rumps!
There were a few possible problems with the set such as the lack of adjustably, I personally wasn't bothered by them. At the end of the day I really love the way this set looks on me and how sexy it makes me feel. So I'm giving this set an enthusiastic 5 out of 5.
I'd recommend it to someone towards the lower to mid end of the weight bracket. However I'd be reluctant to recommend it to someone with a very large chest due to the lack of support it offers. I'd also say that this isn't a very covering outfit so if you're self-conscious of your stomach area, this probably isn't the set for you.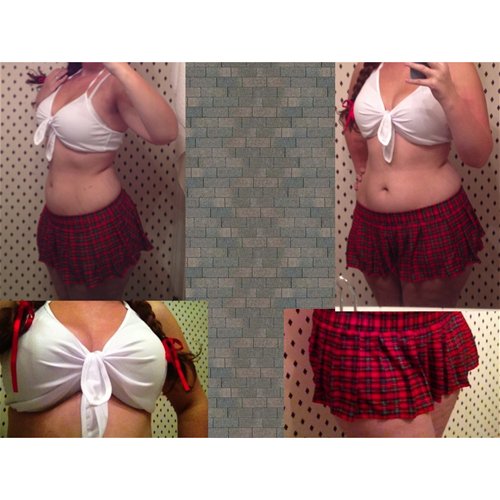 (I'm wearing a white bra in the photos)
This content is the opinion of the submitting contributor and is not endorsed by EdenFantasys.com

Thank you for viewing
Study buddy
– sexy costume review page!