I Don't "Hate" it, I just STRONGLY dislike it!
The Nude Affair corset & g-string- I wanted to like this so much... but I couldn't. It's thin, has no support, poked into my chest and was uncomfortable. I was expecting much better quality. It definitely isn't worth $38.00 and I'm really disappointed with my purchase. I believe you can find a much nicer set here for the same price.
Published:
Pros
I like the g-string...
Cons
Thin material
No shape for larger breasts
Uncomfortable
I really wanted to like this piece. I came back to look at the product page every day from the first day EF added it. Finally, I saved up enough money and made the purchase. Well, today it arrived and I'm shocked, quite frankly, and not in a good way. Unfortunately, this set will not be finding its way into my lingerie collection, instead, it will be going back to Atlanta. So, let's get into it. This set includes the corset and g-string.
Corset:
This corset is made of 100% nylon according to the tag inside. I'm sure this doesn't include the lace, or the trim, which is more of a mesh material. The tag also says "Machine wash- warm" and "tumble dry on low." It is made with a total of 6 plastic boning that seem significantly more flexible that what I'm used to. In addition, there is one piece of metal boning that plunges down from the chest into the waist of the corset forming a "V" shape. The back closes with the hook and eye closures. On this piece there are only two rows to choose from spaced about ½" apart.
After losing some weight, I finally fit into the L according to Fantasy Lingerie's sizing chart:
Fantasy Lingerie's Large:
Bust: 39"-41"
Waist: 30½" - 32½"
Hip: 42½" - 44½"
My Measurements:
Bust: 41"
Waist: 33"
Hip: 41½"
The first thing I noticed was just how incredibly thin the corset is.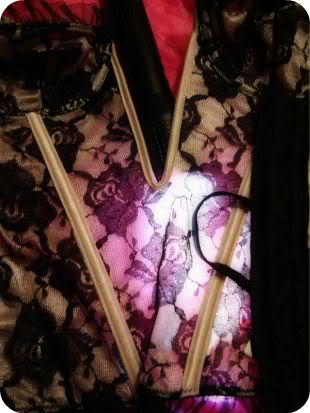 Yes, that is a flashlight, and yes, it is shining right through the material. Definitely not the quality I would expect for the near $40 I paid.
I found the inside to be really soft and silky, but the outside and the trim to be scratchy and itchy feeling. I figured I would give it a chance anyway, because we all know it may look better on your body, right? Wrong. After wiggling in, this is what I got.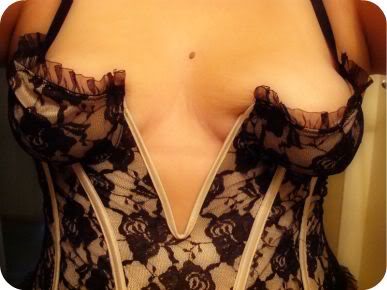 Yeah, ouch! As embarrassing as that picture is, I want you all to know that this is just how much I care, and it's all in the name of a good review! I am a 36 C and, let's face it, these cups do my tits no favors here. The cups are tiny for larger breasts, have no padding or lining and are extremely flimsy. There is an underwire that provides a good amount of support under the cups, but what good is that if the "V" wire in the middle makes your boobs a funny looking shape? I tried to reshape the "V" wire by pinching it in, but it didn't help much. The underwire still pressed into my girls and made them rather uncomfortable. This could be due to the fact that my waist is ½" larger than the suggested 30½" - 32½", but I don't see a half of an inch making that much of a difference. So if you're at the larger end of this measurement, keep in mind that this "V" may make your breasts uncomfortable and give you a less-than-flattering look.
G-string:
I wish I could keep the g-string and send the corset back! The g-string is the same material and same black lace over nude satin design. It's super stretchy, stretching to well over 22" and it covered me just fine. There isn't a liner, but the lining of the material itself should be sufficient.
Conclusion:
I'm not really sure who this would look best on. I've seen reviews of the corset on women with smaller chests and the cups looked kind of floppy. We've seen this corset on me, and *that's* obviously not good either. This leads me to believe that only perfectly firm, round boobs (fake boobs) will look good in this. So if you have that, 1. I'm jealous of you and 2. This corset would probably look wonderful on you!
This content is the opinion of the submitting contributor and is not endorsed by EdenFantasys.com
Thank you for viewing
Nude affair corset & g-string
review page!