I don't know about you, but "flirty" isn't a cheap, torn up garment.
There's very little to say about this top in terms of it being nice, high quality, flattering or even well fitting. It's far overpriced, simple and the belt is broken and falling apart when it arrives. I highly recommend just going to your favorite retail store and buying yourself a cute, fancy top that's half the price of this. I just can't see anybody being happy with this, even if it were priced at $15.
Published:
Pros:
Some can "make it work."
Cons:
Tight.
Runs small.
Broken belt.
Cheap, but overpriced.
Flirty Ruffles is a solid teal colored top, a simple shirt that can be found about anywhere, and for much cheaper than Espiral's price. The only thing that makes this slightly different is you may not always find that other similar tops reveal so much back. However, if you can't find a top like this at Wal-Mart for whatever reason, you can certainly find one of the same style/design for much cheaper and a nicer fit at other retail stores -- and many times they do come with a belt, only it'd be more likely to fit and not be torn when you buy it. The open back is like a V-neck you often see on shirts, only this has a V-back that leaves 8 1/2" of back exposed at the widest point. This exposes the upper and back and leaves 13" of coverage on your lower back (from bottom of V to hem.) The chest doesn't have a V-neck, but a basic dip that's not revealing, but shows the upper chest.
There are ruffles on the sleeves, which look awkward.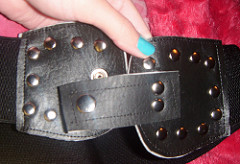 The belt's cheap and total crap, in my opinion. It looks nice at first glance, but too big considering where it's meant to go, and it was falling apart. The faux leather pieces are badly cut and the button was broken! As you see, the belt is meant to be worn under the bust, but Espiral made the shirt so small, yet the belt is so large that it won't stay up on my upper waist. It'll fit my lower waist without falling completely off, but slides right down my upper.
The actual belt is made of a strip of elastic, which is handy if it works. It has two faux leather pieces that meet in the middle, each piece is adorned with 11 studs, and then the button closure in the middle, which are placed on a rectangular faux leather strip.
Unfortunately, the quality is the worst I've ever seen and I have accumulated a lot of these belts with dresses I buy. They're usually cheap belts, but never this horrid. This one's elasticity will hold up if you're not stretching it any to wear it. If it does have to stretch, be preapred to see it ravel and fall apart quickly.
Dress' Measurements
Bust: 15".
Upper back: 13" across.
Below the upper back or torso: 12".
Waist: 12 1/2".
Hem: 15" across
The shoulders are also a bit exposed besides where the sleeve sits. Measurement from shoulder to shoulder is: 13" across, and this is of open space.
8" arms/sleeve portion.
Length: 18" from top of chest to bottom hem.
Belt: a little over 2" wide, and 30" in total length, including the faux leather pieces.
Materials and Care
65% Polyester 35% Viscose. Hand wash only, no ironing or bleaching, care tag is located on inner side of shirt.
White ribbon hanger-loops are sewn on shoulders to make this hang-able so it doesn't slide off hangers.
Made in colombia.
This top could be worn with the V-back in the front if you just preferred that. I personally am fond of my back (and my legs) so I liked that aspect of this, but I tried it backwards and you couldn't tell that the open "V" was meant to be in back. However, it's very revealing, so if you choose to wear it this way, you'll need a bandeau bra underneath, and it does look cute with a multi-colored, floral printed bandeau!
Also keep in mind that if this reveals the entire chest when the open V is worn in the front, it also reveals the majority of the upper back, meaning your bra will completely show in the back. Unless you have a bra with no back at all, you have to get creative with this. I simply stuck some of those foamies used in swimwear to conceal nipples over each boob when wearing this. Sadly, my nipples poke right through the thin foam when I'm cold, so if that's an issue, using padding/padded foamies.
You can go with no bra, but this top is a little transparent in the light.
My Measurements:
Bust: Right: between a B and C cup. Left: 34B
Jean/shorts/size: Zero
Weight: 93lbs
Height: 5 2"
Waist: 26" Lower waist. Where I'm a bit wider, the love handle area: 29"
Packaging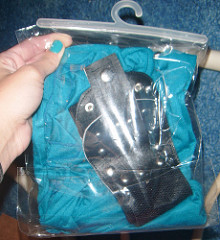 This comes in the typical cellophane bag with adhesive and a plastic hanger attached (for store hanging.) It has a tag with the product photo -- the one of someone wearing it. Other than that, you've got a simple, crap-quality top and belt. *You can see it slipping off my shoulder just while standing - in photo above!
Experience
Fit
The size chart says small fits 34/25/34 and medium fits 36/27/38. My measurements are above, and clearly the small should've fit me fine. Not even!
I always go with small in any clothing, but have recently learned Espiral clothing never is forgiving, so I've been choosing medium, which was right this time! A small wouldn't have even made it over my head! This is tight. I don't think I truly knew the meaning of tight clothing until I put this on. The bad part about Espiral's decision to make their clothing smaller than most runs is the fabric isn't forgiving, but almost stiff. There's no stretching unless you want to risk it like I did and stretch after putting it on, which caused threads to say "pop!" It didn't hurt anything, but after that and an hour of wear, it felt better, but still glues to the body. I even think a large would've been a better size for me, and I've never worn a size large! I hate that Espiral has totally got the wrong idea of what a female's body is like. Their sizing is very off, remember my measurements and how they fall well within their size small? And yet the size medium shirt here was still tight as heck! So I will absolutely say, unless you're a good deal smaller than my measurements, do not go with the small! There's no telling how small the "small" truly is since the medium was so tight. I'd highly recommend ordering at least one size up, and going with large if you're any larger than my measurements.
Other problems:
- The sleeves slide off constantly, so it's a pain to have to keep pulling them up. Also, while I love ruffles and normally find them flattering when placed at the shoulders, this looks awkward and I can't quite point what it is.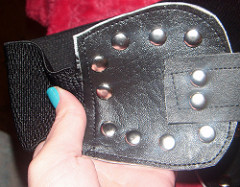 - The button on the belt was broken, but left intact enough that I was able to snap it when trying it on, but after it being too big, I didn't need the button any longer. Where the elastic meets the faux leather piece on one side, it was torn, barely hanging by a thread! You may be able to see this above, but it's a small photo since I can't upload larger ones (I get an error). Message me for more info/photos if needed.
Follow-up commentary
1 day after original review
Solution
I fixed the belt to fit my upper torso by cutting a couple inches from one of the faux leather pieces and safety pinning the two leather pieces together. It doesn't look great, but this belt was crap to begin with, and for the price, I couldn't bring myself to toss the belt, so I spent a lot of my precious time fixing it. Maybe I'll get some wear out of it while it lasts. I've taken photos to try and give a better understanding of this whole belt mess.
This is how the belt looked afterwards, which isn't a huge difference, but if you really look you'll see:
Considering this is a plain ol' shirt you can buy just about anywhere, and for about $5 at some places (including the belt, only a nicer one that's not broken) this is a really silly product to spend your money on. I honestly think it's a rip-off for Espiral to price this so high when it's not a nice top and not high quality. I'm still baffled about this one.
This content is the opinion of the submitting contributor and is not endorsed by EdenFantasys.com

Forum
| Discussion | Posts | Last Update |
| --- | --- | --- |
| Size | 4 | |
Thank you for viewing
Flirty ruffles top
– tee review page!