I don't think this will look good on anyone, unless you're posing the entire night
This is definitely a dress that looks better on the model posing than it would ever on a person's body. The excess fabric in the top of this dress makes it incredibly difficult to arrange in order to make a good outcome. One redeeming quality is the skirt, which is formfitting and ruched so that it hides tummy lines and underwear. However, even that is see-through to a certain extent. I would recommend passing on this dress and spending your money elsewhere.
Published:
Pros:
Nice length, comfortable, skirt bottom is formfitting and ruched
Cons:
A nightmare to arrange, top is incredibly floppy, will most likely not look good on anyone
Product Information

Size: Small
Material: 93% polyester, 7% elastan (spandex)
Care Instructions: Hand wash, no chlorine bleach, no dryer, no wringing (this is guessed from the pictographs)
Measurements: Bust - 33"; Length (top of chains to bottom hem) - 29.5"; Waist - 24"; Bottom - 24" ***Bottom and waist is stretchy, top is extra floppy, so take these measurements as guidelines
Description: A one piece dress featuring a satin-weave turquoise top of excess fabric, an elastic patterned black belt, and a ruched and formfitting skirt bottom. The top ties together like a halter neck with the thin bands that is made of the same satin-weave material as the top.
Packaging: Plastic bag

Initial Impressions

When I finally held the dress in my hands, I was a bit worried. While the skirt bottom seemed similar to many of the other stretchy and ruched dresses sold on EdenFantasys, the top of the dress seemed to be a large squarish piece of unstretchable fabric. On the model, I had imagined the top to be rounded at least. I was afraid that this dress would require a lot of arranging, which I soon learned it did.

Pros

1. Good length: I'm 5'3", and this dress falls halfway down my thigh. I can stretch it to go over my knees since it's ruched. As it's tight fitting and snug, I'm not worried that it will ride up at all. Due to its ruching and extra fabric, this dress should fit a variety of heights.

2. The skirt looks great: It hugs your hip and butt. Plus, the ruched fabric hides your tummy fat. Also, can't see the underwear lines!

3. Pretty comfortable: The top is pretty loose, so it doesn't feel like you are restricted. The skirt bottom is smooth and stretchy, so it's easy to move around in.

4. Craftsmanship looks okay: All the seams seem to be in place with no loose ends.

Cons

1. Floppy top: I don't understand how the top is supposed to be arranged. I spent a while trying to rearrange it this way and that; tucking the top into the belt to decrease the excess fabric, turning the cloth in to hide the underside, and twisting my body into certain positions to try to make the dress nice. Eventually, I gave up because there always seemed to be an odd bulge at the sides and back (look at pictures). Overall, I feel like I just looked like a marshmallow.

2. The underside of the top keeps becoming visible: The top has a satin-weave side and a matte side. You want to make the satin-weave visible and hide the matte. However, whenever I moved a bit, the top would flop aside and reveal the matte side, making the dress look really cheap.

3. Wear this if you are not planning to move...at all: While arranging this dress is a nightmare, it can be done (as shown in the models). Perhaps I just don't know how to arrange it properly, but I suspect many others wouldn't know either. However, if you do manage to make it look halfway decent, I am pretty sure you will have to tuck some of the fabric under the belt so you can't move around too much. If you do, the cloth will come out and make you look like another big mess.

4. The belt looks a little cheap: As the top is satin-weave and the bottom is a polyester/spandex blend, the matte elastic belt looks out of place. The texture doesn't go with the smooth finish of the top and bottom. Plus, it's a pretty thick/wide belt, so it enhances the bulge on the top and makes the body look a bit disproportionate.

5. The skirt is a bit see-through: While the top is more opaque, I could see my legs through the skirt when standing normally. Thus, I recommend wearing black shorts/panties or nude underwear with this.

6. Good luck finding a bra: From what I have tried in arranging this dress, most strapless bras are visible. You may have to stick with silicone bras.

7. Way too expensive: For a dress like this, save yourself $37. Don't spend that much on something that will never see outside.

Conclusion

This dress was a major disappointment. I quickly realized that I either didn't know how to arrange the dress properly or that it just wasn't going to look good. I'm sticking with the latter. I don't think the top will look flattering on any body shape. Even if it does look good for a few pictures, it's not going to look good from the side (where the bulges are the most visible) unless you are holding the excess fabric down with your arms. I recommend passing on this dress.
Experience
Not a good experience at all.
My sizes
Dress size:
XS/0/2 (for mainstream brands)
Height:
5'3"
Weight:
117lb - 120lb
Bust size:
32C/31"
Waist:
26"
Hip:
34"
Here are pictures of me wearing the dress. I'm holding down the top a little since my arms are at my sides, but the floppiness of the top is still visible, especially in the front and back pictures.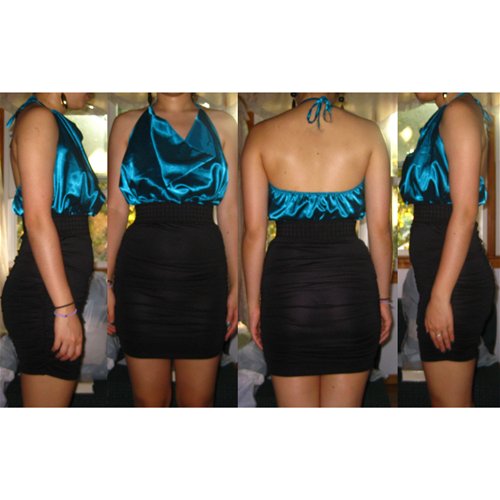 This content is the opinion of the submitting contributor and is not endorsed by EdenFantasys.com

Thank you for viewing
Blue and black dress
– mini dress review page!