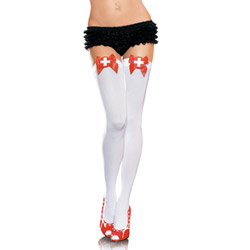 Naughty nurse thigh highs
Thigh highs
by Leg Avenue
I feel naughty just for buying these!
Naughty nurse thigh highs are cute and a great pair of stockings for couples who like to play dress up, but maybe not perfect for all couples. I wish they came in different sizes, but other than that they are great. I think all naughty nurses should own these.
Published:
Pros
soft, comfortable, well made
Cons
really long, only one size fits all
The naughty nurse opaque thigh highs come in a thin, transparent plastic pouch with a cardboard sleeve inside around the stockings and a plastic hanging hook at the top. The cardboard sleeve has a picture of the product and the name on front so not discreet at all and the back has the size, material, and washing instructions. They are one size fits most which is between 90 and 160 lbs and I would say between 5'6" and 6' because they are really long. Laying flat they are 25 in. long and the band is 4 3/4 in. wide. The thigh highs are 100% nylon and the washing instructions are handwash cold and drip dry. DO NOT iron these stockings. size chart: Leg Avenue one size, Waist (in) 23-29 Hip (in) 34-40.

These thigh highs are so soft! I couldn't stop touching them when I opened the package and they are comfortable enough to wear for a while. The bows on the front are stiched on, not glued, so they should stay on for a while. I'm 5'8" and these stockings came up to just under my crotch, therefore not for short people. They were a little tight on me and cut in to my thighs, but not much. The package says between 90 and 160 pounds and I weigh 180 so I should have guessed as much, but it wasn't so tight that it was uncomfortable. I wore them right above my knee instead and it looked pretty good. They are decently thick so hopefully no runs or rips. They have thin elastic at the top to help hold them up, but since they were a little small they still slid down on me. I think if you actually fit them you shouldn't need garters to wear them.

I didn't have a nurse costume, but I improvised and it was still cute. I like them, but without the whole get up it wasn't as fun and my boyfriend wasn't impressed at all. They are well made and worth the buy if you and your partner like to play dress up, but obviously mine doesn't. Overall I wasn't entirely happy but it really had nothing to do with the product itself. I would definitely buy from this company again, but maybe something more sexy and less costume like.
Experience
When this package arrived I couldn't wait to try them on. They were really soft and came all the way up like they should, but since they were a little small I wore them lower down so it wouldn't cut in. I waited till my man was in the shower and slipped these on with black lacy booty shorts and a red silk scarf tied around me like a shirt. When he walked out of the bathroom, his jaw dropped and he went from 0 to 60 in 1.5 seconds. He looked me up and down and then lingered on the stockings. After a moment he said, "you look hot, but I don't know about those stockings.", and my heart sank. I was so excited, but I guess guys don't understand the whole dress up thing. I stood there a second, took them off, and he said, "much better", and then couldn't keep his hands off me. They didn't last very long or get the desired effect, but it wasn't the thigh highs fault so I won't blame them.
Follow-up commentary
3 months after original review
Let me say first off that there is nothing wrong with these tights. They haven't ripped or anything like that. My only issue is that I don't have much reason or need to ever wear them. It seems like a hassle to put these things on just to rip them off again 5 minutes later. As a costume accessory for Halloween or something, they are awesome, but for a way to get things started in the bedroom, they are unnecessary. I would still recommend these for appropriate situations, but I myself have no need for them.
This product was provided free of charge to the reviewer. This review is in compliance with the FTC guidelines.
Thank you for viewing
Naughty nurse thigh highs
review page!