I Feel Sexy!
The Floral Lace Chemise with Thong is a gorgeous set to say the least! Sexy and comfortable, it's sure to please. The open ended panty liner in the thong was a welcome surprise! Any bullet or egg vibrator will fit inside. I'm loving how sexy I feel in this set.
Published:
Pros:
Sexy
Comfortable
Open ended lining for bullet in thong
Cons:
Cardboard tag is entangled into lace with cheap plastic- be sure not to yank it off, use scissors
The Floral Lace Chemise and Thong Set, made by Dreamgirl is a very sexy piece of lingerie. It not only looks sexy on me, it makes me feel sexy inside! Being comfortable and not itchy on top of that makes this set one of my favorites!
Made of 90% Polyester, which is a strong material that holds up to abrasion, (definitely not your grandmas polyester) and 10% Spandex, which is resistant to lubes, oils, and sweat make it perfect for love making sessions and wonderful for stretchability, this Chemise is made with durability, function and comfort in mind. The soft texture of the lacy designed fabric ensures that there is no itchy feeling that some lace pieces have.
As its name implies, the entire Chemise is embellished with floral lace, the triangle cups feature scalloped edges which make a V neck down the front, putting your girls in a lacy frame that looks lovely. There is a small elastic strip which holds the cups together.
Using my make shift model Miss Pillow- here is the front-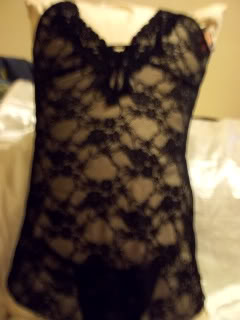 The top of the garment has an elastic band running all along the front and underarms; stopping at the back which features stretchy, criss crossed corset like ribbons. Along the edges of these ribbons is more scalloped lace, making a low plunged V back, which shows the curve of my lower back.
Back of Chemise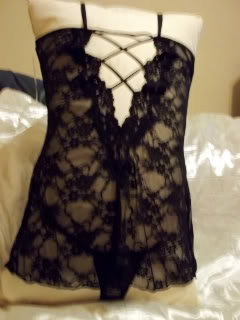 The stitching on this sexy piece is strong and has thick double stitching, all except the hem at the bottom which is single stitched. I am most impressed with all the care Dreamgirl took to ensure the stitching would last. This is one piece that will not get ripped off easily! In any case, it's easy to take on and off! Pull over styling make it a breeze.
The straps are stretchy spaghetti style which may be adjusted to fit properly like a bra.
The piece has no breast support, but isn't supposed to really.
The matching thong is made with the same soft lacy material; there is a 4" long, 2" wide panty liner inside, which I am happy to report is opened on the end so that you can insert your favorite egg or bullet inside! This came as an unexpected surprise for me and I love the feature.
Bullet inside panty liner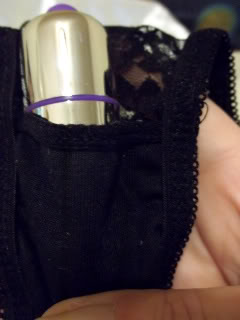 This set is strictly see through, so I use this piece exclusively for in the bedroom. I found it very comfortable to sleep in as well.
I suppose, if you are more daring than me, you could wear something underneath the chemise and pair it with pants or a skirt.
Experience
This beautiful piece comes in 5 sizes ranging from Small to 3X/4X. I found this to be wonderful because it will fit a large chunk of the female population, instead of just a small group.
I chose the 1X, as I would usually wear an Extra Large in a piece like this, and XL is not an option. It fit me wonderfully.
According to the Dreamgirl size chart [https://www.edenfantasys.com/ProductControls/LingerieSizeCharts.aspx#DreamGirl]
1X/2X will fit someone who usually wears a 16-18, I wear a 14-16.
It's supposed to fit a 40-48 D to DD bra size, I wear a 42 C and the sewn in "cups" fit me well. A DD cup sized breast may fall out more, like the models breasts on the cardboard tag provided do, but as for me, I'm comfy being covered.
It's supposed to fit a 36-40 waist, I have a 36" waist now and it fit great.
The thong was the only thing that was a little large on me, even though I fell into the charts 42-48" hip size and I have a 43" hip. Still, they didn't just drop to the ground or anything, and the elastic clung well to my frame. If they ever get to the point where the elastic gives out, they can be cut and tied into bows on each side.
The chemise fit me very well in the hip.
As for length, it hits right at my booty cheeks in back, showing off my smokin' ass perfectly. In front it is shorter than the model or mannequin show, coming right to where the Y of the thong hits.
Its length from top of arm straps to bottom is 26" long. From bottom of bosom to hemline is 18" in length.
Model wearing the Floral Chemise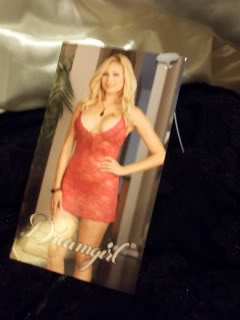 Hand Wash this set with a mild detergent in cold water and line dry. Do not put into a dryer or iron.
This set came simply wrapped in bright pink tissue paper. It had the cardboard tag shown above attached into the lace fabric by a cheap plastic tag. Be very careful not to just yank this tag off, use scissors so you will not damage your new lingerie.
I'm going to buy some pretty padded hangers for items like these which do not come with a hanger.
I am very pleased with this chemise thong set and the way it fits me. It makes me look and feel sexy; something I haven't bothered with in a while. This is definitely going to start a new feminine trend with me and I will be getting more lingerie in the future. I hope you will be as well!
Follow-up commentary
4 months after original review
This chemise set has turned out to be very durable. I'm pleased to say that after many wears and washings, it is still intact. The lace seems to get softer over time so while it was soft and comfortable when I first reviewed this set, it is even more so now. The thong however is stretched out of proportion and I had to throw it away. Yes, I still feel sexy in this chemise!
This product was provided free of charge to the reviewer. This review is in compliance with the FTC guidelines.

Thank you for viewing
Floral lace chemise with thong
review page!