I got a black belt in the bedroom...
For my first garter belt, I could not have chosen better. The Bouquet Lace Garter Belt holds onto my too-short thigh highs without mercy, and it flatters my figure (on an area I am self-conscious about). I think this is a great basic belt that everyone can enjoy.
Published:
Pros:
basic, stretchy, strong, well-made
Cons:
plastic garters may be a con for some, having to step into it
Presentation
I was very curious about this garter belt when I saw how sexy the product picture was. I imagined myself wearing the belt, holding up some thigh highs with satiny gloves... (Cue cheesy 70's porno music.) Then, of course, I realized that I'd never owned a garter belt before and all my concerns and insecurities came rushing back to me.
I decided to add this to my cart, with the comforting knowledge that it's affordable and basic enough to use in a variety of settings.
The garter belt by Leg Avenue arrived on a simple (yet appreciated) plastic hanger. There is a tag attached to the front center of the belt, with some basic information and pictures of a model wearing the belt, in red.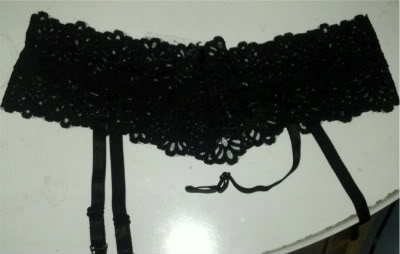 Materials and Craftsmanship
The Bouquet Lace Garter Belt by Leg Avenue is comprised of 90% Nylon, 10% Spandex "exclusive of decoration." I assume decoration indicates the small satin/polyester bow in the front and the garter attachments. The material is a bit coarse on the outside, but feels smoother on the inside. I think the outside might feel a bit rougher because the details in the lace face outward and not inward.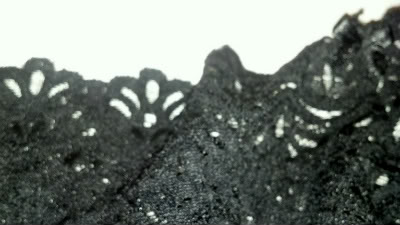 (This is my attempt to show you how textured the outside material is.)
The garters are sturdy and stretchy, with the actual attachment-clip part being made of plastic and rubber (I assume? there is no information given anywhere on the tags or labels).
I know many garter enthusiasts just sighed and scratched this off their lists, seeing "plastic" clips. I will say though that these babies are more than sturdy. In fact, they are a bit difficult for a beginner like me to open and shut. (Read: If you are new to garters, you will be practicing with these for a while).
As far as craftsmanship goes, my piece is pretty flawless. I do think the lacy aspect of this garter belt will easily hide many flaws of craftsmanship, though. My garter belt has no frayed edges or ripped seams. The only thing I will gripe about is Leg avenue's decision to use those cheap plastic things to attach their heavy cardboard tag to the delicate lace. If you are an eager little beaver, you might be inclined to rip this tag off and therefore ruin the center front of your belt!
Design
The garter belt is beautifully simple. It's a stretchy lace belt with a total of four garters. Most women will find four garters, (one on the front and back of each leg), to be enough support for their thighs. However, larger ladies will probably find themselves wishing for more to grab onto those thigh highs. (Then again, more curvaceous ladies might pass this one over for a lack of sizes.)
There is a bow in front, which is absolutely perfect to me. I love how subtle it is; it adds just a touch of femininity to the piece without being too over the top.
To get into the belt, you have to step into it and pull it up like a skirt. I had my reservations about this, but the material is very forgiving and doesn't seem to be showing any signs of wear-and-tear from putting it on and taking it off in this way.
There is a rather large black satiny tag attached in the center of the back of the belt. I didn't like how large the tag is, but then I realized that a smaller tag would tickle and itch my lower back. The larger tag lies flat easily, if you choose not to remove it.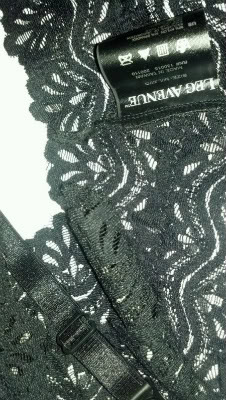 The garter belt also seems to be comprised of two separate pieces of lace, horizontally sewn together on the inside of the belt. I tried to wrap my head around why they chose to do this, before I realized that it was to ensure a bit more stability and strength in the garter belt. The extra seams on the inside of the middle of the belt means that you are cinched in the center, not the top where the extra reinforcement would give you more of a muffin top (if you have any flab). I felt this was done well mainly because they chose to sew it properly and not have ugly visible stitches on the outside of the garment (cough-meshcorset-cough).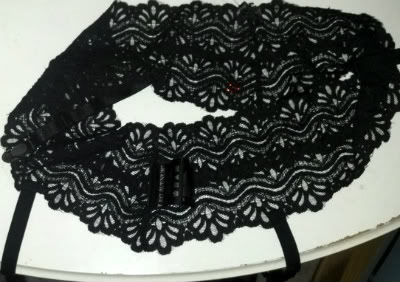 Overall, I was particularly pleased with the design of this garter belt.
Care and Maintenance
Wash this by hand with cold water and mild soap, then let it hang to dry. Do NOT iron, or you will have a melted garter belt. Also, do not bleach.
If you are interested in manufacturing details, this piece is made in Taiwan. There are instructions for care in a few different languages on the tag (English, French, German, etc).
Experience
Performance
Garter belts are useless unless they hold up your thigh highs properly.
The garter part was difficult to open and shut, which was frustrating. But when I fastened my thigh highs, I understood why they were so tough. Flimsy garters would lose my thigh highs very easily. These clung on, hoisting them up my long legs and never letting go. It was an epic battle as I walked around after fastening up my too-small thigh highs. Who won? Garter belt. While my thigh highs didn't rip, I graciously released them from the grips of this belt after about 20 minutes.
The garter belt did get a pull downward, but it allowed the belt fit onto my body even better. The garter belt did not continue to inch downward, nor did it feel like it was precariously edging on destruction.
This is quite a feat, all things considered.
The garters, while plastic, held up incredibly well. The rubber-type of backing was very firm and textured enough to hold onto my tights without slipping. Not much else to say about that, other than bombarding you with close-ups of the garters themselves.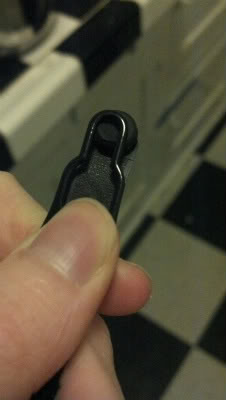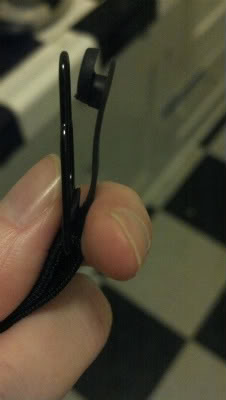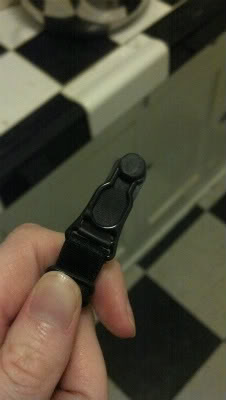 Sizing and Fit
I have had success before on purchasing a Leg Avenue lingerie set in ML. This was the ONLY reason I felt comfortable buying a garter belt without reviews on it, in such ambiguous sizing.
And I have to say that I am pleasantly surprised again with Leg Avenue.
Measurements for me:
Around my hips, (where my pants end and where I'd hang a belt), I measure 40".
A bit further south, I have a large booty, coming in at 44" or so.
A few inches north of my true hip measurement, I am about 38".
I was very concerned that this would either squeeze my hips and create a muffin top (and bottom?). I was also concerned that it would leave a gap up at the top of the belt.
The belt itself looked rather skimpy upon arrival.
UNSTRETCHED, M/L:
It measures 14" across the top of the belt (doubled for 28" around).
It slowly expands to 15" around the center seams (doubled for 30" around).
And the bottom part of the belt is just barely 16" (doubled for 32" around).
I got very nervous about putting this on. Then, I realized the material was very forgiving.
Stretched, it worked with my body to fit it rather flatteringly. I was surprised- my hips are my self-conscious insecurity. Yet, this belt slid right on up and didn't look too bad either.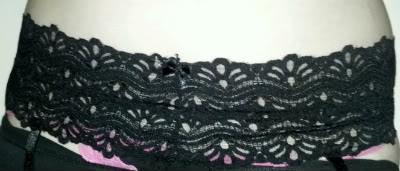 Victory!
My suggestions for sizing: Hip measurement 34-44". 32" hips will find this loose and probably insufficient for holding things up, while 44" hips will find it rather snug.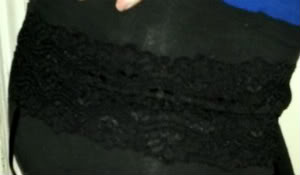 Side view of this worn down where my measurement is 44".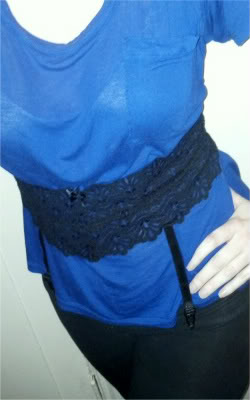 Worn where my measurement is 30".. over a baggy tee, it was very loose. Not for 32" hips and below!
Other measurements:
Height: a flattering 6" --it tapers a bit "V" shaped in front/back center, which is very flattering and points an arrow toward the goal(s).
Garters: Fully extended reach 7" in length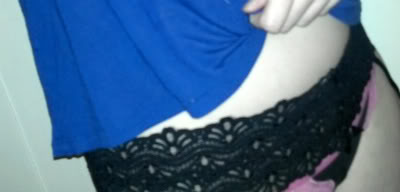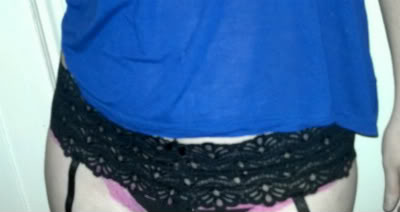 Follow-up commentary
2 months after original review
I wanted to try this garter belt on again with some thigh highs that would actually work. I wanted to so badly that I bought some plus-size thigh highs off the website. While I ended up being able to pull those thigh highs all the way up to my crotch, initially thinking I needed no garter belt, they soon fell all the way off because of their large size. On came the belt for its first real extended usage!

It performed beautifully, hoisting up my thigh highs. Aesthetically, I would have preferred the garter belt to have more garters to it. But that's no fault of the belt, just my forming preference.

With proper wear (aka: with thigh highs), it sat a little lower on my butt that I originally expected. It still looked flattering and sexy.

I still recommend this belt. This is a great buy for something that is quality and non-restrictive.
This content is the opinion of the submitting contributor and is not endorsed by EdenFantasys.com

Thank you for viewing
Black bouquet lace garter belt
review page!