I have No Closure with this Bra
While this is a relatively well-made set, there were a few flaws which made me seriously reconsider it. There is no way to put on this wired bra, so you will risk poking your eye out just to wriggle it over your head. If you have shoulders, you will probably also wear it out over time. I also buy my sets hoping one item will fit- bra or panties. This will fit me in neither region. But, for those with large breasts and no booty, this set will fit nicely.
Published:
Pros:
well made, good quality, good for large breasts
Cons:
not for large size bottoms, no closure/opening to put on the bra
Presentation

This little bra and panties set arrived to me on a cheap, white plastic hanger covered in thin plastic. The panties have hanger loops on them, which I found annoying as I tried to untangle them from the bra on the hanger..

Overall, though, this set came to me very simply and with more effort than some other pieces that are delivered with EF's pink tissue paper.

There is a Fantasy Lingerie tag on the bra, which says this set is actually "Simply Sexy" with the size and color information.

Materials and Craftsmanship

This set is 100% Polyester, exclusive of trim.

It is actually pretty soft for something that is mostly mesh. The ribbons on this set bug me, because they are so very thin. There is a bow at the center of the bra which has longer ribbon, that dangles off the bottom of the bra band. Also, the loophole on the panties are supposed to be tied with this ribbon as well. I found this annoying because it was basically like two tiny strands of string dangling around my crack. Not sexy or nice feeling to me.

The bra is very lightly padded and will offer pretty good support with the under wire. The criss-cross straps are adjustable. There is some beautiful darker blue and lighter blue floral embroidery along the front.

The major flaw of this bra is that there are no hooks and eyes. There is simply no closure at all. You are expected to pull a bra down over your head, mindful not to poke your eye out with an under wire, mash your boobs down long enough to slip the bra down and over them.

This is a major flaw to me. I have broad shoulders, and I am sure that if I were to pull this down over me, in a short amount of time, I would be stretching the band of this bra much more than I should to fit my under-bust area.
It is also just extremely uncomfortable to pull something like this down over my head.

The panties have embroidery along the front as well, and are sheer mesh. The front side is a double layer of mesh.

Care

This garment is machine wash warm, tumble dry low. Do not wring or twist.
I would feel comfortable following these directions. This set seems to be made pretty well and I believe it will hold up to the suggestion.

Inquiring minds will find this is made in China.
Experience
Sizing
Well, I am not going to even kid you guys here.
Are you a DD cup? Wear a size 4 pants?
Get this set.
For me, I swim in it and I am a full C, small D. The band is a little loose for me, as well, but that could be because my measurement under the bust is 32".
The panties are awkwardly cut, and too small for me. My butt isn't really even covered by them. It was also hard for me to even get my thighs into the leg-holes. While I could put them on, they dug into my legs and were too... short... to look attractive on my butt or crotch area. The cotton liner is pretty pathetic too.
Measurements
The bra band measures: 28" - I should mention the front panel does not stretch (due to embroidery), but the back is very elastic.
Cups: 9" across the center, 8" from strap to bottom.
There is about 1" gap between cups (where the center bow lies)
The panties measure:
30" across, and again I will mention the front panels do not stretch, while the back half does
6 1/4" height up to the cotton liner, cotton liner is 1" long
The leg holes measure 16" around.
This is the first time I have measured that part of my body, but where the underwear should lie on me measures about 28".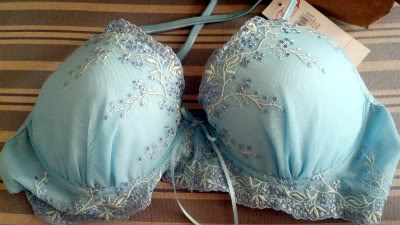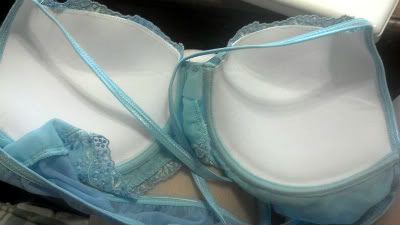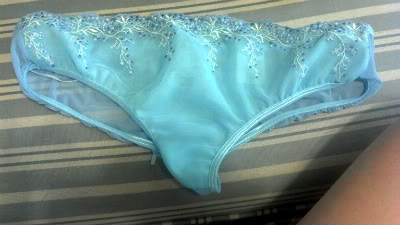 (Excuse my thigh for interfering, it photo-bombs in protest.)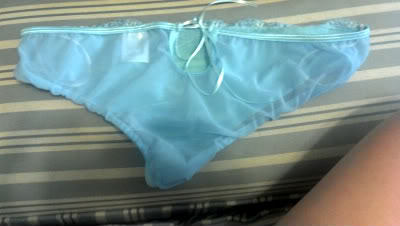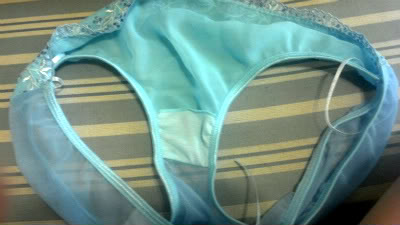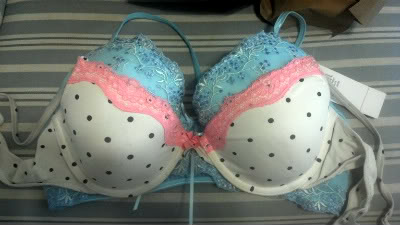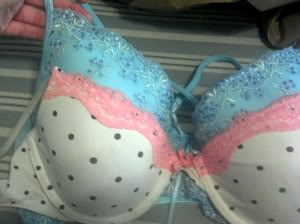 Overall, this set is nice quality except for the lack-of-closure bra.
This product was provided free of charge to the reviewer. This review is in compliance with the FTC guidelines.

Thank you for viewing
Delicate angels blue padded bra
– bra and panty set review page!