I Hope I Don't Have to Stay After School in This Outfit
As far as schoolgirl costumes go, I can't really recommend this one. There are better fitting ones out there. It does look cute and it does stick to the schoolgirl theme, but it just has kind of an odd fit that takes away from the enjoyment of the piece.
Published:
Pros:
Skirt is great, cute look
Cons:
Odd fit, panties are not usable
Schoolgirl outfits are always a favorite with us. They allow for fun and imaginative scenes and roleplays and are really a lot of fun for us. I was pretty excited to see the Afterschool Naughty School Girl costume from Fantasy Lingerie since it looked like a darling little outfit perfect to use in our bedroom play. The costume comes in a three piece set. It includes a skirt, a top, and a pair of ruffled panties.
I bought an XL size of the outfit, and according to the size chart it should fit the following measurements:
Bust: 41-44"
Waist: 32.5-34.5"
Hips: 44.5-46.5"
The piece seemed to fit pretty close to those measurements. The waist measurement doesn't really matter on this piece, but I think the top and skirt will work for those measurements. I am on the low end of those measurements, and the pieces fit me okay sizewise.
The skirt is the best part of the outfit, and it very cute despite being very short. It is 7.5" long from top to bottom and is 22" across when fully stretched. It won't fully cover you. This is not a skirt to wear out in public, but it is great for bedroom use. It covers about half of my butt, which allows for a cute pair of panties to peep out. It is a bright pink and black plaid pattern and is very stretchy. It also has a cloth loop on each side to allow you to hang it on a hanger if you so choose. It can easily be worn during sex, and stays out of the way easily due to it's short length.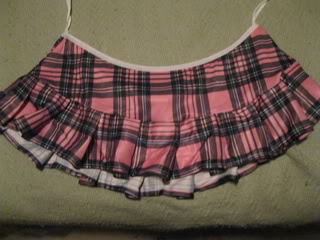 The panties were totally bizarre and ended up being pretty much a complete failure. First of all I couldn't tell which way was supposed to be the front. I figured the ruffles go in back, but that was putting the tag in front. So I put them on and they didn't fit, so the next thing I tried was turning them around and tried them on again and they still didn't fit. It wasn't that the sizing was too small, they stretch plenty wide, but they are not nearly long enough. They are supposed to be bikini style and appeared in the picture to be full coverage. However, they end probably 2-3" below where a typical pair of low rise panties would end. They only cover about 1/3 to 1/2 of my butt so I have a major plumber's gap going on. It makes the outfit look ridiculous. With both the panties and skirt being so short, there is a gap between where the skirt ends and the panties begin. I am hoping that the manufacturer had a major mess up with my particular pair of panties and that it isn't how they were designed to be.
I took a picture of the panties over another pair of low rise panties that I have which barely cover my butt lengthwise. As you can see the ruffled panties are quite a bit shorter so I really don't see these being able to cover anyone.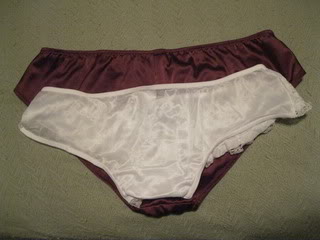 The top was okay, but not my favorite. It also fit me somewhat oddly. The piece is white with the pink and black plaid trim on the sleeves. It is 12.5" from top to bottom and exposes the midriff. Like the skirt it was also about 22" across not including the sleeves. The sleeves were quite a bit longer than I was expecting and came all the way down to my elbows. I tried to keep them pushed up, but they just slid back down. They are also quite puffy, which may be good or bad depending on your preferences. The top really doesn't provide any support, so I personally felt more comfortable pairing it with a bra for a better look and feel.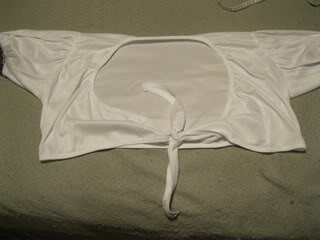 Overall I would give the skirt 4 stars, the panties 1 star, and the top 2.5 stars.
Each of the pieces is made up of 100% polyester. It's not a material that has gotten wrinkled at all, even when I just threw it in a dresser drawer. It has quite a bit of stretch to it, especially the panties. The top and panties seem pretty fragile and I don't believe it would hold up to a wash in the washing machine, though I believe the skirt might. The instructions say to hand wash it in cold water and let the pieces line dry.
The outfit came in a pink cardboard box with a picture. It is recyclable and has the washing instructions and size label. The box really isn't anything I would bother keeping though and would instead store the outfit in a closet or dresser drawer.
Experience
I'm kind of disappointed in this outfit. Teacher/student is one of our favorite roleplays to do, and I was thrilled to get to have a new "uniform." Unfortunately it just doesn't look quite as nice in real life as it does in the pictures. It is salvageable if I pair it with a different pair of panties, but this will never be one of my favorite costumes which bums me out because my partner and I love schoolgirl outfits so much. It didn't ruin our play or anything like that, and were able to have a good laugh about it, but I definitely didn't feel as sexy as I usually do while wearing it. I think I will only be keeping the skirt, and will be pairing it with pieces from my other schoolgirl outfit.
This content is the opinion of the submitting contributor and is not endorsed by EdenFantasys.com

Thank you for viewing
Afterschool naughty school girl
– costume review page!