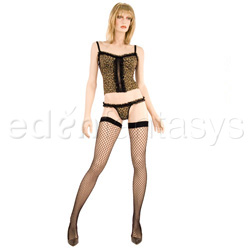 Leopard cami and thong set
Camisole set
by Coquette
I Hope This Stuff Stretches...
I think that this item is worth giving a try if you are thin and straight. Anyone with hips needs to stay away from this set. Granted, it is very pretty on the hanger and is made of pretty good material but if a curvy girl wants to feel sexy, don't get this.
Published:
Pros
This is a very pretty set and is made better than some.
Cons
Very straight cut...almost have to be a stick to wear it. The ruffles itch as well.
Wow, so today was the day...I finally had gathered the courage to try my newest review product...lingerie. As soon as I had seen this set online, I knew this was the one to try. It was so pretty and was really sexy, good sexy though, not trashy sexy.

As I opened up the package the set was on a little hanger staring back at me. My first reaction was that I hope that this stuff stretches because it really looked small. The set I ordered was a medium. Don't get me wrong, I am not a big girl...I consider myself average and the measurements that were given with the medium showed that this should fit. I took the pretty set off of the hanger and the first thing that I noticed was that it was made pretty well. I had thought that it would be a little bit more cheaply made. The material is Lycra (which in my opinion is a scary material to start with). I next focused on the ruffles. They were so stunning...I especially loved the band on the thongs being made of solid ruffles. I got my courage up (in a room by myself of course!) and tried the set on. Wow...OK, the bottoms fit great. They are a little bit low cut but that was to be expected. They were very comfortable given the nature of the piece. Even the lovely ruffle up the butt wasn't too bad. Now the top on the other hand was a little different. As I had mentioned, I am not a stick, I am an average sized woman but the top was so not made for me. I took up the straps thinking that would help the cup fit. I was wrong; I ended up having to take the cups in about 1 inch on both sides for them to look right. The material was very snug on my rib area and I actually had to cut little slits in the sides for it to even sit right on my body. After all of the alterations, it was just OK.

Even though the set was just OK in my mind, I decided to surprise my husband with it that night. After seeing it, he definitely thinks more of the set than I do. He was another fan of the thongs. The negative thing about the top is that it is so hard to get off! In the heat of the moment, I want something that is fitted and looks nice but is also semi-easy to remove. I guess the material made it just roll up. Overall, this is a nice set. Curvy girls need to stay away from it unless they want to spend a good bit of time making almost useless alterations. Stick girls would love this. Hopefully, my next lingerie experience will be more flattering.
This product was provided free of charge to the reviewer. This review is in compliance with the FTC guidelines.
Thank you for viewing
Leopard cami and thong set
– camisole set review page!