I'm a Sexy Barbie
This 4-piece set is a winner for me. I love wearing it for my partner, and he loves it on me. If you like flirty and girly, you shouldn't miss this set! This mesh pink and black full set is reasonably priced and accommodates sizes 90lbs - 160lbs.
Published:
Pros:
Very Cute Feminine Style
4 Piece Set - Thong, Skirt, Thigh Highs, Bra!
Fun and Flirty
Cons:
Low to Mid Quality
One Size Fits Most
This is my Barbie lingerie. It is Barbie pink, it is cutesy, and it even has bows. It is sexy yet at the same time is little girly. This pink and black mesh number is worth taking a glance at, and in my opinion adding to your shopping cart! I love it, and you might love it too!
Packaging:
As seen in stores
The Bra and garterskirt set with hose by Escante came in a nice sealed thick plastic product bag. It has an attached plastic hanger, typical to those you see on a store shelf. It is pretty much storefront ready. The plastic bag is heavy duty and makes a great storage pouch! I love when items come in these nice, sturdy plastic pouches – because when they do, I am always storing the items back in them!
The cardboard insert inside the plastic pouch gives a load of details about the item, therefore it is not discreet. You will find the product information, style # (783H), sizing and care instructions. There is a hot blond model demonstrating both the front and the back of the items as well. With all the information right there, it is easy to know exactly what you are getting inside.
These are made in Mexico
Contents: Thong, Bra, Skirt, and thigh highs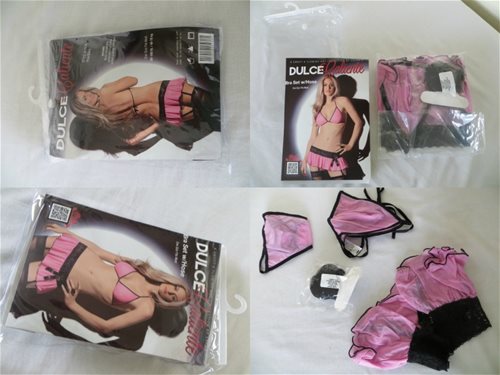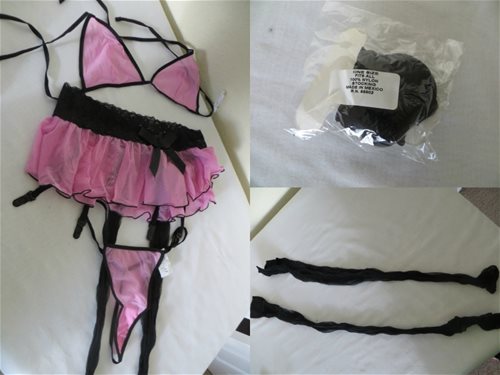 Care/ Maintenance:
Take good care, must handwash
The care instructions for this item are featured on the cardboard packaging insert and also on the bra, thong and skirt. The care instructions are hand wash separately in cold water. Do not bleach and line dry.
I found this set very easy to wash in the sink. The items are small and simple to wash. I used a gentle detergent and cold water, and they are as good as new! Since the pieces are so thin and mesh material they dry very quickly, especially in this southern state heat!
Size:
Another one of the one size items...
It is available only in a one size fits most. I know, bummer for some. This one sized item is recommended by Escante for sizes 90lbs – 160lbs.
I am typically a size small-medium. I wear size 4-6 in dresses and jeans. I have a 34D bust. The rest of my measurements can be found on my
profile page.
I found the one size fits most to fit well in general, of course there were some issues.
The first issue was the triangle top was a bit too little. Mind you, I do have bigger sized boobs. I would say the top would be PERFECT for a full A/B. Anything more will be popping out like I was. This triangle top does have a crease in it, which allow for some room, so it might be baggy on flat chested and small A cups. The second issue was the thigh highs, they went almost all the way up my leg when fully stretched, (I am 5'4") therefore were pretty tight on my upper thigh. I could lower them to mid thigh and they fit better, but they were very baggy this way. When I walked they slipped down. The skirt and the thong fit like wonders though! Mind you I am on the mid-range for the size chart (currently weight 130lbs). I am very happy with the way the skirt and thong fit, they are comfortable and don't dig in!
Overall, one sized items can be a bit tricky. You might be small on the top and big on the bottom or vice versa. One item might fit you great and the others might be too small or big. While not every item fit me perfectly, I don't mind that they didn't. They still work well. I think that the sizing recommendation 90lbs-160lbs is just about right for the sizing, unless you are very disproportionate, than you might not fit into all the pieces.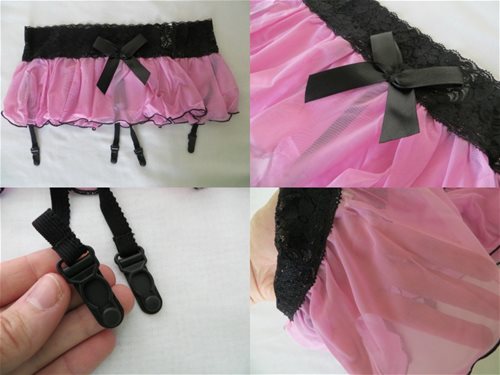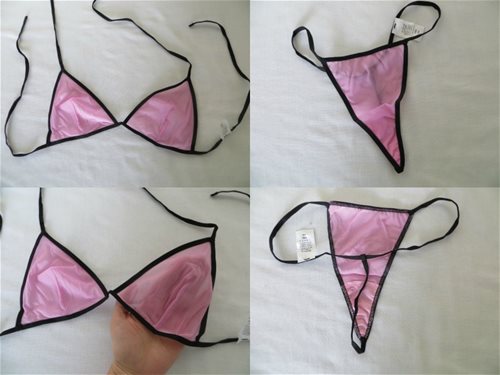 Design/Shape:
Super cutesy!
First off, and this is not unusual, but the product images for this set are a little misleading. The items look a lot more solid coverage than they are. The triangle top the model is wearing is not see-through in the least! When in fact, this is not the case – it is very see through! It looks like you could wear it sunbathing, but heck no you couldn't!
So, let my pictures give you a little more realistic view of the item.
Experience
continued...
Despite the false advertising in the product images, I am in love with this set. It is totally adorable and flattering. There are 4 pieces in total, let me break them down one by one:
Triangle Top – This pink mesh with black elastic band top is for the smaller on top ladies (see my sizing information). It is all mesh with a single crease down the triangle, giving it a little room for some boob! The elastic bands are stretchy, allowing for various sizes. The triangle top is similar to a bikini top. It ties at the top, halter style around your neck and also ties in the middle of you back. It is easy to take off with just two quick pulls of the string!
Thong – The included thong is a simple mesh thong. It has a panty cloth liner which is also pink, matching the mesh color. The elastic band is stretchy and doesn't cut off circulation when worn around my hips. The back thong string is adjustable – it moves along on the main band. It is mesh in front, and g-string style in the back.
Thigh Highs – The thigh highs are a nice addition to this set, although I think they are the ones that will be the first to go. They have a thin toe support and are very thin material. They are super sexy and are barely there. The top band is comfortable and thick. The top band is nice, but doesn't stay up well.
Skirt – The skirt is the best part about this outfit. It has a lace band on the top that is black and stretchy. Then the pink mesh is sewn ruched style on to the band. This gives it a nice frilly look. There is a satin bow which is off-centered on the top band. On the bottom of the skirt are garters that are attached to the skirt. They are not adjustable or removable. They do hold the thigh highs up well.
Material/Texture:
Soft Meshy
The material makeup is: 89% nylon/11%nylon
I know, I know, this is a strange material makeup. I am assuming it is because they used different types of nylon? Anyway, I can tell you that the material is soft on your skin and soft to the touch. It is light and thin. There is a lot of stretch and give to all these pieces. They are made ok-good, there are some bad sewing sections and excess threads.
Personal Experience :
Very happy with this set
I really love this outfit. I think it is a lot of great pieces, for a good price. I like the look of the girly and feminine style, and if you do too, then this will probably be a hit with you too. I find myself wearing just the skirt and the bra for my partner and skipping the thong and the thigh highs. This is a little silly since the garter strings are just hanging down with nothing to attach to, but neither of us care when we are in the moment!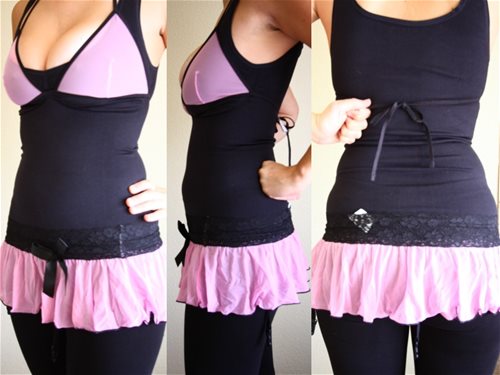 This content is the opinion of the submitting contributor and is not endorsed by EdenFantasys.com

Thank you for viewing
Bra and garterskirt set with hose
– bra and panty set review page!