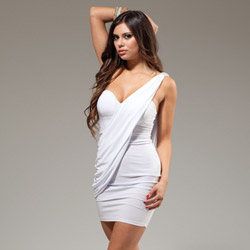 Merkel one shoulder white dress
Mini dress by Forplay Lingerie
I'm A Sexy Goddess After All (XL)
The white one shoulder merkel dress is so unbelievably sexy even on those who aren't perfectly shaped. The design of the dress helps hide some flaws and overall is very flattering. You can pick between red, white, and purple for color selections and sizes XS-XL. Too bad there is no plus size because this is a dress for everyone. I feel like a sexy goddess whose ready for her toga party.
Published:
Pros:
Sexy, design helps hide flaws, flattering, color selection, and stretchy material.
Cons:
Hand washing only, price, and requires a slip.
What are the options?
The Merkel one shoulder dress is available in red, purple, and white.
Sam
reviewed the red if you are interested. My review will cover the white. This dress is available in sizes XS-XL in all three colors. Be sure to check out ForPlay's
Size Chart
prior to purchasing.
What is the Material? And how do I care for it?
This sexy piece is made of 90%polyester 10% spandex. The tag recommends it to be hand washed and hang dried. And it recommends against bleaching it. I recommend hand washing this separate from everything unless it's a white piece. That way no color's bleed into it and ruin your white dress. Though if that would happen you could always pick up a
Tie Dye Kit
and play around with it. Tie dying it would cover where colors have bleed into your dress, but tie dye isn't something everyone loves. I have had to wash this dress since it arrived because I got pizza sauce on it. Luckily with Dona Lingerie wash and some scrubbing I was able to get it out. Be careful with the white. (I'm so bad with white.)
The material is silky to the touch and very comfortable to wear. It has a blocky/grainy pattern to it, but only when you look closely. This material feels like material that is used for bathing suits. It's stretchy, clingy, and breathable. If you hold the material up to the light you can see through it and with the white color I can see my skin though the pattern. It's not sheer, but sheer enough to require a slip in order to be appropriate for some occasions.
Can you tell me about the design?
The design is pretty simple actually. It starts off with a basic strapless dress. This strapless dress has rounded peaks at the top for the cup area. Inside is padding for the cup area. Under the cups is a stitching seam, but it also goes up half way on the cups and on the sides have a seam too. Stitched in the side seams there are loops to hang your dress. The dress continues down only having stitching seams on the sides until you reach the bottom. There is a small folded layer that is stitched to prevent fraying. Back to the top on the left side there is a thin strap stitched to the peak of the cup and the back of the dress. The other side is left bare, therefore becoming the one shoulder dress. The strap is side in this metal piece that has some faux diamonds on it. And this is also attaching a shawl. Only the Shawl is stitched to the dress. It's stitched on the side seam of the right side where some runching is going on. So you have this Shawl over your left side in the front and back. It looks like you are wearing a sexy sheet for a Toga party. So you are a sexy goddess in this dress.
Experience
Sounds SEXY! Pictures?
Sure, but I will be wearing an undershirt for basic lifting and to stop nipple exposure. (The shirt is white.)
Faux Diamond piece: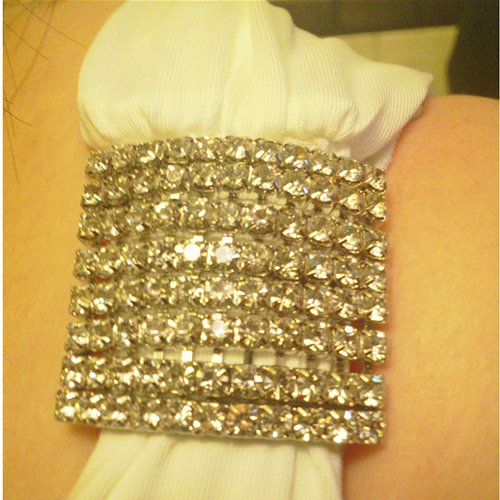 Front: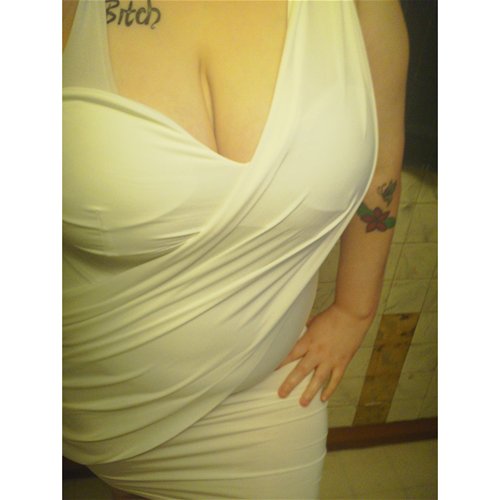 Left Side: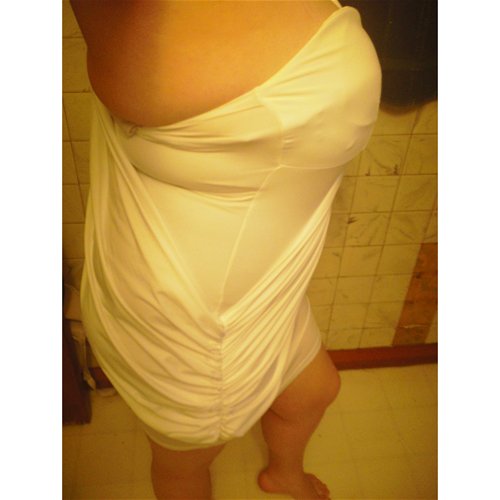 Right Side: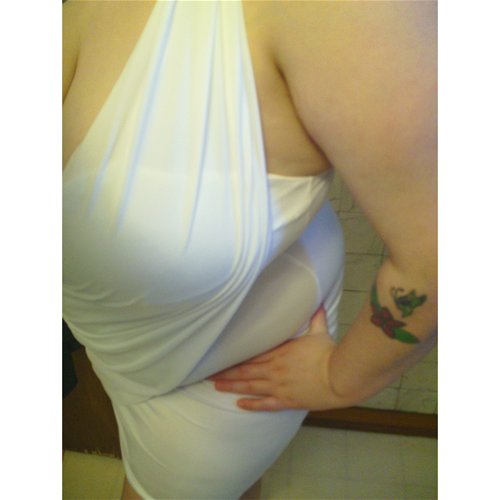 Wow! What about Sizing?
Size Chart: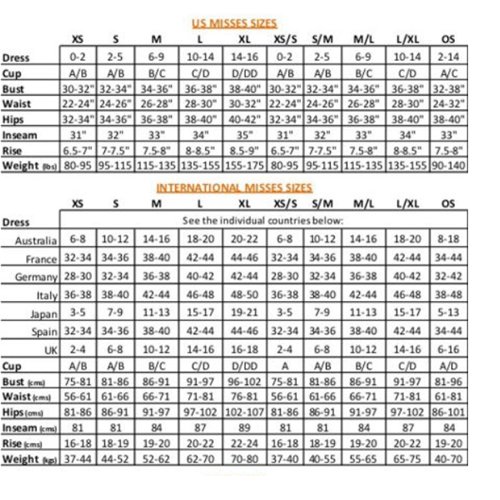 My Sizing:
Bust 40
Waist 35
Hips 40
Cups DDD
Height 5ft 3in
Weight 160-170lbs
Dress 13/14
According to the size chart my bust and hips will fit, but not my waist. However, as you see it fits me nicely. The material allows for a decent amount of stretch. The cup area is too small for me and I can see the padding lines in the cups because my breast MAX the cups out. But they do fit inside there and I think they look nice. There is no support, but you could wear a strapless bra or as Sam suggested a regular bra with a strap tucked into the dress. Another option is
a fashion strap
. The length of the dress is about mid thigh for me. This is an appropriate length. I find the size chart to be accurate, but there is also room for more in the dresses. This is because of the stretchy material.
Measurements of Dress
Length 31" (pit to bottom)
Bust 13"-21"
Waist 14"- 22"
Hips 18"- 28"
Cups 4" tall and 6" wide (measurement of the padding)
Are there any quality issues?
Nope. Actually everything looks really nice. The stitching is even and nicely done. They only thing that could have went for some change is the thin strap on the dress. It could have used a few more stitches to hold it on better. Otherwise no quality issues.
What is your overall opinion of the dress?
My overall opinion is this dress is damn sexy and even on those who less than perfect bodies. I happen to have bra fat, love handles, HUGE breast, a mommy tummy and then some. The shawl helps hide my tummy. My breast are a little too exposed, but with the shawl it helps hide some of that too. My love handles do stick out, but with the right tucking panties they will be smooth. I'm giving this dress 5 stars because it's just awesome. Ladies, you all need one!
What are your partner's thoughts?
Well, I was told I'm a SEXY MAMA!! I think that says it all. My partner rarely comments on my pieces. So he really likes this one.
This product was provided free of charge to the reviewer. This review is in compliance with the FTC guidelines.

Thank you for viewing
Merkel one shoulder white dress
– mini dress review page!