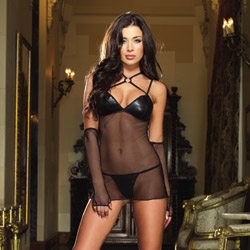 Naughty chemise set
Chemise by DreamGirl
I'm Gonna Leave You, Woman
I've been too naughty on my diet to wear this fun set, but that's no reason you shouldn't enjoy it! If the slightly slutty look is your thing, go for it.
Published:
Pros:
Very sexy, BDSM look, lots of pieces for a good price
Cons:
Plus sizes needed or on-site definitions of what "one size fits all" means for each company
"...bye bye. Cause you're no good for me, and I'm no good for you...."

OK, enough with the song references. The naughty chemise set by Dreamgirl was the first lingerie I have ever purchased from Eden. I think it is a lovely piece that will look very hot on the right woman. That said, I tried it on exactly once and knew that I wasn't that woman. My hubby did not even get to see me in this one.

The set comes with a chemise, most of which has a fishnet pattern. Leatherette cups cover your breasts (but do little to nothing to support them). A thong and a pair of fishnet gloves finish off the set.

This outfit comes in packaging similar to the kind you'd see a quality pair of stockings in. The model featured here on the Eden site is on the front of the box. The back of the box has what, for me, was the killer information on the right hand size: Dreamgirl's "One Size Fits Most" is really 90-160 lbs. I'm working hard on my weight, but right now I am at about 204. I suppose it says something about the chemise's stretchability that I was able to even get it on.

I really don't blame Dreamgirl for my mistake here. I clearly should have done more research before getting the set. I will mention a few things here to keep in mind if you do want to buy this for yourself. The seams on the fishnet gloves are clearly visible, and I think they're meant to be fingerless gloves, though I couldn't quite get that part to work.

The thong---well, thongs like that are the reason the phrase "butt floss" was invented. Lots of people like that kind of thing, but I thought I would let you know what you were getting.

The set is made of 92% polyester and 8% Lycra. The instructions on the chemise tell you to dry clean your set only. I think [italics|maybe] you could get away with washing the set in a very mild soap and then hanging it to dry. I will say that if you try to skip the dry cleaning bill, do not put this set in your clothes dryer because of the metal ring built into the chemise.
Experience
I think this set was pretty darn hot, and if I ever get down to 150 or so, I may order either another of these lingerie sets or one just like it. As things currently stand, I can either throw it out or keep it as motivation to get skinnier, faster. I think I may just throw it out or give it to a friend, though (minus the thong, of course) since hubby's taste in lingerie and mine differ quite a bit.

I'm giving the set 3 stars because, as much as I dislike it, I know there are women out there who could look fantastic in it.
This product was provided free of charge to the reviewer. This review is in compliance with the FTC guidelines.

Thank you for viewing
Naughty chemise set
review page!