I'm on Fire! Buring Hot Desire!
Looking for a nice outfit to spice up your bedroom playtime? Want to feel like a sexy hot biker babe? This three piece halter set is smoking hot to set your bed on fire. Flaunt your stuff in comfort.
Published:
Pros:
Sleek, Sexy, Biker Look, Three Pieces, Red Hot,Spandex
Cons:
Made for the fuller breasted women.
Whistles fill the air as she squeezes her thighs and the motorcycle between her legs. She is so hot in her red spandex skirt and thigh high boots. As the beauty takes off her heavy leather coat, she was the definition of dominatrix in that halter. What a set of perfection, her breasts were as perky as can be. Her outfit literally screams to pound her into tomorrow. Her outfit is so sexy. She struts down the street, full of confidence as every head is turned when she walks by with a little wink in her eye.
Ever since I started watching Full Throttle Salon and the Flaunt girls on TV, I have thought the biker chick look is amazing. Those girls look so full of confidence and they really rock those short skimpy skirts and tops.
I have always thought I could look good in an outfit like that too. But go to a biker store; not for me. I don't even know anyone who dresses like that to ask where to shop. And if I did know, I would be so embarrassed to actually go there to shop. So I dreamed....
Then one day, I found this red hot Three Piece Halter on Edenfantasys. I was thrilled! But I needed boots to really rock this outfit. To my surprise at the bottom of the product page was a link for the Wet Look thigh highs. What luck! Now I could really rock this outfit.
I was very excited when my package arrived. It came packaged discreetly, with no labels to hint as to what I had received. I was relieved that I was able to purchase this outfit without a soul knowing I would wear something so revealing. This is why I just love ordering my bedroom outfits from Edenfantasys.
Wearing my outfit for the first time I was thrilled at the quality and feel of the fabric. It is sleek and smooth to the touch but does not have that plastic smell. The red is bright and vivid. It is well made with no defects in the construction.
Unfortunately for me, the outfit did not look as nice as I imagined it would. I am at that weird size in-between large and extra large when it comes to lingerie. Normally it is not a huge deal, either my panties cut in a bit or they slip off a bit. It is something I am very use to. The skirt was a bit loose and did not fit my bottom snug and tight. And also, in this case extra large also meant for the breasts. When I ordered this outfit, I had hoped that this style top would have pulled in my 40 something breasts a bit giving me the appearance of cleavage. Not this time, the top is really designed to go around and support full chested women. Since I have nothing for the fabric to go around the extra material sits at my neck line. Being creative I put the front joint area around my neck. Yikes! This was a good idea and the top looked a lot better on me this way, but the straps pulled real tight against the back of my neck. Not to worry though, it is not a total loss. I plan to take apart this joint and fix the seam so that the straps tie behind my neck. Where there is a will there is a way!
If you love the red hot bad girl look and have large fuller breasts, than this outfit will look amazing for your bedroom play. Although the top can be worn with a pair of jeans, I would not recommend the skirt for wearing out since it is short and shows the bottom of your butt without even bending over.
Packaging
The packaging was minimal and completely recyclable. It was not discreet in any way with the model wearing the outfit on the front of the box. Inside each piece was carefully wrapped in wax type papers. The packaging could be kept for storage, but I prefer to recycle the box and store my outfit in my lingerie drawer.
Here is the facts
--Three pieces Top, Skirt, G-String
--Made from 95%
Polyester
and 5%
Spandex
.
--Hand wash in cold water, Dry Flat, and no bleach. It can also be spot cleaned with a damp cloth.
-- Available in three sizes SM, LXL, Plus Size
Experience
I ordered the LXL. Here are the measurements of each piece with my comparison measurements.
ME..
38 B - well not really, size A flattens me out and size B lets me fall out.
33 inch waist
The out fit...
Top..
--Front
From side to side
--front material 17 1/2 inches
--front middle between the darts 7 1/4 inches
--front dart to side seam 6 inches
From top to bottom
--front middle 3 1/2 inches
--front straps 12 inches; can stretch to 15 inches
--Back
From side to side
--from side seam to clasp 5 1/2 inches
--total length 13 inches
The top is 33 1/2 inches not stretched and 42 inches stretched
Skirt
--From side to side 34 inches not stretched and 40 inches stretched
--The length of the skirt is 7 1/2 inches. The fabric does not stretch in the direction.
G-String
--Widest part in front 5 1/2 inches
--Length of front panel 8 1/2 inches
--Width of widest part at pantie liner 3 1/2 inches
--G-string string 8 inches and can strech to 10 1/2 inches
--Waist band 24 inches and can strech to 31 inches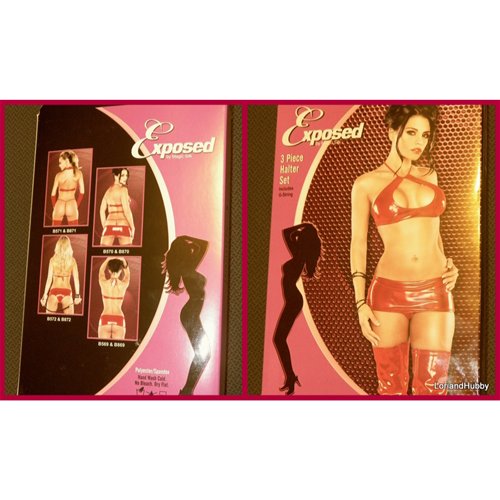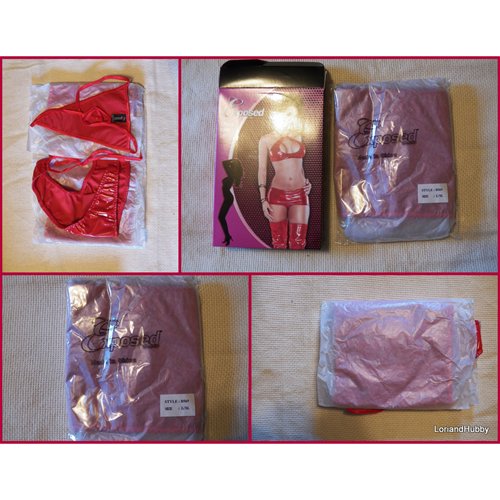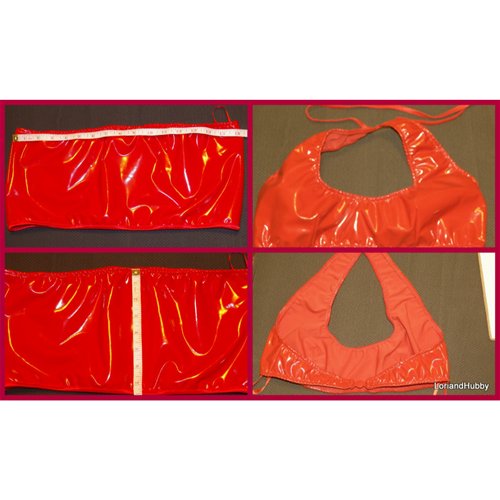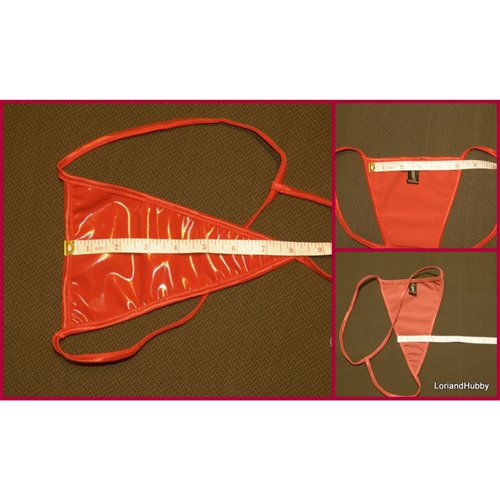 Follow-up commentary
25 days after original review
This outfit is looks and feels amazing on me. Thankfully, with my alterations the top fits almost perfect. Also, I have cleaned the skirt a few times with a damp cloth and the fabric has not been damaged in any way. Over all, this is a great outfit and Hubby is so happy I tried it out.
This product was provided free of charge to the reviewer. This review is in compliance with the FTC guidelines.

Thank you for viewing
Three piece halter set
– bra and g-string set review page!