I Never Knew Glaciers Could Be So Hot
Escante's Glacier Ice baby doll set is absolutely gorgeous. It will flatter most body types, as long as you order the correct size. There are a few details that not everyone will be fond of, but I was able to overlook them since the outfit is so comfortable and sexy!
Published:
Pros:
- Beautiful color
- Flattering
- Comfortable
- Accurate Sizing
Cons:
- Loose-thread look on lace details
- Seam in the middle of cups
- Itchy tags
The Glacier Ice baby doll set by Escante is absolutely beautiful! This sheer, black and teal colored set is comprised of three pieces: a baby doll top, a jacket, and a thong. Each item is comprised of 89% nylon and 11% elastane. The tag's instructions say to hand wash in cold water or on a gentle cycle; either way, the garments should not be washed with other clothing items. Do not wring or twist the material; the outfit should be hung up to try. Additionally, you may also iron the pieces at a low temperature. However, I have yet to see even a teeny wrinkle in the fabric.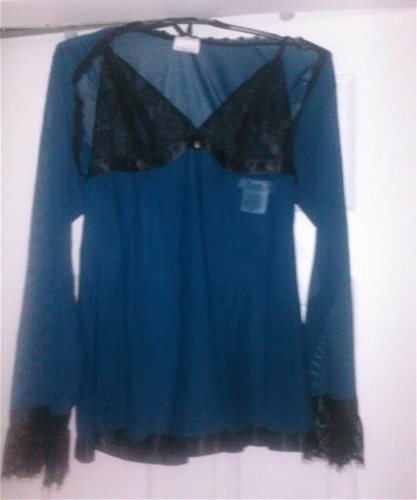 The packaging was very minimal. All three pieces came on one hanger; the garment was then covered in a thin plastic bag. I keep my lingerie in a drawer, but if you like to hang yours up, you may want to keep the hanger and even the bag (to keep it clean during storage).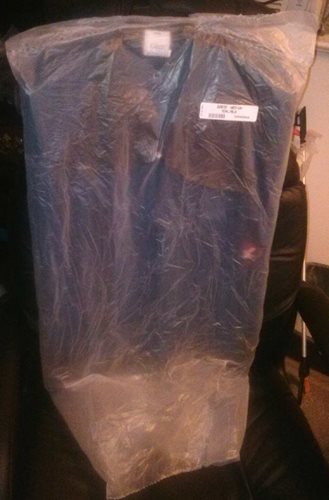 Baby doll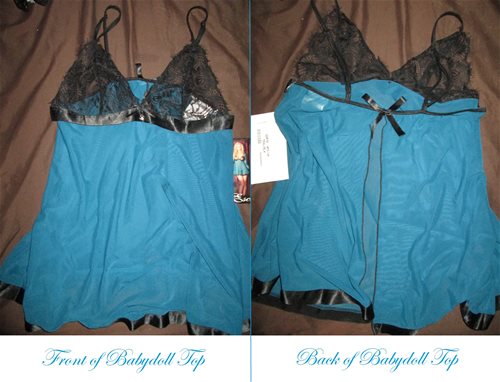 The baby doll is beautiful. It is sheer at every part and quite stretchy. There is lace over the cups, so nipples can definitely be seen as well. Between the cups, there is a small black bow with a jewel heart hanging from it. My only problem with the cups is the loose threads that stick out (you can see them in the pictures). I'm not entirely sure if the outfit was supposed to be designed that way, but I would prefer if the seams were neat.
At the back of the top, there is another black bow, but this one is bigger. It is located at the exact center of the back and designates where the fabric splits for the open back. There are two silky ribbons: one under the bust and another at the bottom of the baby doll.
There is a bit of stretch with the band underneath the bust, but not too much, so make sure you order the correct size. The shoulder straps are adjustable and can be stretched quite a bit, so women of varying heights should find the top comfortable.
Measurements (Medium)
Circumference under bust (not stretched): 29 inches
Circumference under bust (stretched): approximately 31.5 inches
Height of cups (following the seam stretched): 7 inches
Width of cups (at the base): 6.25 inches
Length of baby doll from center of bust (from top of bust ribbon to bottom of lower ribbon): 18 inches
Circumference of base of baby doll with back closed (around the bottom ribbon): approximately 68 inches
Minimum length of shoulder straps: 7 inches
Maximum length of shoulder straps: 14 inches
Jacket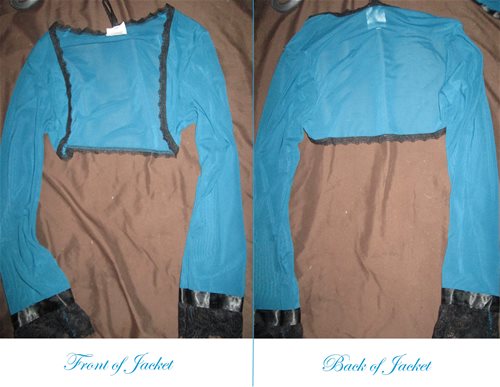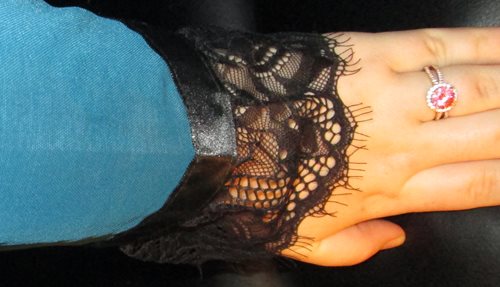 Like the baby doll, the jacket is sheer and flexible. From the stock photo, I did not think I would be a fan of the jacket, since the lace cuffs looked really long. However, when I actually put the garment on, I changed my mind. Not only am I going to wear the jacket with the set, I plan on wearing it out over a simple black tank top.
There is a little loop at the top, by the tag, which can be used to hang the garment, rather than leaving jacket suspended solely by the seams. If you do not hang up your lingerie, you can cut the loop off. Just use caution so that you do not cut any other part of the jacket. Personally, I put my lingerie in a drawer; however, I did not feel the need to remove the loop.
The only thing I did not like was, once again, the loose-thread look that accompanies the lace cuffs. To me, it looks a bit messy.
Measurements (Medium)
Length from shoulder seam to bottom of lace cuff: 25.75 inches
Length from top of ribbon to bottom of lace cuff: 3 inches
Length from shoulder to shoulder (not stretched): 12 inches
Length from shoulder to shoulder (stretched): 16 inches
Length from neck to bottom: 11.5 inches
Thong (Medium)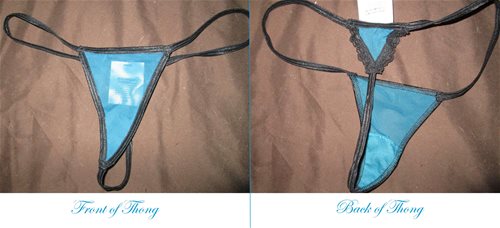 This is one of the standard thongs that comes with most sets. It's not anything overly special, but it is a nice accent to the rest of the outfit. If you don't like it, then a different pair of panties will do, of course.
Measurements
Circumference of hip strap (not stretched): 28 inches
Circumference of hip strap (stretched): approximately 44 inches
Experience
I am completely in love with this set! It is comfortable and I feel quite sexy in it.
My only major complaint was the one mentioned above: I don't like the loose-thread look on the lace portions of the garments (the cups and the cuffs). Moreover, I cut the tags out after reading the care instructions. Since the set is sheer, you could see big white squares through the outfit; it bothered me. I also found the tags to be itchy, so they definitely had to go. I do not recommend pulling them out, since you will run the risk of ripping the material.
Lastly, I know some people are uncomfortable with cup seams. This outfit does have seams right along the center of the cups, which will sit on most women's nipples. Personally, it didn't bother me, but I wanted to make note of it in case it impacts your decision.
Sizing
The sizing chart was accurate. I wear a size 6 or 8 in most clothing, so I went with a medium. I do have a very muscular back and decently large breasts (I wear a 36D bra), so I am always nervous when it comes to sizing. Since there aren't padded cups, I figured I would be pretty safe ordering this lingerie set; I was correct in my assumption. The top does push my breasts down a bit, but it isn't uncomfortable at all.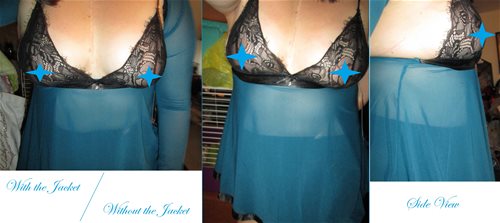 (NOTE: I am wearing a black skirt in the photos)
In order to decide which size is right for you, refer to Escante's Sizing Chart: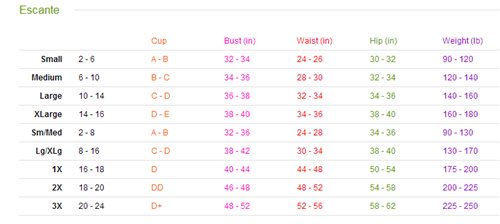 This product was provided at a discounted price in exchange for an unbiased review. This review is in compliance with the FTC guidelines.

Thank you for viewing
Glacier Ice baby doll set
– babydoll and panty set review page!