I pray this doesn't come as part of the Heaven package!!
The Knocking On Heaven's Door costume is one of the worst outfits I have ever seen from DreamGirl! The dress has loose trim, glitter is falling off the dress, and the feathers on the wings are coming off and all this was noticed as I was taking it out of the bag. When I tried the dress on, the sizing chart is way off (sizing runs much smaller than chart)and the material was so itchy I was glad it didn't fit. I couldn't get it off fast enough!
Published:
Pros:
it came as a free assignment
Cons:
itchy, sizing way off, poor quality
When I was flipping through things to request as a free assignment, I came across the Knocking on Heaven's Door costume and thought it would be fun and cute. I had other products from DreamGirl and had been satisfied with them so I figured I would request it. There weren't any reviews posted so I had to go by the product description. At the time, the only size available was the large. Looking at the chart, a large should fit sizes 10-14, cups-C-D, bust 36-38, waist 28-32, hips 38-40, and weight 140-165. My sizes are 8-10, 12 if made weird, B cup, Bust 37, waist 31, hips 37 1/2, and I fall within the weight. I was thinking it would be a little loose but that would be OK. The tag on the costume indicated the weight was 140-160 pounds which should have created a even better chance of it fitting.
The costume arrived in the plan brown box. Once opened, it was in twp clear packages, one being the heaver bag with a snap closure, good for storing it in. The other bag had the halo, wand, and wings in it and it was the thinner bag. I opened the dress bag first and as soon as I pulled it out, the first thing I noticed was glitter falling off. I was handling this carefully but the glitter kept falling.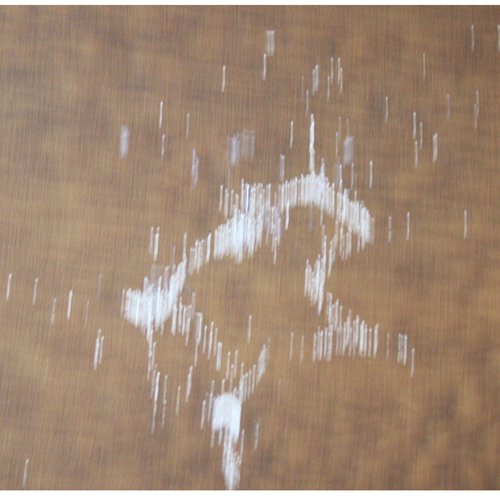 I laid it down on my desk and started looking at it. One of the first things I noticed, besides the shedding glitter, was that the ribbon that goes beneath the breasts was loose. Ok, I figured I could stitch that back in place, no problem.
I went to try the dress on and immediately noticed the rough, itchy material. The back of the costume has a hook and eye closure plus a 12 1/2 inch zipper on the backside.
I unzipped the dress and pulled it over my head. This was the first indication that this dress wasn't going to fit. I could get the zipper about 1/2 way up but no further. By this point, I was itching so bad and ready to get it off but I had a little problem getting the zipper undone. I was wiggling and squirming around trying to get out of it! It figures this one time, I was home alone so it was up to me to get it off. Finally I did manage it and at that point, I knew it was going back but felt obligated to write a review so others can be warned.
The dress has a 2 1/2 inch band of ribbon that goes from the shoulder seams ending in a V shape at the front of the dress. The bust area has small silver sequins in the material.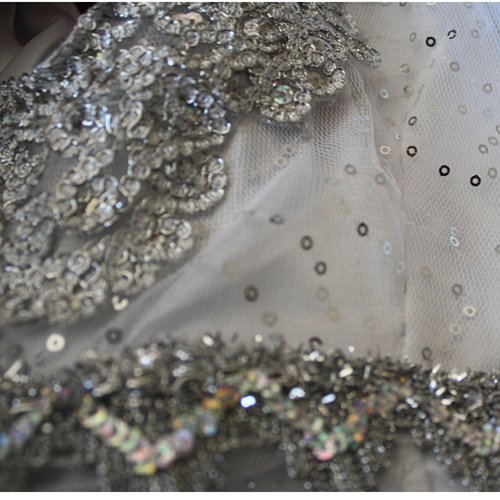 There is a thicker, heaver band of ribbon that runs underneath the bust area from side seam to side seam. This is the material that was pulling loose from the stitching.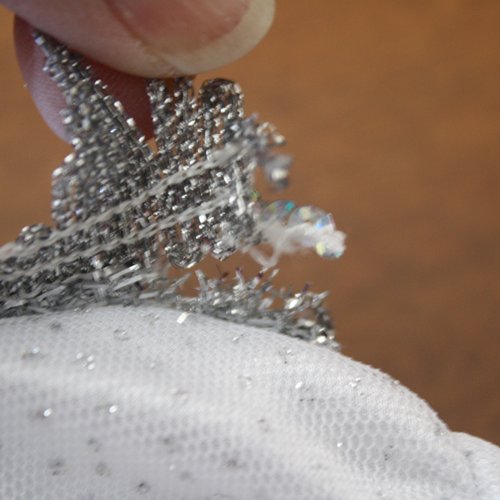 There is no support or under wire to the costume. The lower part of the dress is a gathered look ranging from 20-23 inches and the two front sections end with white bows. The are sequins sewn into the material at the bottom part of the dress.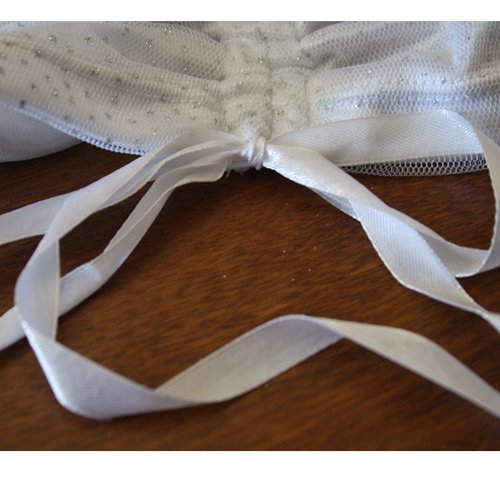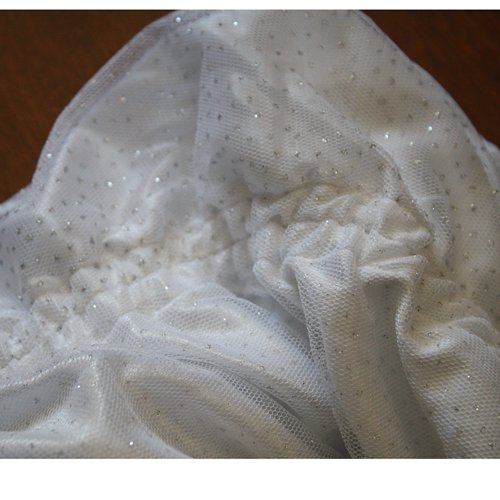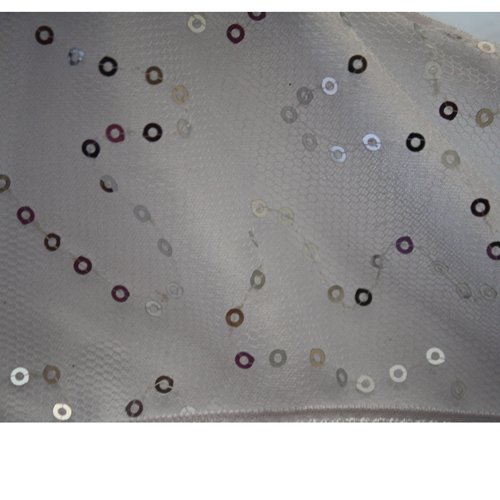 The costume comes with a stand of thin garland with stars halo. It is 19 inches around and is a cheap material.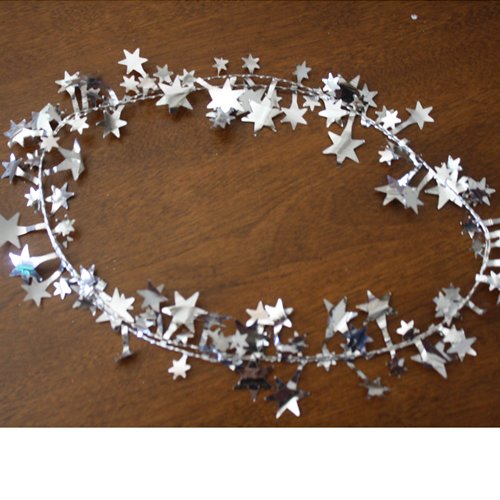 The wand that is included is 11 inches long with a star at the end that measures 2 inches high and 3 inches across. It is a cheap, thin plastic piece.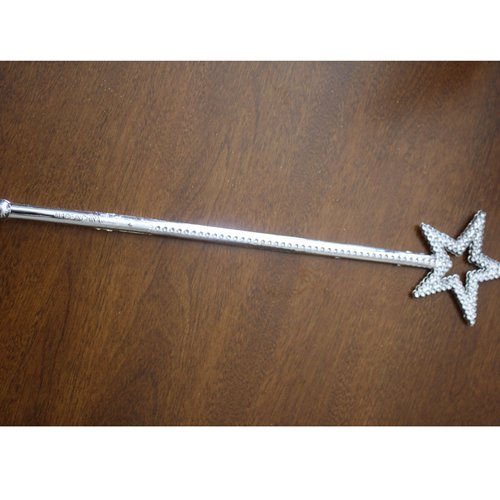 The wings that come with it were also cheap and the feathers were already falling off. They are 14 inches high, ranging between 14-18 inches wide. there are two elastic straps that slide over your shoulders to hold them in place. These elastic straps are 3/4 inches wide and 14 inches long, unstretched.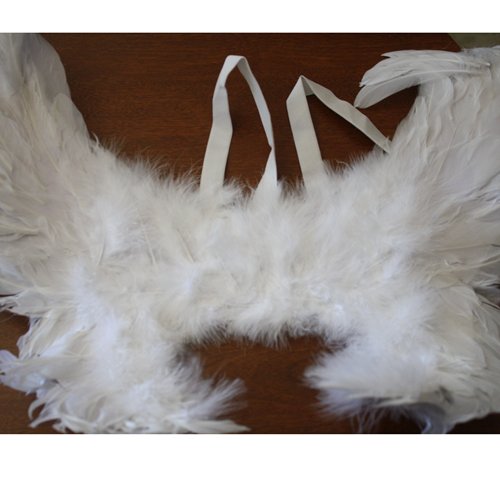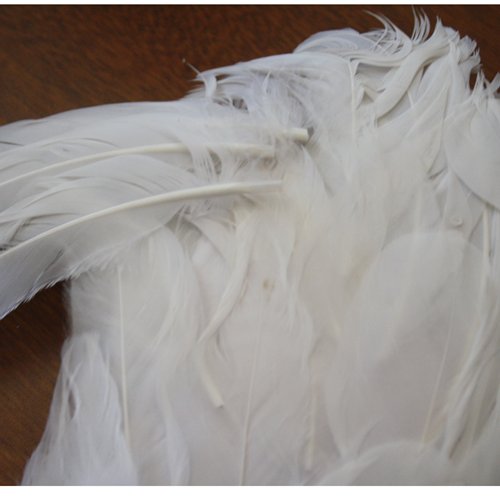 The costume was made in China and requires dry cleaning. It is made from polyester and spandex.
Experience
As I have already stated, this wouldn't even fit me so as far as that part goes, I can't comment. But, the initial impression was a lasting one and unfortunately, not a good one. This costume appears to be made of low quality materials and poor construction. The material is extremely uncomfortable and was falling apart before even trying to get into it. I know we don't usually write reviews on defective items but I felt since there weren't any other reviews on this, I needed to share my experience and also, I don't think this is a fluke. I'm afraid other costumes made under this design are going to be the same poor quality.
Follow-up commentary
27 days after original review
Since I returned this outfit, there is nothing to do a follow up on. Hopefully this is one of the outfits that will be discontinued really soon.
This product was provided free of charge to the reviewer. This review is in compliance with the FTC guidelines.

Thank you for viewing
Knocking on heaven's door
– costume review page!