I see you... and you!
Are you a woman who loves her breasts? Or do you have a partner who loves them? If you want to put those lovely ladies on display, this is the babydoll for you! Music Legs has designed this piece to draw all the attention straight to your bust, while leaving the rest of the garment carefree and loose. If you aren't self-conscious about your tummy and don't mind it being exposed, wrap this baby around you and show off what your momma gave you!
Published:
Pros:
Frames breasts nicely, Will fit many bodies, Not extremely fragile material, Can wear during sex
Cons:
Plain thong, Tummy exposed, Slightly plain
*What is this? How do you wear it?
The Seductive Peek-A-Boo Babydoll by Music Legs is a two-piece set. The Babydoll is worn like a short slip or dress. It can be slipped over your head, stepped into, or you can unfasten it to put it on like a robe and then fasten it in front. The second piece of the set is a plain thong panty. This set is designed for bedroom wear, and really would not work well under clothing.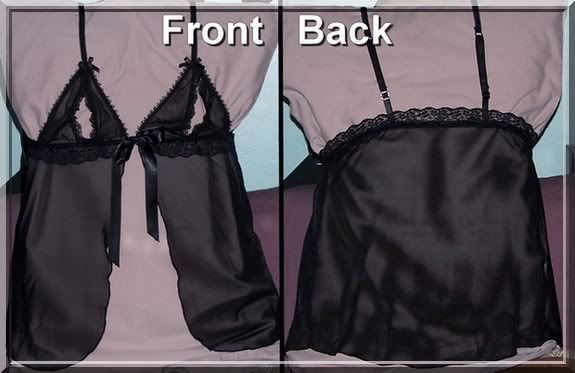 *Material and Care
Both pieces of this set are 80% nylon and 20% spandex. Both pieces are stretchy, but the material is not terribly delicate. The majority of the babydoll and thong are sheer mesh.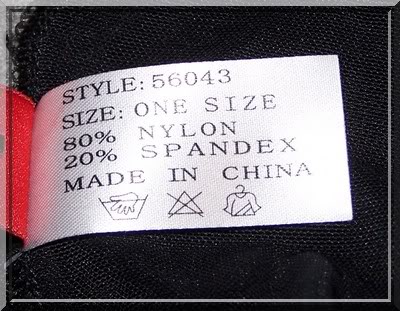 Washing instructions are: hand wash, no bleach, drip dry, do not iron. Personally, I wash most of my lingerie in mesh laundry bags in the washing machine, and this set held up well to that. You could also use an old pillow case or the leg of an old pair of pantyhose or tights instead.
*Packaging
This comes in a cardboard box. The packaging is not discreet, with a picture of a model wearing the set on the front and the back. The box is not designed for storage, but keeps the set together for shipping. Sizing information can be found on the back of the box.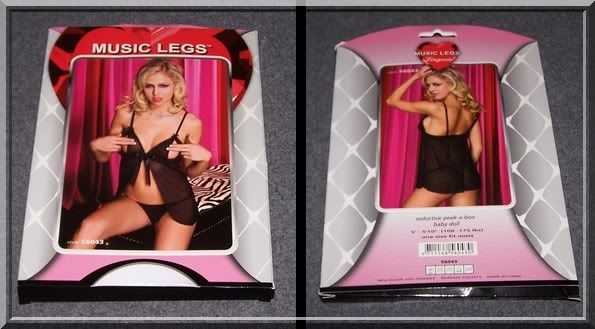 *Workmanship
When I removed this set from the package the first time, there were a lot of loose threads. In fact, I had to vacuum to clean up all the little thread scraps. Other than that, the babydoll itself is solidly made. The stitching feels sturdy and looks straight and clean.
The thong is a bit messier in the workmanship department. Where the elastic waistband meets in back, for example, is messy and feels somewhat flimsy.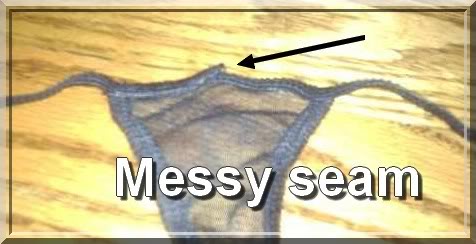 *Design and Measurements
~Babydoll
The elastic shoulder straps have metal sliders that glide easily and smoothly. The straps can be adjusted from 12.75" up to 17" and can stretch up to 26.5".
The cups are stretchy triangles with no underwire. They measure 6" tall and 5.25" across along the bottom. The outside of the cups is framed with a stretchy lace eyelet material, with a small (removable) bow where the cup attaches to the shoulder strap. There is a vertical slit in each cup top to bottom. The slit will open in varying amounts depending on breast size. The maximum horizontal opening possible is 5". Both sides of the slit are lined with non-stretchy lace.
Beneath the cups is a band of elastic. This band hits just below the bust, like a bra band. This band of stretchy elastic goes from 24.5" up to 34.5". It fastens and unfastens in front between the cups via a small metal hook that goes through a small loop of elastic on the other side. It is very secure. Sewn on top of it are two lengths of black satiny ribbon, so you can tie a pretty bow over the fastener. Then it looks like the piece is only tied shut. If you need additional length on the elastic bra band, you could just tie it shut rather than fastening it.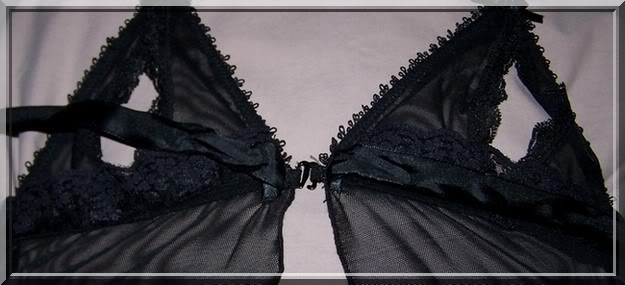 From the elastic bra band down to the bottom hem of the babydoll measures 14.75" long in the front and 14" long in the back. A quick measurement on your own body from right under the bust will allow you to see how long this will hang on you.
Under the bust, this babydoll flies open in the front, which will allow it to fit a wider variety of body shapes and sizes.
~Thong Panty
This is a very basic thong panty, with no cotton crotch liner.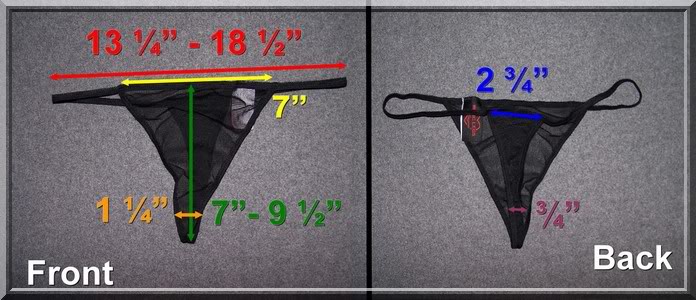 *Fit and Sizing
There is no sizing chart for Music Leg One Size items. There is a sizing chart for their other sizes on their website, and the One Size items seem to fall between a Medium and a Medium/Large.

On the lingerie package, it says that "One Size" should fit women 5'-5'10" and 100-175 lbs. This seems to be on target. I would estimate this to fit women size 4-10 or 12, depending on your measurements.
The main measurement to consider for this babydoll is around your body right beneath your bust. To check this measurement wrap a soft tape measure directly beneath your breasts and then horizontally around your back, below your shoulder blades. I measure right about 32-33" and have plenty of room in the babydoll. Its band expands up to 34.5". Since the babydoll flows away from the body beneath the bust, waist and hip measurements will not affect the fit.
Experience
*Fit and Sizing Continued

The cups of the babydoll don't provide any support, so this will work best for those who like the look of their bust out of a bra. With full C breasts, the cups fit me just fine. This piece is able to accommodate larger breasts (no more than D) or smaller breasts. By dressing a pillow up in this babydoll (see photo above) I found that even without any bust at all, the cups only had minor gaping and puckering. Adjustments could be made to compensate for that issue by shortening the straps.

To check the thong sizing, you'll only need a hip measurement since this thong sits on the hips rather than around your waist. My hips measure 39" and I have an additional 2" of stretch left in the elastic waistband.



*Experience

~Hers

When I first took this set out of the package, I was honestly a little disappointed. It's just so plain. The skirt doesn't have anything cute on it nor is the back of it fancy. There's just a little bit of lace around the elastic band under the bust and some lace framing out the cups. Once I tried it on, however, I realized why the rest of the babydoll is so plain. This set is designed to showcase your breasts. Once it's on, that's all you really notice. Since the rest of the piece is so simple, all the attention goes straight to your breasts, which are beautifully framed with very feminine lace. Add to that the fact that it fastens in the front, between your breasts with a pretty satin bow, and you are really ready to show off your girls!

I don't like the thong, but let's be honest; I never like the plain old ugly thongs that come in these sets. I always toss them. I just added in some sexy black panties that I already owned, and I was looking and feeling great!

Another great feature of this babydoll is that it can so easily be worn during sex. Since it flies open in the front, and the cups are open, you can really reach any area you need to without any encumbrance. I also found it extremely easy to remove in the heat of the moment, since it's only one little bow and one little hook. It stayed firmly fastened, however, until I chose to unfasten it.

She gives it: ★★★★ 4 stars out of 5


~His

I was not inclined to like the idea of peek-a-boo style lingerie, since I've always felt that lingerie should tease rather than display. I must say, however, that I greatly surprised us both by how much I loved this babydoll! I am a bona fide assman, and as such I am predisposed to respond well to lingerie that features the derriere. Nevertheless, the way this piece framed and exposed her bust was fantastic!

He gives it: ★★★★ 4 stars out of 5
This product was provided free of charge to the reviewer. This review is in compliance with the FTC guidelines.

Thank you for viewing
Seductive peek-a-boo babydoll
– babydoll and panty set review page!