I Squeezed In
The neon green dress is a dress that is accurate to the size chart. However, it is fairly short, so you may want to pair it with some leggings or something. Overall it is a reasonable price for a fair quality piece. It is sad that it wasn't available in plus size.
Published:
Pros:
Green and black, some support, adjustable length, and accurate size chart.
Cons:
Short and only OS!
Function
The Neon Green Dress and thong are function piece to add to your lingerie collection. Due to the length of the dress, you will most likely find it far too short to wear into public as a dress, but as a tube top, maybe? Depending on your comfort level for clothing this is most likely not appropriate for public use. The thong is functional for every day wear.
Material and Care
The dress is made of 100% polyester and it is recommend that you only dry clean this. Well, I refuse to pay money to have something dry cleaned like this and personally, don't get why it is dry cleaned only. So, I hand wash with a small amount of soap and hand dry. I have done this twice so far and there is nothing wrong with the dress. The way it is designed it would most likely only show more green should any damage happen, so I won't mind if that happens, but it is best to do what is recommended.
The feeling of the black material is soft, but somewhat rough. The rough is from the tiny pattern that is blocky. (Blocky refers to the way the material is woven, it is made up of line that go up and down many times giving you a blocky pattern.) It has a fair amount of stretch to it. If you hold the material to the light, you can see thru it, but only in the light. The green material is almost the same, but it feels silky. It has the same blocky pattern, but to the touch it is silky and not rough.
Design
This dress is strapless, but comes with a built in area for minimal support. The area that provides minimal support is made up of elastic band at the underbust and one in the middle going vertical in the middle of your breast. The elastic band in the middle of the breast give the the cup area a slight ruffled look, but this doesn't provide much support, it is more for slight placement. At the top, stitched to the elastic band top in the inside are loops to hang your dress. The back of the dress is black, but the front is different. The outside of the front is black with many holes to reveal the neon green material underneath. The holes are random and many different sizes throughout the dress. This design is like
ripped jeans
and doesn't appear like it would easily be ripped. On the side of the dress at the bottom are two pull strings on each side. This is to ruffle up your dress and make it shorter. The bottom of the dress is made more fitted by an elastic band at the end.
Quality Check
Reasonable
Going over all the stitching I don't see anything that is horrible. There are a few places were the stitching is off some, but not too bad. I can see some places where they went back over the stitching and some places where it was missed, but there isn't any fraying or lose strings. I think the quality is reasonable for a cheap piece.
Experience
Sizing OS
Unfortunately this dress is only available in one size fits all. Dream girl size chart says dress size 2-14, Cup B-C, Bust 32-38, Waist 24-32, Hips 34-40, and weight 60-160.
Opinion of the chart: Accurate
Measurements of the garment
Bust- 15" - 21"
Waist- 14.5" - 21"
Hips- 16" - 23"
Cups(One Only)- 4" tall and 8" wide
Length- 17" - 23" (Shortest is ruffled to the fullest and longest is not ruffled.)
My Measurements
Dress- 13/14
Bust- 40
Waist- 35
Hips- 40
Cups- DDD
Weight- 160-170
Height- 5ft 3in
Top of breast to bottom of ass- 21"
I found this dress to be really short in the back. In the front it covers everything, but tends to ride up. However, the back is not even close! Half of my ass is hanging out. The total length of the dress to begin with is short, plus it has to go over my mountains, so it is is made even shorter. I don't feel like this would be a good DRESS on anyone, but I do feel like it make a cute tube top. You can make it longer or short with the pull strings on the side of the dress.
I thinks the size chart is accurate because I am at the end of the chart and them some and it fits me. There is not room for much more than me inside of this dress. It is best fitted on someone who is slimmer, smaller breast, and less curvy than I am. It can fit a size 14, but just barely.
Overall★★★★
Four stars. I feel this dress for what it is suppose to be is worth for stars. For me personally the dress is three stars, but the rating of the dress should not be put down because I am out of the size chart. So, it is worth four stars. It lost a star since it is so short.
Thong
The thong that comes with is actually a thong and not a G String. It is 4" across and 6" down in the front. In the back it is 3" across at the top then thins down to 1.5" in your crack. It is made of 100% polyester and should be hand washed and lined dried. There is a panty liner stitched inside, but it is not fully stitched. It is one size fits all, but is 13"- 21" for the hips. It is fair quality, since most thongs that come don't even have a panty liner. It feels silky, soft, and breathable.
Photos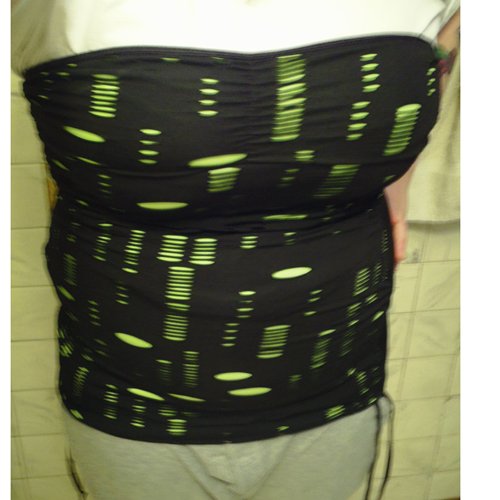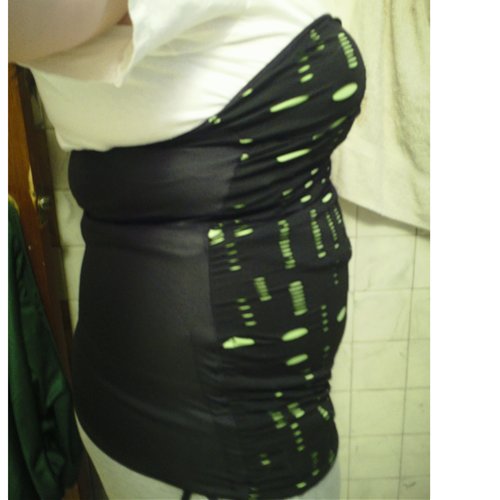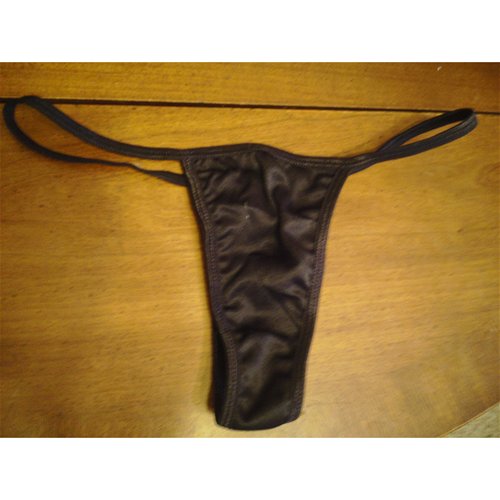 Follow-up commentary
5 months after original review
This one size fits all just didn't quiet do it for me. I have gifted this dress to a friend. She really liked the design of it. She hasn't complained about it, so it must be working out for her.
This content is the opinion of the submitting contributor and is not endorsed by EdenFantasys.com

Thank you for viewing
Neon green dress and thong
– mini dress review page!