I Sure Felt Sexy Even With All My Curves (OSFM)
I picked this cute set up for a contest; needless to say I did not get picked. But I loved just taken the pics to use for the contest. This Sexy miss time out referee outfit is so pretty. It also comes with 4 pieces too it for a decent price. There are a few things wrong with it but overall it was well worth my pick out of everything I looked at. I will get a lot of wear out of this outfit.
Published:
Pros:
Design is beautiful, Price is decent, 4 pieces too outfit, Bonus built in g-string
Cons:
Pink bows on straps could have been smaller, If you are tall socks don't go up high enough
The Sexy Miss Time Out Referee is made by Music Legs. This is a beautiful 4 piece set, and it has a bonus built in G-string. This outfit is made for role-playing. But it would also make a cute Halloween costume if you don't mind your ass hanging out. That or you can put some booty shorts underneath or get creative. The reason I say this is because the back is really short.
The Sexy miss time out referee only comes in One Size Fits Most. So the chart does not have the (OSFM) sizes on there. So I will be giving the size Large information since I am a size Large. It says Large should fit Sizes 10 - 14, Cup size C - D, Bust 36 - 38, Waist 28 - 32, Hip 38 - 40. It does not show what weight it fits though. My sizes are as follows Size 9-10, Bust 38b, Waist 40-41, Hip 42, and Weight 146 lbs.
This outfit is made of 95% Polyester and 5% Spandex. On the tag it states too not wash with dark colors. Wash on a warm gentle cycle in the machine but using a wash bag. I need to purchase one of those at some point. It has a lot of do not's as well. Don't bleach the item, don't tumble dry it, don't iron it and do not bring it to the dry cleaners. Sounds like until I get myself a wash bag or lingerie bag I will hand wash the item and hang it up too dry.
This set includes an apron with G-string and garter straps, a hat, a whistle and thigh highs. The top part is made up of a bra it has 3 hooks and 3 eyes too close it. It is also lightly padded and has underwire to it. The straps on the bra part can be removed as well. That may be good if you have the boobs too keep it up. Being that there are medium sized pink bows on there with a gem in the middle and it has polka dots on it. This part I did not like it throws the top part off a little bit. The color of the outfit is pink, black and white. On top of the bra there are pink ruffles over each cup. There is also ruffle trim around the bottom of the skirt in the front and back. The total pattern is stripe in black and white. In the middle of the thin strip of the outfit is a lighter pink criss cross design. On the left side there is a patch that says "REFEREE" and has the number "69" on it. The patch feels like a suede material and the letters and number are stitched on. The garters can not be removed from this outfit.
The hat is all black and has a medium sized stitch of the number "69" on it. There is a adjustable back to it as well. The adjustable strap is made of Velcro. There are no care instructions on the hat. I think the hat could have been a little bit bigger. It did not fit my hair right. For all that have seen my pics you may have noticed I never keep my hair the same hint hint.
The socks are mainly white with 3 black stripes at the top of them. It seems to be made of wool. I am not a sock expert I cannot stand them. So I can be wrong. You can see them in the pic.
The whistle it made of metal and is on a black string. I did notice the string had raveled at the top and I just cut it and nothing happen. The string feels pretty cheap too it. Oh yes it also does make noise too, so if you have any kids around make sure they don't get their hands on it. My baby already found mine and has been having a field day with it.
The Sexy miss time out referee outfit came in a cardboard box. Which I will not be able to use for storage anymore because I ended up ripping it the wrong way and cannot get the outfit back in it right. So I will just store this in my draw or in one of my Eden totes. It can easily be put in a suitcase or overnight bag for travel.
I gave this outfit 4 out of 5 stars because I was not happy with the bows and the thigh high socks did not fit me well because I am 5'7" and on the model it shows them all the way up on her thighs. On me they did not go up too my thighs.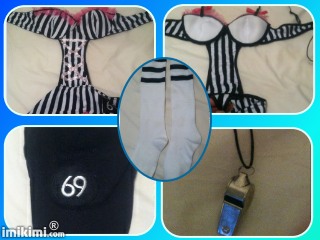 Experience
I loved this outfit and it showed my curves off well. I thought it would not fit right but it did. I have put some pics sorry they are way far back but this is a skimpy outfit. As I said above. If you look at the thigh high socks in a few of the pics you can see they did not go to my thighs they went to just before my knees. Besides that it gave me some extra boobs with the little bit of padding it had and the underwire that was a plus as well. I also loved the little strip down the middle it hides my stomach. Of course I sucked in my tummy a little bit too. But it did not make me feel uncomfortable in any way.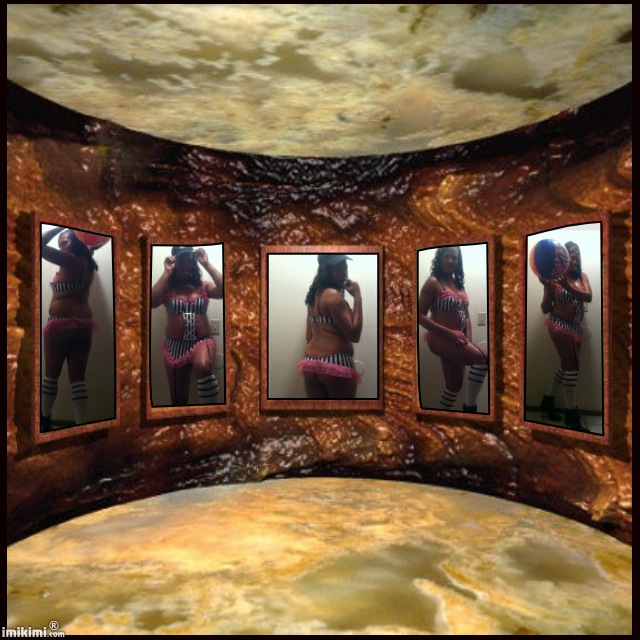 Follow-up commentary
2 months after original review
This is still cute and comfy. It sits in my drawer for now until I am able to wear it again.
This product was provided at a discounted price in exchange for an unbiased review. This review is in compliance with the FTC guidelines.

Thank you for viewing
Sexy miss time out referee
– sexy costume review page!