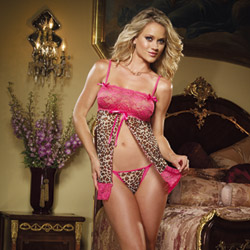 Leopard babydoll and thong
Babydoll and panty set by DreamGirl
In This Case, One Size Will Definitely Fit Most!
This is simple lingerie with a pop of color to spice up the tired old leopard print. The satiny pink bows give femininity to an otherwise dull cut. I'm thinking this is a good piece for those days when you want to sexy-up, but don't want a lot of lacing, sucking in and discomfort. It's easy to slip right into and comfortable enough to leave on throughout your night.
Published:
Pros:
Sexy, sassy and comfortable!
Soft.
Will fit most.
Quality.
Cons:
Too large, swallows my figure.
This leopard print & pink fly-away babydoll comes with a matching thong. "Fly-away" means there's a split up the middle of the babydoll, allowing your mid-section to peek out. However, it's so big the fabric comes together there, not showing a lot of my stomach. This was fine by me.
*Made in China.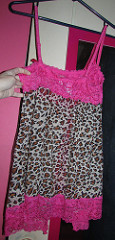 The set consists of mesh, lace and elastic. The entirety of the babydoll is leopard printed mesh -- mesh with smaller holes, which means it's not totally see through. Until I'm under the light, it's tough to make out my body underneath. This is nice because I sometimes like a little coverage.
The babydoll is flowy, it gathers all around my body and hangs loosely. It's meant to be flowy and loose, but it swallows my figure a little.
This is a pretty simple piece of lingerie and the straight across cut of large fabric is even more so, but the hot pink lace -- which looks much more vibrant in person than in the product photos -- gives it some sass, class and a more youthful look than your typical leopard print only lingerie.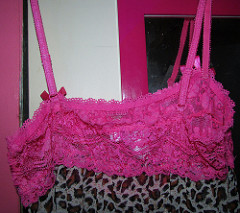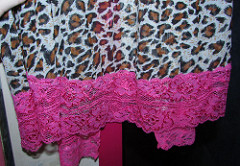 Besides the leopard print mesh wrapping around your body, you have a 5 1/2" of lace cutting straight across the chest & back -- where it measures 2 1/2" wide-- and the same lace trim around the hem. The edges of the "split" are hemmed in pink and there are 2 satiny pink bows on the straps as well as one under the bust. They do not untie. The bottom lace trim is 3" wide and runs all around the babydoll, just as the top portion of lace does. This gives it a more finished appearance than if the lace were only in the front.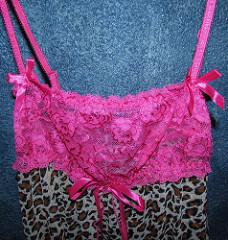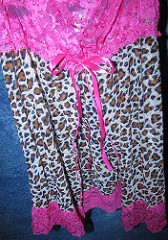 The straps are pink, ruched elastic with adjusters. These can be adjusted from 9 1/2" to 16 1/2" long.
Babydoll's Measurements (Lying Flat)
This is a one size fits most babydoll, and for once, this is very true. This will fit most people. It's really baggy on me, so it will completely swallow someone smaller, but will fit lovely on anyone up to even a size large.
Note: this will fit different sizes differently. The open front means it'll fit a wider variety of sizes, but the bigger the person, the more open the front will be. It'll at least fit a size large while still staying pretty closed in front, not exposing a lot of middle. There's slight elastic running across the top of the lace bust and under the lace bust.
Bust: 14"
Length of entire babydoll: 19" long.
Waist: 14"
Hip and hem both measure 16" across.
Thong's Measurements
The thong is your typical looking thong, but while we're used to getting really awful quality thongs with cheap lingerie such as this set, the thong and the babydoll here are actually very nice quality. The thong matches the babydoll -- it's made of the same mesh leopard material and has the same pink lace trim. The waist is made of the thin spaghetti-strap elastic that you see on the babydoll. There's even a crotch liner. The thong is lightweight, breathable and actually comfortable! The only thing about it is the mysterious, random black string of material that was sewn in the liner (shown in photo below.) I like that the thong portion is wide so that it doesn't ride in my butt-crack. It doesn't trail into a g-string or a thin piece of fabric where your butt crack is, which is very nice! No super-wedgie in these.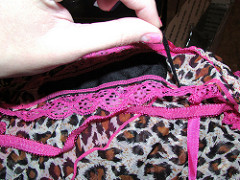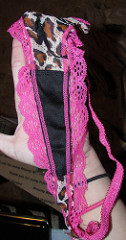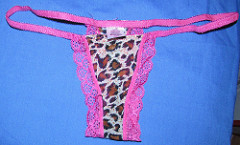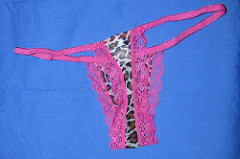 The butt portion is 3" wide.
Crotch: 2" wide.
Front: 4 1/2" wide.
Waist: 13".
Length from top to crotch: little over 6". Back to bottom of butt is same.
The crotch liner is an 1" wide at its thinnest, but near the front of the panty, about where the clitoris is, it's wider. This is about identical to any other thong you own.
My Measurements
Bust: Right: between a B and C cup. Left: 34B
Jean/shorts/size: Zero
Weight: 93lbs
Height: 5 2"
Waist: 26" Lower waist. Where I'm a bit wider, the love handle area: 29"
[Material & Care]
90% Nylon, 10% Spandex.
The material is brag-worthy. It's light-weight, soft and the lace isn't rough. It's one of the most comfortable lingerie pieces I own. It's comfortable enough to sleep in. There's no digging in and the fit isn't clingy.
Another thing to note is the durability. It doesn't seem to snag easily like most and it seems like a piece that'll hold up very well to long term use.
Hand wash in cold water, line dry. I have put the thong in the washing machine though, and it did fine. I prefer to only hand wash the babydoll though.
Experience
How Does It Fit Me?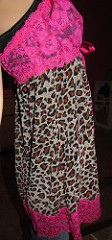 As you can see, it falls a couple inches below my rear and crotch. It's a nice length. It kind of swallows up my figure though. It's very baggy and loose, and would slide right off if it weren't for the straps. I still like it, but think it'd flatter my own figure more if it were more cinched under the bust/above waist. It's still a great piece of lingerie that will look so sexy on so many people. I give it four stars because for me, it's not the sexiest thing I own and it doesn't flatter me a whole lot.
It could be worn as I did in the photos, as a top with a cami underneath, but the split does give away its bedroom purpose. Since it sort of swallowed my figure, I tried belting it under the bust and it looked pretty, but the belt didn't match so well. Really not my typical style, but I do like it a lot. If you like the look of it, and are looking for comfortable, flowy and sexy, I don't think you'd be disappointed. It'd make a fabulous first piece of lingerie!
Packaging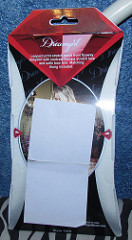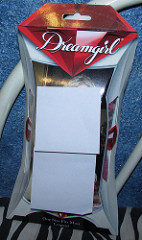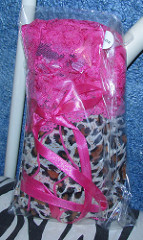 Ah. The dreadful, trashy as heck packaging again. It comes in the typical paper box with a person wearing it on the front & back. I've taken photos of the box, but placed Post-Its over the person. This is not at all gift-giving worthy unless you remove it from the box. Inside the box, the garment is wrapped in cellophane, so it'd make a nice gift if you tossed it in a gift basket (after removing from the box.)
This product was provided free of charge to the reviewer. This review is in compliance with the FTC guidelines.

Thank you for viewing
Leopard babydoll and thong
– babydoll and panty set review page!