Insert witty maid title here
If you're looking for an inexpensive maid costume that you can have some fun with and then discard, this may fit the bill. If you're looking for a high quality piece to get a lot of use out of over the years, this is one to skip.
Published:
Pros:
Fits many of sizes, pieces can be used separately, good if you want a "disposable" costume.
Cons:
Low quality, especially the thong.
The Parisian Maid set is made up of a babydoll, g-string, apron and choker. I'll go over each piece individually first:
Babydoll: The main piece of this set is a black mesh babydoll with peekaboo cups and pink trim. The first thing I noticed when taking this out of the package was how scratchy the material was. From the photo, I was expecting something softer, kind of like what pantyhose are made of, but although it is made of 100% nylon, this is much rougher.
The babydoll is accented with pink ribbons on the cups, pink lace along the top and bottom hems. The trim felt scratchy and low quality, especially the ribbons near your nipples- they're crinkly and almost have a papery feel.
The babydoll doesn't offer much bust support. There are seams underneath each breast to give it some shape, but it isn't going to do a lot to hold you up, so this is probably going to look best on medium-sized or perky boobs. A small set (A Cup) might look a bit overwhelmed in the fabric. The ribbons DO untie- I've seen some peek-a-boo style tops where they were just decorative. The straps are made of black ribbon and can be adjusted just like bra straps.
Straight out of the package, the babydoll had lots of wrinkles, so you may want to allow time to rinse it in cold water and hang it to dry before use. The first thing I did after trying this outfit on was toss the babydoll in a sink full of warm water to soak for a while, hoping that would help with the stiff, scratchy material as well as taking care of the wrinkles. The care tag suggests hand washing in cold water and hanging to dry, but using warm water instead didn't seem to have any negative effects. (Fabric softner may help with the scratchyness more than what I did, but I'm allergic to pretty much everything, so it isn't something I keep in the house.) The quick soak and dry helped the texture of the material a bit, but obviously couldn't work miracles.
Despite all of those cons, it *is* really cute on. One other thing that I like about the babydoll is that you don't necessarily have to use it as part of a costume, it could easily just be used as normal lingerie. I have to admit, even with the accessories, I don't feel like this costume looks all that much like a maid.
G-String: The g-string that comes with this set is pretty much the worst one I've seen. It is made up of a triangle of the same material used for the babydoll and the usual stretchy bits of elastic. The triangle of material is super scratchy and low quality, I can't imagine wearing this for any extended amount of time! The elastic itself is fine, and there is a small triangular crotch liner, but I'm just not a fan. There is also a large white tag sewn into the front of the panties, which looks awful since they are black and see-through, but cutting it out is almost impossible due to the fragile nature of the material.
Accessories: A mesh apron and a choker round out this set. The choker is the same pink lace you find on top of the babydoll sewn to a thin strip of the black nylon mesh that makes up most of the outfit. It opens and closes via a small piece of velcro. There is a white tag sewn inside, which is annoying because it is irritating on your neck, but hard to remove because the end is sewn underneath the velcro. I was able to snip most of the tag off, but there are still jagged edges sticking out from under the velcro, since it is impossible to get it all without also cutting the velcro. D'oh! The lace also likes to stick to the hook side of the velcro.
I hate to say it, but I found the apron kind of hilarious. It's this weird oblong rectangle shape that gives it a weird droopy look. The square part that goes in front is 11" wide and 12" long, made of a pink version of the black nylon that's in the babydoll attached to a soft pink strip of fabric that reminds me of a nightgown.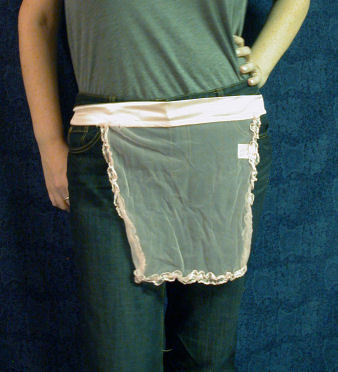 For around $20, this set is probably best to pack for a surprise on a romantic weekend away, and just toss afterwards. If you've ever fantasized about having lingerie torn off (or tearing it off your partner), this would be a good set to act out that fantasy in, since at least in my opinion, it isn't one that you're going to want to bring out over and over.
Experience
Size info:
This set comes in both "One Size" and "Plus Size". I ordered the plus size, which according to the size chart fits sizes 16-20, D-DD cup, 40-54" bust, 36-44" waist, 42-56" hips, 165-275 pounds. I'm on the smaller end of that at size 12/14, 38D, 34" waist, 41" hips, 160 lbs.

The apron ties on and the ribbon that you tie measures 73" long when unstretched (it stretches a LOT! Up to at least 90"), so unless your waist measures over 75", it's going to fit you no problem.

The choker is 18.5" long when laid flat, and does not stretch. Allowing room for the velcro to fasten to itself, this will fit a neck 16" in circumference or less. Given that my very own personal neck measures 13", this looks kind of silly and droopy on me. You could add more velcro, or do what I do and use it as a garter, since it fits my mid-thigh perfectly. If you're good with bobby pins, there may be a way to attach this to your hair for a headband look, since the set doesn't include a hat.

The fabric part of the g-string measures 5" wide across the top of the triangle, and 10" along each side of the triangle as it tapers to a point. Please find the cosine and tangent of... hah! Nevermind. The crotch liner is 4" long and 2.5" wide at the widest part. The piece of elastic which we shall poetically refer to as the "buttcrack piece" measures 9" long unstretched and stretches up to over 20", if you happen to find having a tightly-stretched piece of elastic between your cheeks to be a good time. The waistband is 14" laid flat and unstretched or about 24" across when stretched, so this will fit up to 48" around wherever you are wearing it. The crotch of this is WAY too long on me, and if I actually pull it up so that the fabric goes up where it should, this looks like one of those mid-80s super high-cut swimsuit bottoms.

Each cup of the babydoll measures 11.5" across the bottom and 9" high. My boobs had plenty of room, and I think a DD would fit fine as well, but do keep the lack of support in mind.

The under bust area is the only part of this outfit that's going to restrict sizes it will fit. It measures about 16" across laid flat, and only stretches a little. I measure about 35" around under my bust, and only had a couple of inches to spare. If only they had made this part elastic, this outfit really would have fit almost anyone, but since there isn't much stretch, this probably won't fit if you measure more than about 38" below your boobs. (Be sure to actually measure- I wear a 38D but actually measure 35", so don't just go by bra size.)

The waist and hip area is super loose and flowy, at my best guess it could fit up to a 3x/4x. The wavy shape of the hem makes it hard to measure length, but it measures 19" long down each side seam.
This content is the opinion of the submitting contributor and is not endorsed by EdenFantasys.com

Thank you for viewing
Parisian maid
– costume review page!