Instant Elegance
Overall this piece ranks 4.666/5 which I rounded up to 5. It's elegant to wear, although clearly not for anywhere outside of the bedroom, supports everything in just the right places, feels great, is relatively easy to wash and comes in all sizes. Further, after reading other reviews I've found that many other wearers felt as lovely as my girlfriend did and because of this reason especially that I recommend this to everyone.
Published:
Pros:
Elegant and erotic.
Comes in all sizes.
Makes wearers feel like a princess.
Cons:
Moderately priced.
Not the easiest to clean.
We're examining the Black Lace Panel Gown by Fantasy Lingerie. Rather than continue with the introduction, let's get to the categories to be discussed.
Design When Not Worn.
This piece is a reverse mullet, business in the back, party in the front. From the back it could be mistaken for an elegant dress, the black polyester covers nearly everything, without as much as a single innocent (or not) peek of anything above the middle back. This is because it's oh so naughty up front.
The gown covers the body, but is lacy and thus transparent in the front, revealing the torso, breasts and belly of the wearer. The gown is a device of seduction; it draws attention to the wearer, without revealing the nipples, areolas, or too much of the pubic region. Once close up, everything beneath the lace is visible, signaling to the partner that they've entered the next step of seduction. Once the partner is attracted and enticed, it's easily pulled up to allow the next stages of the seduction ritual to commence.
Next consider the pictures,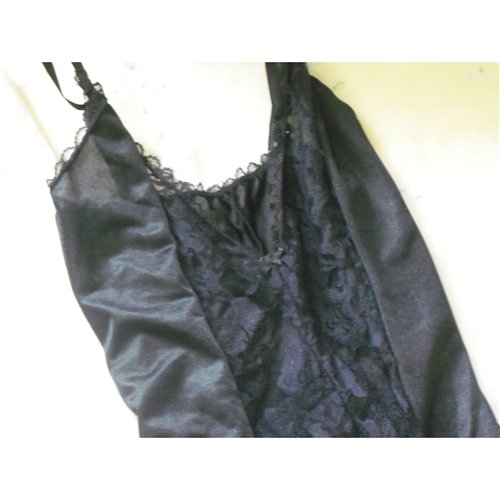 This is the top front.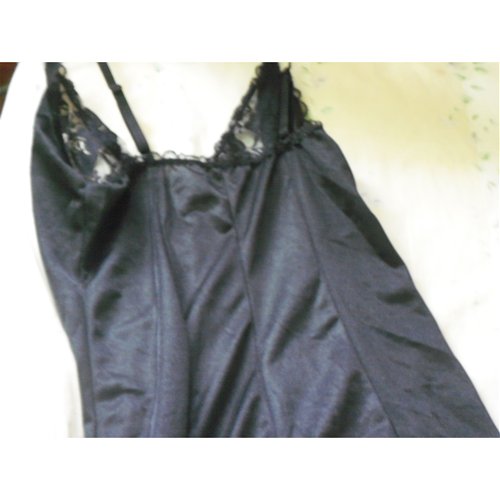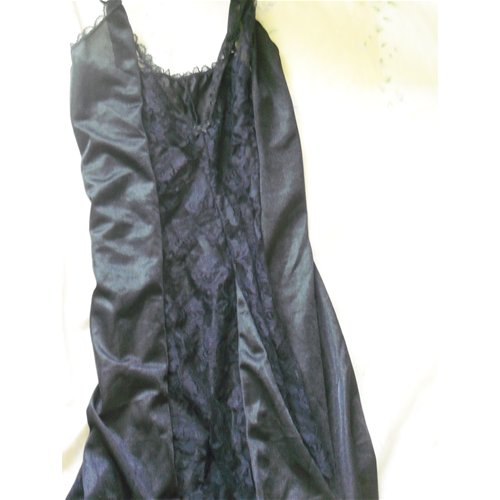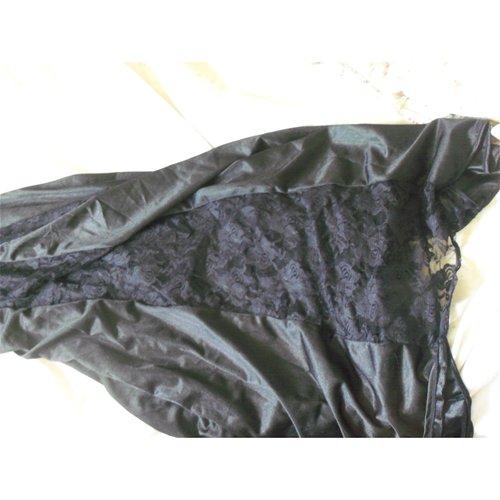 The back meanwhile.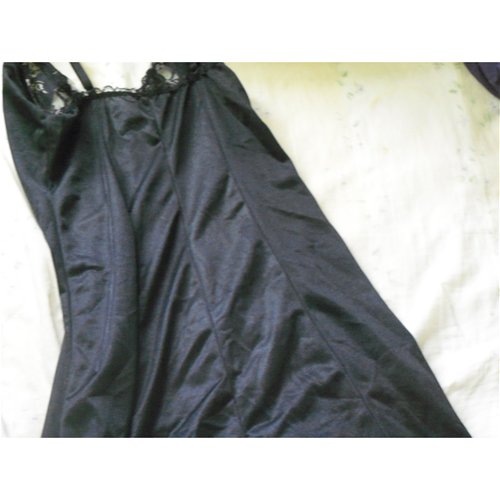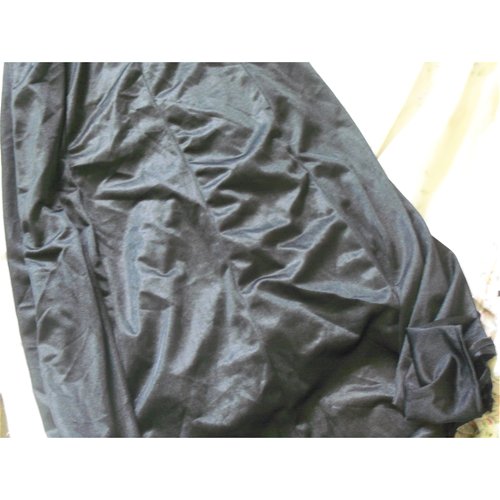 Seductive design with mixes of elegance, 5/5 stars.
Design When Worn.
It looked fantastic. The support kept my girlfriend's breasts in place and gave them an extra bit of oomph. The transparent lace traced down, emphasizing every spectacular inch of her curves, from her breasts, to her luscious belly, huggable hips and everything underneath. The flow of the gown did not hide her sides, but were merely an accentuation.
From the back, the gown, despite the aforementioned flow, showcased her butt, with the gown neither covering, nor clinging. The back was more formal, it didn't show any skin, except for the top third of her back. Overall, we both thought it was stunning and sultry, I said it accentuated her curves while hiding enough for an air of mystery. She said it was pretty, made her appear taller, feel elegant and brought out a sexiness she doesn't usually notice (even though I've told her that many times before).
5/5
Size.
The size chart below demonstrates that Large is primarily for those sized 14-16. https://www.edenfantasys.com/ProductControls/LingerieSizeCharts.aspx#Fantasy-Lingerie
My girlfriend is about a 16 and this fit perfectly. It was billowy, but not too loose, as will be discussed in the "comfort" section. From the initial impressions of this gown, it would be wise assume these run a little bigger than the chart states.
One distinct advantage of this gown is the wide variety of sizes. Most lingerie pieces stop at large or extra-large, yet this gown is not the average piece of lingerie. The sizes range from small, size 4-6 to 3X for 24-26 and when considering how it fits somewhat big, this is a gown for most women, anyone from size 4-28.
5/5
Comfort.
According to my girlfriend, it was extremely comfortable. The material was soft, a little scratchy around the breasts, but aside from that, soft enough for sleeping. There was ample room for boobage, while still providing plenty of support.
When worn, it flowed without restricting movement. Even when moving the legs were free and it didn't get caught or cause her to trip. It was like wearing nothing at all and made her look stupid sexy.
Another big plus was the ease wear. Unlike other items that have hooks or loops, this uses straps, which can be slipped into easily and worn without help. Such ease allows the wearer to surprise her partner.
5/5
Price.
At $34.99, this gown seems to be right around the median price. Other gowns are cheaper, but have a lower rating, while a few other gowns are more expensive, but some appear more intricate and justifiably more expensive. Overall, this gown is neither a bargain, nor rip-off, but a moderately priced gown.
4/5
Material.
This is a mixture of lace and polyester, which presents many advantages, but also problems. As lace, a large chunk is see-through, making it quite enticing. Furthermore, it's soft, albeit occasionally itchy around the cups. However, lace is an extremely delicate material that cannot be washed at a temperature above 30 F, bleached, tumbled, ironed or dry cleaned.
Polyester meanwhile is sturdier, able to handle detergents, warm water and ironing. The lace however cannot handle these conditions, so the normally versatile fabric is hindered by the lace counterparts. Of further note is that polyester is combustible, so be wary around candles and other open flames.
For washing, try in a sink with cool water and light soap or no soap. This must be hung to dry to prevent damage.
Overall, 4/5 stars, mainly due to the problems with washing.
This content is the opinion of the submitting contributor and is not endorsed by EdenFantasys.com

Thank you for viewing
Black lace panel gown & g-string
review page!