Irrestistable? Maybe Not, But Definitely Tempting!
Part of Toynary's Irresistible Temptation collection, number 14 here has a unique pattern compared to the others. Its combination of zigzagging stripes and spots gives it a far more intricate, dynamic look. Aside from the pattern, however, the design is very plain. It isn't particularly flattering or unflattering, and is just there for the most part displaying the pattern over your bare skin. It's crotchless for easy access, and the fabric feels rather sturdy compared to similar products.
Published:
Pros:
Dynamic zigzag and spotted pattern
Crotchless
Stretchy, Well-made, and Comfortable
Cons:
Frayed stitching along toes
Bland Neckline
Doesn't seem to be for larger busts
Packaging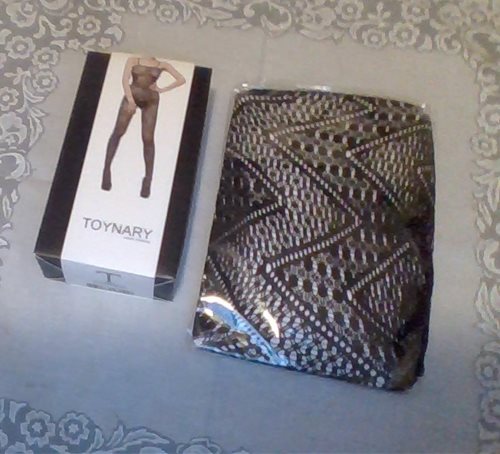 This was my first item from Toynary, and I was impressed with their product's packing. The item came in a little black cardboard box that is entirely plain save for the writing "Toynary Lingerie," and above it is a removable white sleeve displaying the product image and information. Inside the box was a plastic bag which the bodystocking, which was wrapped around a piece of cardboard.
How'd It Look?
Before trying on the bodystocking for the first time, there were two things I needed to do. The first was stretch it out so the fabric wouldn't be bunched together when I went to put it on. I accomplished this by stretching the body out with both of my arms and running an arm down the entire length of each leg down to the foot. Second... I had to figure out which side was the front and which was the back. After trying to find some discernible difference between the sides for a couple of minutes - as there are no tags on or in this bodystocking - I finally concluded it's reversible, and therefore can be put on either way (so long as it isn't inside out!).
The bodystocking slid on without any resistance, and the sturdiness of the material made me feel secure in pulling it up without the fear of ripping it. Once on, I began to examine myself and how my body appeared in the bodystocking.
I am not a fan of the neckline and general bust area of this bodystocking. With just a plain band of elastic circling your body with the straps attached, the neckline is very plain and I found this somewhat boring. I also don't believe this bodystocking was designed with larger busts in mind - it appears to be ideal for smaller, perkier breasts. Without any form of support, any sagging is clearly visible behind the mesh. I also did not like how the holes that make up the pattern stretched over my breasts to be large enough for my nipples to poke through.
Because the body stocking is crotchless, there is no fabric over your crotch and the majority of your butt is also uncovered. This will allow your partner to get a good look at the goods without anything in the way, and get to you easily without having to remove anything.
Note that the feet each have frayed edges all along the toes - I do not like how this looks at all when examined up close, but it can typically be overlooked from a distance or when you aren't focusing on that area.
Final Thoughts
Despite the sheerness and the crotchless design, I don't feel as if this bodystocking is oozing with sex appeal. It doesn't really accentuate any of your features in any way. It has a nice pattern, is comfortable to wear, and feels very sturdy. I feel that another bodystocking may give off a sexier vibe, but I'm still rating this highly due to the unique pattern and the quality of its construction.
This content is the opinion of the submitting contributor and is not endorsed by EdenFantasys.com

Thank you for viewing
Irresistible Temptation 14 bodystocking
– crotchless bodystocking review page!