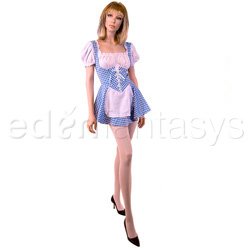 Sexy Mary had a little lamb costume
Costume
by Leg Avenue
Is It Dorothy, Is It Alice, Is It Mary, or Is It Little Girl Blue?
Whether you want to be Mary, Alice, or Dorothy, this little number will definitely make jaws drop. It is one of the cutest costumes that you can buy - with its flirtatious skirt, frilly sleeves apron, and overall seductive look. Definitely for those who want to bring out their inner-naughty girl; it is so worth it.
Published:
Pros:
Well-fitted, comfortable, cute, not too short.
Cons:
Sleeves are a bit too puffy and large
This is one ADORABLE "sexy mary" costume. When I first dressed into this petite little number (the one I ordered was a size Small), I was surprised at how tight-fitted it was around my waist; it was as if it was tailor made just for my little frame. The most immediate notable feature was the corset-style laced up front; it really does accentuate the waist and tummy area comfortably, almost as if the fabric just clings to your skin. Not to mention that it looks just plain naughty and sexy. What I also loved was the puffy sleeves and the apron; funnily enough, it reminded me of when I was a little girl raised in Texas. The whole ruffle style of the sleeves and apron also reminds me of some sort of moppet doll as well, which I adored.

The only problem I found with the sleeves was that it was almost a little too puffy; it left a lot of room for my shoulders to breathe, a little too much room. However, it didn't necessarily make the fit of the dress too large; despite the sleeves being a bit large, I still felt like the outfit was a perfect fit from head to toe. What I love about the dress is that it was short, but not so short that I couldn't walk around in it in public with my partner. It just gives that right amount of "peek-a-boo" or tease-action without being too slutty about it. Overall, this costume is just oh so cute.

When I first wore it, I thought of many ways I could re-vamp this outfit. Not that this outfit isn't great and sexy on its own if you want to play Baby-Doll, Mary, Little Girl Blue, or Miss Peasant Girl, but there was something about this costume that feels like a blank canvas and just needs a bit more oomph to make it more interesting. I plan on perhaps playing Alice in Alice in Wonderland in this costume; I will spruce up this costume by stitching in some hearts or playing cards into the apron, or if I want to be Dorothy, embroider a little Toto pattern into the apron too.

Basically, I like to personalize the outfit to whatever character I'm planning and to whatever pleases my partner. I plan on also wearing this for one of my clown characters; I'm thinking of putting colorful pom-poms and other cutesy things along the bottom skirt, maybe on the apron, and along the sleeves. I believe this costume is what it is depending what you make it off. I don't believe it is really too much like a "Mary had a little lamb costume", nor is it much like Alice in Wonderland or Dorothy, but with some creativity it can really turn into two or three costumes in one depending on what you make of it.

This costume can't go wrong. The fit of it is flawless; it is definitely adorable and flirtatious, and versatile. It is not PERFECT, however. Sometimes this type of costume isn't for everybody or looks good on everybody, and the sleeves at times are just a bit much (but again, it reminds me of when I was a little girl so maybe that is why I'm not entirely in love with them). Yet, if this is what you are looking for, you will definitely get your money's worth and then some.
This product was provided free of charge to the reviewer. This review is in compliance with the FTC guidelines.
Thank you for viewing
Sexy Mary had a little lamb costume
review page!