Is my Coochie too Big?
This is a cute V-string, I just wish it had a little more fabric in the front. Overall, it's nice that it comes in multiple colors and is comfortable compared to most thongs. If it had a little more fabric, I would have rated this closer to 5 stars.
Published:
Pros:
Cute
Color Options
Cons:
Proportions a bit off
Interesting, Mwar. Care to explain?
Certainly. The Low Rise V-string by Baci is just that, a V-string. It comes in "one size fits most." While it does have some stretch and is a thong, I think it needed a bit more fabric. The front part of the V-string can leave a third of your hoo-ha out to the world. While you're probably wearing this one for the bedroom, thongs generally have enough fabric to cover the vulva. The fabric either covers it or it's designed to leave nothing to the imagination. This V-string is an awkward amount of fabric. It's like my bits are swallowing the V-string!
Huh... other than that, tell me about this V-string
The Low Rise V-string is affordable and comes in 10 different colors. It is relatively soft and has a sheen to it when in the light. If you look at the fabric, you can see the horizontal lines it was stitched in, but it is neat and not apparent from a normal distance (not that the appearance is detracting). The front is bordered by strips of fabric that continue to become the waist of the thong and the back.
The interior of the thong is black. With the green it contrasts well. The green itself is a medium green that is similar to an emerald tone (maybe a bit darker). Please note that the product picture is far from accurate when depicting color. The color in the product picture makes it look more turquoise or teal. It is very much green. here is a picture of the front.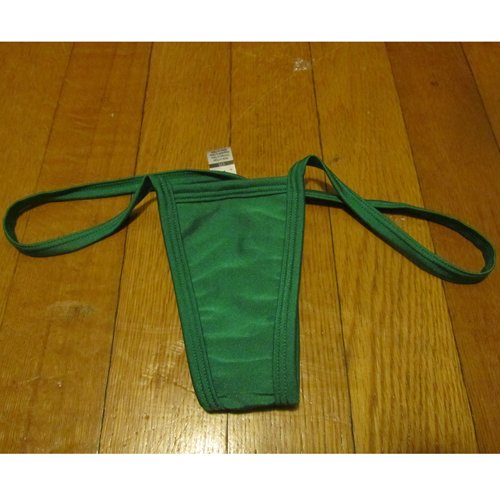 You can also see that the tag is apparent on the front of the thong. It can be snipped off with scissors easily enough.
So how did it fit? What did it look like?
I generally model any clothing of lingerie I get, but this one just exposes too much of my vulva. The model in the product picture is very strategically posed (as they always are) to the side so you don't see as much of her out. If you're going to wear this, make sure you shave, and beyond the basic perimeter landscaping. If you have lots of hair peeking from the sides, it can be distracting (and make you feel awkward or not as sexy as you deserve to feel).
I will admit, the thong was comfortable and I can wear it for extended periods of time. However, this one is the first thong I would rather wear under clothes than to flash my partner in the bedroom. This thong is also a bit oddly shaped. I understand it's "low rise," but the back of it make the straps look... well... novel. Here's a picture of it laying how it wants to naturally.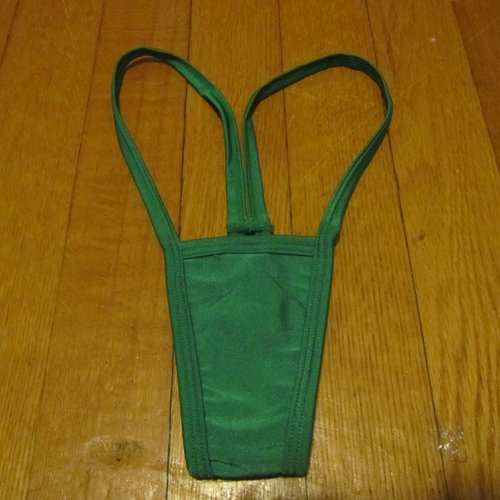 It is advertised as one size fits most, and by fit you can say "can get on your body." The spandex does stretch and could accommodate many figures, but you may not get the look you want. I have a 28 inch waist, fit in an overall medium bottom (but it ranges) and have a latina behind, so maybe that's why mine is fitting a bit oddly.
Huh... anything else you want to share?
This thong does stand the test of time. I throw it in the wash and it holds up just fine. It is made of 90 percent polyester and 10 percent spandex. The tag says to machine wash warm and to tumble dry warm. I hang mine to dry (away from the sun). You can hand wash if you want it to last even longer. I have yet to notice loose threads or shoddy craftsmanship.
The thong came in packaging similar to what stockings come in. The front has the stock photo on it.
Experience
Anything else you want to share?

I picked these up because my partner's favorite color is green, and there's not enough green lingerie out there. He was excited when it came in and asked me to try it on. I did, and I saw his face turn from excitement to confusion and giggling. He was wondering where the rest of the material was since a chunk of my crotch was still visible from the front.

I tend to trim and occasionally shave my lady bits. My stubble was visible at least an inche around, which did not make me feel sexy. It made me feel like I was squeezing into something too small for me, but it's one size fits most!

I'll still be able to use this thong, but not to entice the Mr.
This content is the opinion of the submitting contributor and is not endorsed by EdenFantasys.com

Thank you for viewing
Low rise v-string
– sexy panty review page!