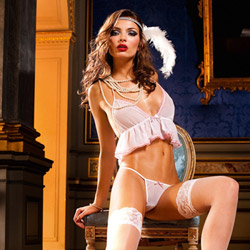 Lace babydoll set
Babydoll and panty set by Baci
Is this cheap set worth it?
Overall, you get your moneys worth with this set. The panties could be better, but for the price who cares?
Published:
Pros:
low price, top looks good
Cons:
cheap panties
This shows up in a cheap cardboard envelope, the kind designed to hang on the hooks at the store. It has a plastic hook attached to the back side for hanging purposes. The envelope is about 8 1/2 inches by 6 inches by 1 inch thick. It is on the large side, for such a small amount of coverage the lingerie provides. On the front side of the package, you will find the same picture that is on the product page; a model wearing the outfit. It takes up the entire front of the envelope. On the back side is well.. the same model showing her backside. She is bent over a chair, and the panties do not cover up much of her backside. This packaging is not discreet at all. If you have people in your household, who you do not want to see this type of stuff; you might want to hold off on opening up your mailing box until you are alone. I tossed mine almost as soon as we opened up the package to use it. I did not want my kids seeing the pictures.

There is not much information included on the packaging. You get a very small box that is hidden on the back side; that has the cleaning instructions. That is it. So there is very little information.

On the inside of the envelope, you will find the outfit tucked inside of a plastic bag. You will also find the typical cardboard insert that I have found in all of our Baci Lingerie purchases we have made. The insert basically says "thanks for your purchase" in about 25 different languages. It does little but helps hold the lingerie nicely inside the envelope.

Cleaning is pretty simple with this outfit. You have to hand wash it in cold water and line dry it. You cant bleach it or iron it if it ever looks like it needs it. I tend to not like hand wash and line dry outfits. But this one is so small and simple, I can hide it behind a towel on a towel hook. The kids cant see it while it is drying. That is always a plus for our house. I cant let the kids see a lot of the outfits my wife wears that needs to be hand washed. So we have trouble when it comes to cleaning them. But this one dries pretty much over night, and can be put away before the kids are up and getting into stuff.

As far as storage goes, we just toss it into the toy drawer along with some of her other outfits, toys, and lube. This works well for us, because my wife does not wear the panties for her outfits very often. They tend to just get in the way, and/or are so cheap that they are uncomfortable. So if the two pieces get separated in the drawer, it is not that big of a deal for my wife or I. This method might not work for you. You might want to keep the packaging to help keep the outfit in one place. As a hanger will not work for storage. You could get a lingerie bag for storage. Or just toss it in a drawer like we do.

This set is made from a mixture of material. It is 90% Nylon and 10% Spandex. It has a smooth cool feeling to it. It almost feels like plastic, but then I get that feeling from just about anything made from Nylon. It is not a bad feeling. But I prefer the feeling of cotton against my skin, and so does my wife. But this is smooth and comfortable, not scratchy like a lot of the cheaper sets sold on this site. So that works for us. I dont think my wife would want to wear this all day, but for a hour or two in the bedroom; she has no problems with the material.

So lets start with the panties. They are..well...cheap! I did not expect a nice pair of panties with this outfit, as we have never gotten a pair of panties with our lingerie that my wife would wear around outside of the house. These are no exception to that. She wore them once the first time, and has not worn them since then. Part of that is because panties just tend to get in the way, and they don't really stay on for longer then a few minutes, and part because of them not being as nice as her regular panties.
Experience
The panties have a liner in them, which surprised me a little bit. I have only received a few pairs with liners. The liner is small. Just big enough to cover my thumb. So that is a plus for the panties. The waist band is also adjustable, slightly. The bands are about 1/4 inch wide. One the back side are two adjustable plastic clasps. You can adjust the waist size with these. So the panties should just about fit any body size, within reason. That is about it for the pluses.

The material is see through. And not slightly see through, you might as well not have anything on. That is how see through it is. On the top of the front side, you will find a little pink ribbon bow. You will also find the tag. It is on the inside of the front side. You can see it through the material. It also scratches my wife. And it is not a little tag, it is about 3/4 inch wide and 1 1/2 inches long. The least they could have done was shrink up the size of the tag, if they were determined to attache it to the front side of the panties.

The top is pretty skimpy, not that I mind though. The entire thing is see through. The product picture is kind of deceiving. You can see everything. The top consists of a 4 inch wide section that wraps around her midsection, and two triangle tops. It is a very simple design. The section that wraps around her entire body, sits just under her breasts. It leaves her stomach exposed. It has a pink ribbon on the bottom of this section. There is also a pink ribbon running up the insides of the triangle tops. Where the two triangles meet at the bottom, there is a small pink ribbon bow. The same bow that is also on the panties. Coming off of the tops are two straps that tie behind the neck. The tops do not have any support for your breasts. My wife does not mind, as she has smaller breasts then most. But the larger ladies might find this a turn off.

So like I said, this is a simple outfit. Not that there is anything wrong with simple outfits. But I like that it is simple, and yet still does the job of looking sexy on my wife.

My wife is about 5 foot 4 inches tall, 120 pounds, and a 34 B cup. This outfit is a one size fits most. There is no sizing chart on the product page. So I am unsure as to the range of body sizes this would fit. I feel it has a pretty good range, as it fit slightly loose on my wife. I was loose in the mid section. Not falling off her body loose, more of a one or two sizes too big kind of loose.
Follow-up commentary
3 months after original review
I still like seeing this on my wife. It has held up very well, with no visible problems to the material or seams. It has held up to being cleaned. In fact, it still looks pretty much like it was brand new. This is a great little set for anyone looking for a babydoll.
This product was provided free of charge to the reviewer. This review is in compliance with the FTC guidelines.

Thank you for viewing
Lace babydoll set
– babydoll and panty set review page!