It has sex appeal, but boy is it flawed!
This set is sexy in theory, but the many flaws just kind of ruin it for me. The lace is unfinished and rough, and the set already appeared to be falling apart before I even wore it. My partner still finds it sexy, but he doesn't focus much on details. If you can get past all of the flaws, and if you can get this piece on sale, you might enjoy it. Otherwise, it's just not worth the price.
Published:
Pros:
Sexy, Comfortable, Doesn't itch, Metal hook and eye closure on bra, Stretchy
Cons:
Low quality, Lace is unfinished, Sequins aren't securely attached, Sizing is a bit strange
This three piece set is made by a company called Magic Silk. The set includes a shelf bra, a g-string, and a skirt. For those curious, this set was made in China.
Material & Care:
The skirt and bra are made out of 94% Polyester and 6% Spandex. The g-string is made out of 90% Polyester and 10% Spandex.
This set basically consists of a few different sections of material: the black sequined lace, the black opaque fabric, and the pink bow. So, let's break it down!
The bows... They're cheap, they don't lay flat, and they feel a bit rough on my fingertips.
The black opaque fabric, which is found on the skirt (everywhere except for the bottom trim), the bra (everywhere except for the cups), and the entire g-string. This material is truly opaque, even if you stretch it to its fullest potential. It has a bit of a shine to it, and it feels a bit satiny on my fingertips. Sadly, however, it also feels very cheap, so it doesn't really have that "touch me" feel that I look for in lingerie. The opaque material is very stretchy, as well.
The black sequined lace portion is found on the trim of the skirt, and the cups of the bra. The lace is not the softest that I've ever felt, but it doesn't irritate my sensitive skin. Instead, it just feels kind of rough -- wearable though! The lace has a floral pattern, and it's completely sheer, as you can see in the photo below: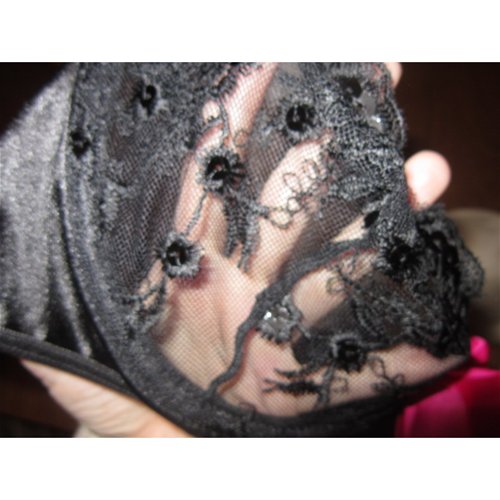 The edging on the lace is not finished, so it's not the most durable. The lace also features sequins, which add a bit of shimmer to the outfit -- but they're not securely attached. The lace is stretchy to a degree, but it's not as stretchy as the opaque material.
To care for the set, you should hand wash it in cold water, and then allow it to line dry.
Sizing:
This set is available in three sizes: SM, LXL, and Plus Size. I couldn't find a size chart for Magic Silk before I purchased this set, so I chose to go with the LXL. The packaging does provide a size chart, but it's really not the most helpful... For those curious, the size chart on the packaging is as follows (all sizes are in US sizes).
Sm/Med - size 4-10"
LG/XL - size 12-18"
Plus/Queen Size: 20-24"
Yes, that's all the sizing information that is given. What about cup size? What about hip measurement? Nope, that's it. Searching the internet, that's the only information I can find about sizing, too! Terrible size chart, in my opinion.
So, let me give you my measurements to see if I can't be of some help...
I wear a 34D. I have a 32" waist, and 40" hips. Waist measurement doesn't really matter for this.
The L/XL is actually a little big on me, but I worry that the SM would've been too small. The cups of the LXL bra could easily fit larger than a D cup. I can't be what size they'd fit, because I have no experience being a larger cup size, but I'd say that they'd definitely fit a DD, and probably even a little larger. The skirt and g-string could also stretch to fit larger than 40".
Here are some measurements that I took of the set. All measurements are taken with the pieces laying flat.
Skirt waist: 15.5" (unstreched), 22" (stretched)
Skirt length: 9.5"
Bra band(unclasped): 27.5" (unstretched), 38" (stretched)
Individual cup: 5" tall, 6" wide (measurements taken across/down the center of each cup)
G-string waistband: 15" (unstretched), 24" (stretched)
G-string triangle: 5" across the top, 8" up each side
Pantyliner: 3" long, 2.5" wide at the widest point
Design:
Let's start with the bra. Here is a photograph of it laying on top of my 34dd Baci bra (the Baci bra fits like a 34d, though).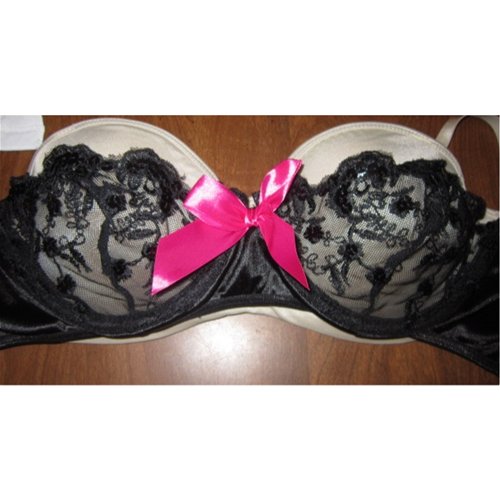 The Baci bra makes this bra look small, but really, this one could fit a larger cup size. This photo is just to show the cup style. The Baci bra is a full coverage bra. This one, however, is only a half cup shelf bra. It doesn't provide a lot of support, though it does feature underwire. My breasts kind of just sit in the bra -- there's no push up, and I don't get super amazing cleavage with this one. Maybe I would've gotten a better look if I sized down?
Experience
Design cont.
The bra has a seam going up the center of the cup, which tends to make the cups lay a little awkwardly on me. It still looks sexy, but it makes it so that the center of the cups don't really hug my breasts like I would prefer them to.
The cups have scalloped edges, which I enjoy. There are also sequins on the lace portion. The straps on the bra are also adjustable. The bra has your standard hook and eye bra closure. The hooks and eyelets are metal, so they're sturdy. There's also three closure options. I, personally, have to wear the bra on a the smallest possible closure setting, or else it's too loose.
Also, yes, the bra features an incredibly large bow. I'm not crazy about the bow, but sadly it's sewn on there pretty well, and I doubt I'd be able to remove it with a seam ripper.
Next up, there's the skirt.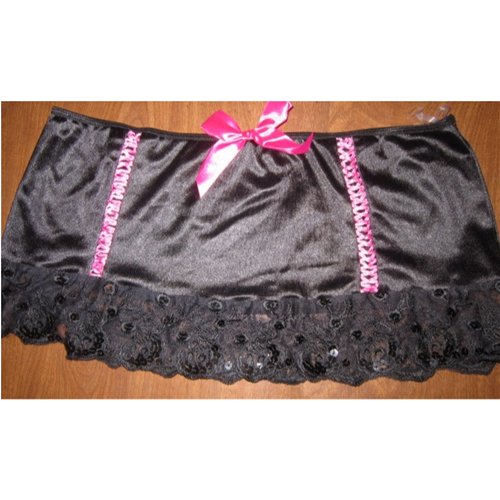 Yes, the skirt also has a huge bow in the center front. This bow, however, will be easy to remove, as it's not sewn on quite as well as the one on the bra.
The skirts pretty basic. It's meant to fit tightly against your body. On me, it's a little loose on my 40" hips, but it fits tightly around my curvaceous behind. Most of the skirt is basic, solid black material, but there is the lace trim, and the pink detailing. The lace trim has sequins, and scalloped edges. The pink detailing includes some little ribbon that crisscrosses down the front in two tiny little lines, and the large bow.
Finally, there's the g-string.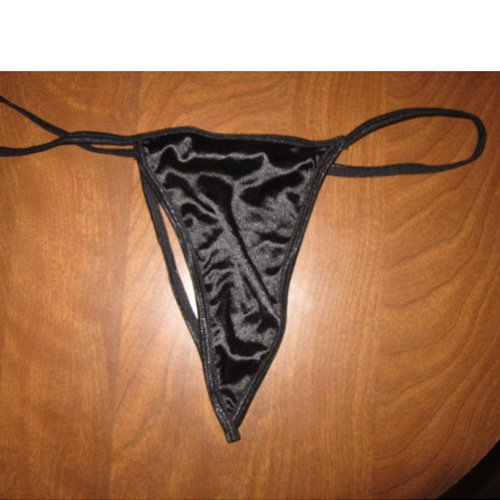 It's black. It's basic. It features a pantyliner. There's not too much to say about the g-string.
Packaging:
This item comes packaged in a simple cardboard case. Both sides of the packaging display images of the model, so it's not really discreet. That being said, the bit of skin that's shown on the packaging is about what you'd see in the lingerie section of a catalog. Here are some photographs of the packaging, but please note that these were taken after I had opened it.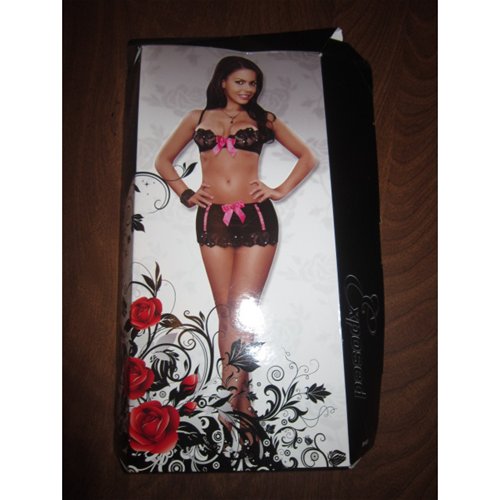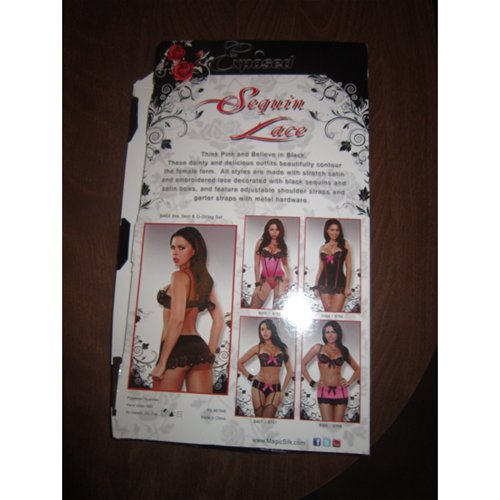 As you can see from the image of the back, the packaging also displays images of other lingerie items in this line.
The packaging provides sufficient detail about the item, listing information about how to care for it, the material, and a bit of information on sizing.
Quality:
In a word, flawed. The edging on the lace portions are unfinished, and they will probably fray very easily. The bows are made of cheap material, and they don't lay flat. The sequins are not attached very securely, so they will probably fall off quickly. There are several areas on the bra that are fraying already, and I've only worn this once. There are also areas on the solid black portion of the skirt that appears very worn. So, no, this isn't a quality piece, despite the high price for it.
If you can get on sale, it might be worth it, but otherwise... there are better sets available. I'm giving this two stars, only because I do think it's sexy. Sadly, it just won't last long at all.
Follow-up commentary
7 months after original review
I like this set less than I did before.
This set hasn't gotten a lot of wear, but it's literally falling apart.

All in all, a major disappointment.
This content is the opinion of the submitting contributor and is not endorsed by EdenFantasys.com

Thank you for viewing
Bra, skirt and g-string set
– bra and panty set review page!