It Hugs, But the Reaction Received More than Hugs.
This sexy and tight mini is HOT! I LOVE IT!! But be warned - this item is truly figure hugging and it is cheap (tore the first time I put it on!). If you don't love your figure, you might not love this. It is just like tights or a body suit, it hugs your curves and the fabric might rip easily! The leopard print is cute and subtle and gives it a nice touch. It is soft and comfortable, with minimal stitching flaws. Fits size (100-175lbs). If it didn't tear, it would have been 5/5 stars.
Published:
Pros:
SEXY
Comfortable, Soft
Design - SOOOOO Cute
Cons:
One-Size Only
Craftsmanship Issues
I am not totally, completely obsessed with leopard print. But I do like a little here and there. This cute bustier and stocking set from Music Legs had just enough leopard print flair to peek my interest.

Packaging:
The packaging was typical to Music Legs or Leg Avenue. The item came tightly wrapped in a cardboard insert in a plastic sealed bag. All inside a cardboard box, similar to one you would find with a pair of nylons from the market. The box is pretty flashy – red, pink and silver! There is a photo on the front of the models front side, and a photo on the back of the models back side. On the back there is also some sizing info, washing info and a basic summary of the piece. The packaging is not discreet, or meant for re-use or storage.

Made in Taiwan.
Contents: Mini Bustier with Attached Garter and Matching Thigh Highs

Design/Shape:
Like I said before the leopard trim is just right on this. Not too much or not too little. Just enough to give this item some flair and fun! I always thought leopard print was sexy, but if there is too much, it can be tacky. Well, with this piece the leopard print is just right!

The leopard print accents wrap around the entire length of the bottom of the tank top as well as the top of the thigh highs. It is about 2 inches in height. It is lace mesh, and has ruffled/curved hem – it is not straight across.

There are two seams down the sides of the tank top. The tank top is very stretchy and accommodating. The front is a scoop neck style, and the back is straight across, hanging about 2 inches lower than the front. The top is attached to the thigh highs by the thin garters. One thing to note is when the garters are significantly stretched, it pulls on the lace and there is a peak that it makes. There is only one seam on the thigh highs, and it is at the toe. The seam feels very sturdy and long lasting.

Sizing:
This item is sold in: one size only.
I know, I know. One size, pshhh... moving on. Sadly, you can't find this in any plus sizes. The box recommends this for heights 5' – 5'10" and weights of 100-175lbs.

I am 5'4", 125lbs, and usually wear a size 6. (You can always find all my detailed measurements on my profile.) That being said, I was in the one-size range and it does fit well. Do I think their range is right? Yes for weight, no for height. I worry that the shorter gals will have an issue with the attached garters. There is no adjusting that can be done. When the garters are not stretched at all – they measure 4 ½ " Of course you can always solve this small issue by wearing the thigh highs lower on you. I would say the corrected heights are 5'2"-6', yes this can work on tall ladies!

Measurements I took:
Shoulder straps: 20" (stretched) 14" (unstretched)
Attached garter: 9" (stretched) 4 ½" (unstretched)
Thigh Highs length: 6" (stretched) 30" (unstretched)
Tank Top length (base to top shoulder strap): 38" (stretched)25" (unstretched)
Experience
Care/ Maintenance:
The care instructions for this item are both on the box and the tag on the inside of the item. This is nice, so you can throw the box away if you'd like. The instructions for washing are to hand wash luke warm water, drip dry, never iron and do not bleach.
As for storing this piece, it should be easy. The item is very small, just a bit bigger than tights. You could hang, fold, put in your sock drawer, whatever you choose. I store this folded up in the original plastic bag and in my lingerie box under the bed. This way it is kept neat and tidy for the next use.
Material/Texture:
Material: 88% Nylon, 12% Spandex
Because of the material makeup, this item is SUPER stretchy. Just think of tights. It has the feel and the stretch of your standard tights. Along with that, the more you stretch it, the more see-through this becomes. I found that the top was more see through (did more stretching) than the thigh highs. When I wore it, my boobs could be seen through, but my knee caps – hidden!
Personal Experience :
I do love this item. I think it shows off the curves, which is exactly what my man begs to see. It is so cute and comfortable, I don't mind wearing it for him! The piece fit great on me (I am about halfway on the size recommendations). I love that the tank top portion could be worn under clothing, and the thigh highs could look to be full length modest tights under a knee length skirt. You could wear this under a business outfit, and nobody would know it!
One super lame thing – the first time I tried this on, it tore (like tights do) down the back of the tank top. I am not even the max on the size chart – this was disappointing!
If you were willing, and really wanting to change the look, you could easily cut off the garters and wear this as two separate pieces. You could have the tank top, or the thigh highs and add them to other lingerie outfits. Two for one!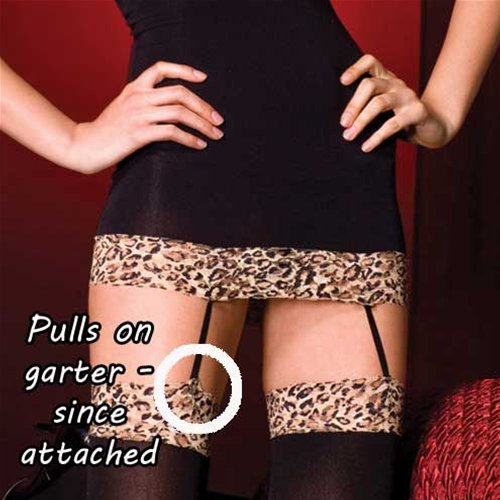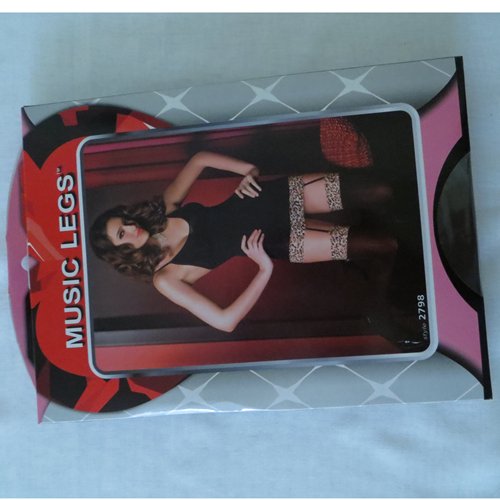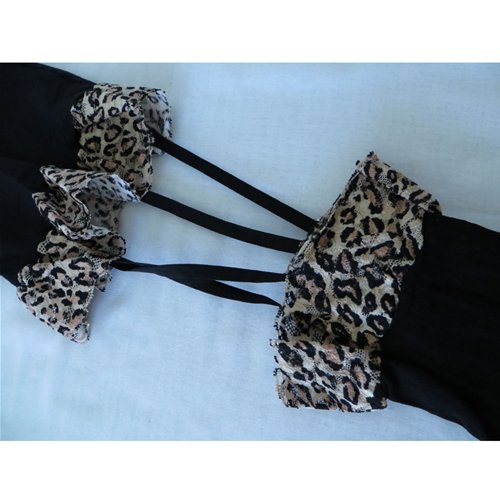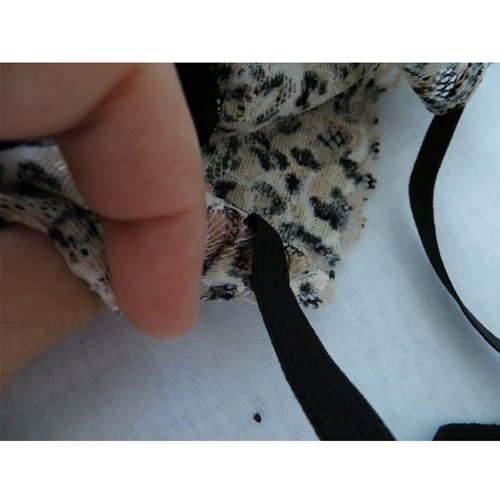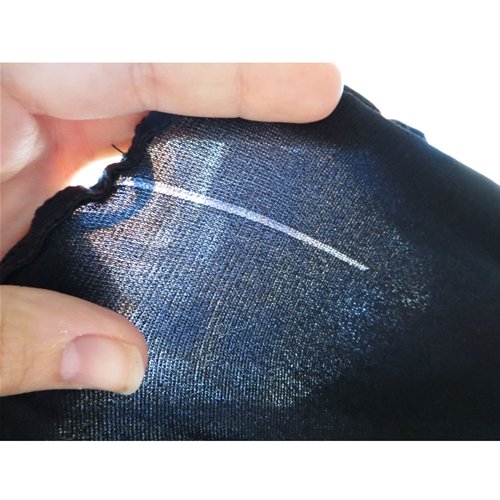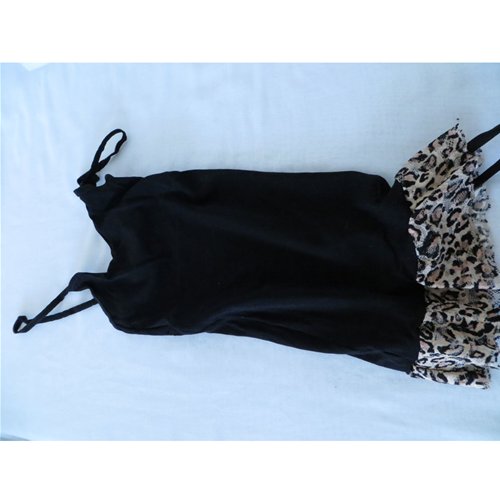 Follow-up commentary
9 months after original review
This item was really a mix for me. I was saddened by the initial quality... it tore right when I put it on. But after I sealed the tear with some clear nail polish, I've had no other issues. I love the look of this, and think it looks great on. I actually cut the garters off, and wear it as a tank top only. I can wear it in the bedroom with the original thigh highs (without the graters) or outside the bedroom with a black tank underneath. It is versatile!
This product was provided free of charge to the reviewer. This review is in compliance with the FTC guidelines.

Thank you for viewing
Mini dress with leopard trim and thigh high
review page!