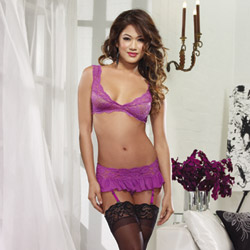 Stretch lace bralette and skirt set
Bra and panty set by DreamGirl
It'll Stretch...But It Sounds Like It's Gonna Break!
Flirty, fun, sexy...but easy to break, won't fit everyone, and slightly low quality. Dreamgirls has produced an average product in the lace stretch bralette and garter skirt. But, it is a fun, simple, and different piece then what most of you might have in your collection, so it still might be worth the buy if you boy loves it.
Published:
Pros:
-Cute
-Flirty
-Fun
Cons:
-Low quality
-2 garter straps
-Probably won't last long
Dreamgirls sometimes produces fabulous products, and sometimes they totally flop. In my experience, they generally only have average quality, but that is to be expected with their low-ish prices. The stretch lace bralette and skirt set are unfortunately not an exception to the lower quality of the Dreamgirls line, but the outfit is flirty, fun, and fits pretty well!
What You Get
If you order this flirty little piece, you will receive the lace bralette, which can be worn off the shoulders or over the shoulders, the very short garter skirt (which is NOT as stretchy as it seems it might be), and a matching thong. The garter skirt will only have garter attachments on the front portion of the skirt. This may bother some users, but it creates a pretty cute little look, not having the garter straps in the back. Your color options include black, iris, and coral. All of the colors pop and are very cute! I picked the iris, because the pretty purple looks great with my blonde hair =D
Sizing
This piece is currently only available in one size fits all with no plus sized option. The packaging states that you should be between 90-160lbs to have this outfit fit you. But if you get on to dreamgirls website they provide a much more detailed sizing chart. They suggest you have a cup size of a B or C, be between the sizes of 2 and 14, and a 34-40" waist. From personal experience, the waist piece on the skirt will make snapping sounds as you stretch it. It isn't breaking, but it sure will sound like it!
Check Out The Size Link
I wear about a 10 or a 12 for my dress size, wear a 36C bra, and found the piece decently flattering. My boyfriend defenitly enjoyed the flirty, fun outfit and commented on the way it showed off my ass with the missing back garter straps. I have fairly wide hips, probably about 38" and it does cut into my hips slightly. It did sound like it was ripping when I put it on, but it didn't actually rip. It fit snuggly, but not TIGHTLY. However, having 40" hips would probably cause this to be uncomfortable.
I'm 5'8, and the garter skirt covers literally nothing. However, that is kind of the point! It's suppose to be flirty and seductive, and it certainly is! The thong is 13.5″ across and 8″ down, so it may not fit you if you are tiny, but it fit me fairly comfortably and I was surprised by the fit. I'd consider it a slightly larger medium in typical panty sizes. The garters can be adjusted to 6″ long, but remember the straps are only in the front! And you will have to buy your own stockings! If you are buying stockings to add to the outfit, consider ones that aren't going to rely on the garter strap to stay up, because they will droop in the back where the garter straps are missing.
Design and Material
The top bralette is made out of all lace. The way the little lace flowers are placed allows the meshy lace to be slightly see through in a sexy, seductive way. In the front, the bra top comes to a V, but beware, it's not going to provide any support for your ta-tas, and as a Victoria Secret lover, I missed my support( However, all in all the bra top is fairly good as a sexy piece, though not as a functional piece). On a personal note, it doesn't look nearly as cute when you wear it off the shoulders as the advertisement shows. Bummer.
The garter skirt, as mentioned over and over, is missing back garters. It's sexy, but not functional for keeping up those socks. It's made of a mix of lace, mesh, and spandex material. It's short, it's cute, but it isn't really designed to fit anyone with hips. Although it does fit me, I have a suspicious feeling that the product isn't going to uphold when it made a ripping sound the FIRST time I put it on.
The thong is basic and simple, though it is made well enough to be worn as normal panties, not just as a part of the outfit. It's your typical semi-see through mesh.
The spandex does allow for an okay amount of stretch in the material, but the quality is lacking. Not only are you going to hear breaking sounds as you slide into this piece, but you run high risk of putting runs in the lace, even with short finger nails. There also isn't a very clean finish on the design, which makes me feel like it's going to fall apart, being so easy to snag.
Experience
It's cute. It's a fun color. My man loves the look. BUT the quality is low, taking points off of the design. Do I wear it and love it? Yes, of course! It actually isn't itchy and I find it surprisingly comfortable, but it'd be a coin toss on weather or not is worth the twenty bucks. My solution, ask the man! If he thinks it's sexy, then buy it! It is flirty, it is fun, but it isn't well made. An average Dreamgirls product at best, but still worth four stars for its flirty fun it brought to my house.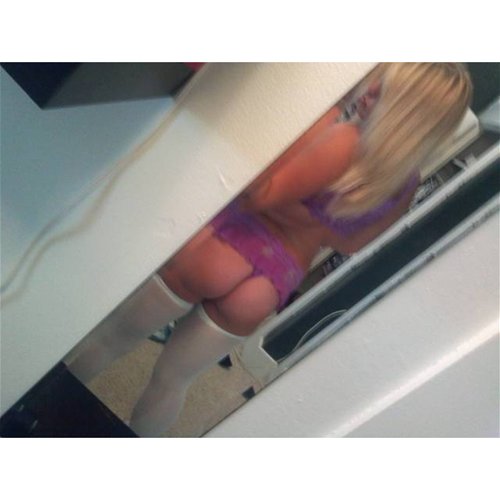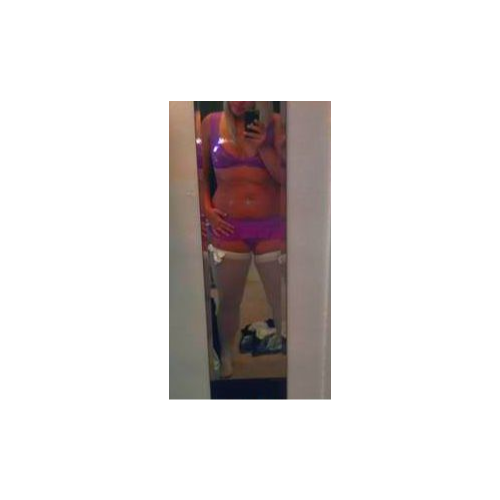 This product was provided free of charge to the reviewer. This review is in compliance with the FTC guidelines.

Forum
| Discussion | Posts | Last Update |
| --- | --- | --- |
| help | 4 | |
Thank you for viewing
Stretch lace bralette and skirt set
– bra and panty set review page!